labor
Graduate and Professional Student Workers Vote To Unionize in Landslide Election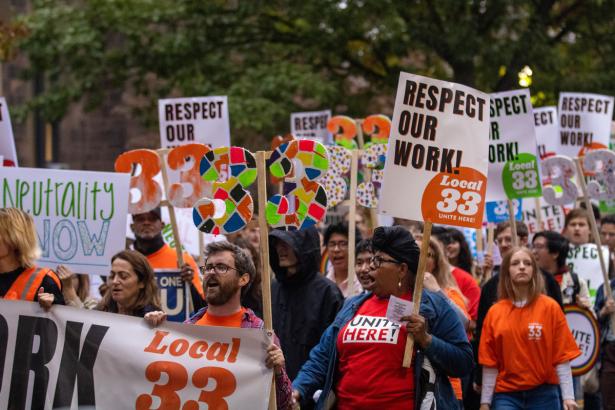 Yale University graduate student and professional workers rally for unionization.,Gavin Guerrette, photography editor, Yale Daily News
In a landslide victory, Yale's graduate and professional student workers have voted to unionize, marking a historic first after decades of organizing on campus.
According to the National Labor Relations Board's final tally, 1,860 of 2,039 voters favored forming a collective bargaining unit under Local 33 – UNITE HERE, the graduate student union that has fought for University recognition since 1990. 
Daily Union Elections, which tracks NLRB records, listed Local 33's election filing as the second largest in the nation in 2022, with 4,000 graduate and professional workers eligible for union representation. Including challenged ballots that went uncounted due to wide vote margin, about two-thirds of those eligible to vote showed up to the polls or mailed in ballots. 

"I've been looking forward to this day for years," Local 33 co-President Ridge Liu GRD '24 said in a Monday press release. "Generations of grad workers have organized before us, and I'm really excited to finally win. I know our first contract will be one that future generations of grad workers will be able to build on."
Yale has officially recognized the results of the election and confirmed that it will begin contract negotiations with Local 33.
University President Peter Salovey sent an email to the Yale community shortly after the NLRB's announcement, stating that the University remained committed to the emphasis on "free expression and mutual respect" that preceded the election. 
"With today's result, the university will now turn to bargaining in good faith with Local 33 to reach a contract," Salovey wrote. "As we work with the graduate student union, we will continue to be guided by our commitment to Yale's educational and research mission and to the success of all our students."
"One of two union bars in New Haven," organizer Abigail Fields GRD '24 observed. "It's a historic day in New Haven, and there have been graduate workers organizing at Yale for decades. And the win today is really the culmination, in a lot of ways, of generations of organizing, and that feels really incredible, and really powerful and moving to be a part of."
Basking in their win over prosecco pops and boxes of pizza, celebrants spoke to the News about their joy at the results, experiences organizing on campus and hopes for the future.
Arita Acharya GRD '24, who took a leave of absence fall semester to be a full-time organizer with the union, showed the News part of her victory day outfit: a top covered in hundreds of Local 33's signature "union YES!" buttons. Acharya watched the NLRB count votes one-by-one on a Zoom call watch party, and as soon as the totals were finalized, she got to pinning. 
"It's amazing," Acharya said, noting her surprise at the dramatic vote margin. "I could feel the vibes over the past few months. With just the sheer number of people who I heard from who were excited to vote yes, I knew that we were going to win."
Ward 8 Alder and Local 34 organizer Ellen Cupo attended the party with her husband Ian Dunn, who serves as an elected organizer for Local 34, and their two young children. Cupo likened the day to Christmas.
Like Acharya, Cupo said she knew the graduate workers would win the union, but that the 91 percent figure itself was "unbelievable."
"People have been really positive and excited. I feel like campus has just been buzzing waiting for today," Cupo told the News.
The results mark a major victory for the union, which staged a public comeback to campus in 2022 after facing setbacks in previous years. Most recently, these included legal challenges posed by the University to department-level union elections from 2016 to 2018 — during which union members held a month-long hunger strike in protest — culminating in the union's decision to drop its department union petitions after a more conservative, Trump-appointed NLRB took power. 
Known as the Graduate Employees and Student Organization until 2016, Local 33 also ran into its fair share of opposition from graduate students themselves. Often accused of "aggressive" organizing and recruitment tactics, GESO faced criticism from students who were themselves pro-unionization but against the practices of the organization. In 2016, the Graduate Students Assembly, which has long declared itself neutral on the issue of unionization, voted to denounce GESO's organizing tactics and the "microunit" departmental election strategy.
Josie Jayworth GRD '24, who came to Monday's victory party, told the News that she was sometimes met with skepticism or a lack of enthusiasm in conversations with older students about Local 33 during this year's organizing effort.
After two years on hiatus from organizing at Yale, during which organizers worked on political campaigns throughout the country with parent union UNITE HERE and New Haven Rising, the union renewed extensive advocacy efforts to drum up support among graduate and professional students during the COVID-19 pandemic, finding little vocal opposition this time around. 
"Over the course of the last couple of years we've been able to build a consensus on campus about what it is that people need," Liu told the News.
In 2022, it collected thousands of election authorization cards from the majority of graduate and professional student workers and held two widely-attended rallies. 
Local 33 petitioned the NLRB for an official election in October. Days later, Yale agreed to hold one for the first time in its history. 
"It's great that the Yale administration did not engage in the same level of union-busting as they have in the past, and I hope they will bargain in good faith moving forward," Liu said in the press release.
Local 33 joins a small but growing number of recognized graduate unions at private universities, sparked by the NLRB's 2016 decision declaring their right to exist. Since then, graduate workers have won contracts at Columbia University, Harvard University, Tufts University, Georgetown University and several other private schools, bringing the total number of unions with collective bargaining agreements to nine. 
The pandemic exacerbated many of the social, economic and labor-associated hardships that graduate students face, reinvigorating the wave of unionization. In 2022, graduate students won union elections at the Massachusetts Institute of Technology, Fordham University, Clark University and Boston University. Like Local 33, several private school unions filed for elections toward the end of the year, including at Johns Hopkins University, the University of Chicago and Northwestern University.
"COVID has really highlighted the precarity of our work and the need for stronger workplace protections," organizer Adam Waters GRD ' 26 said in Local 33's press release. "The results of this election show that grad workers agree: our work makes Yale work and we deserve a seat at the table through our union and a contract."
According to Daily Union Elections, the six largest union filings in 2022 all came from graduate worker organizations at private universities.
Partygoers at the Old Heidelberg expressed similar sentiments, observing that the pandemic and the wave of academic worker organizing made many of their peers and coworkers more keen to unionize. Claire Cody GRD '24 was first drawn to Local 33 because of the "bigger picture:" standing up for the dignity of workers across the country.
"What we're doing at Yale can really have an impact across the board for workers being treated with respect and having more of a say, especially against large employers with a lot of power," Cody told the News. 
Local 33 on-campus allies, including Yale unions Local 34 and Local 35 and undergraduate activist group Students Unite Now, each celebrated the union's decisive victory. SUN has created a petition calling on the University to recognize the results of the election and negotiate a contract.
"As a SUN member, I am so proud to stand with graduate workers in this historic victory. Graduate workers at Yale have fought for their union longer than I have been alive!" SUN organizer Dereen Shirnekhi '23 wrote to the News. "I know my learning conditions are tied to their working conditions, and I encourage all undergraduates to sign SUN's petition for Yale to respect the election results and negotiate a good contract with Local 33."
Local 33 supporters look forward to negotiating an official contract with the University, which Salovey wrote will "continue to sustain the spirit of openness and inclusivity we fostered during the election process." Under the orange streamers decorating the Old Heidelberg, they named better mental and physical health care, international student protections, a grievance procedure and higher wages as important benefits that workers want to see in a contract.
Like Locals 34 and 35, Local 33 belongs to the national parent union UNITE HERE.
Sophie Sonnenfeld contributed reporting.