Socialism Is Back in the Wisconsin Legislature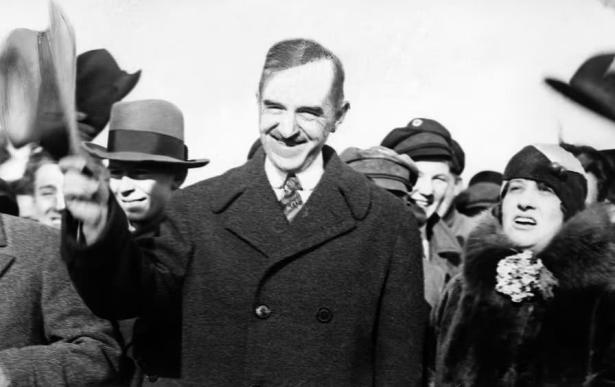 Daniel Hoan, one of three Socialist mayors who have led the city of Milwaukee. He served as mayor from 1916 to 1940,Robert Sennecke / ullstein bild via Getty Images
When a pair of newly elected Democratic legislators from Milwaukee—the city that elected three Socialist Party mayors in the 20th century—took seats in the Wisconsin State Assembly last week, they promptly announced that they would be forming a socialist caucus.
"We wanted to make sure that we were uplifting bolder ideas and solutions," said Darrin Madison, a democratic socialist who won a competitive Democratic primary in August before his victory in November. "That's something that democratic socialists have always done in Wisconsin."
Madison's fellow Assembly Democrat Ryan Clancy, who has been a high-profile member of the Milwaukee county board for several years, said, "It's important that we do this. We are both Democrats and we are both democratic socialists. We'll often vote with our Democratic colleagues, but we also think it's important to emphasize that we have a socialist perspective."

Having outspoken socialists in the Wisconsin assembly is going to require some adjustment for the conservative Republicans who have dominated the chamber for more than a decade.
"Most of them never met a socialist, and they're like, 'Oh, you eat human food. You wear kind of normal clothes,' " joked Clancy. "It's blowing some of their minds."
But he's quick to remind his colleagues that having socialists in the Wisconsin legislature is nothing new.
In fact, Madison and Clancy are renewing one of Wisconsin's most distinctive political traditions.
Socialists formed the main opposition party in the Wisconsin legislature of a century ago. While Republicans dominated the state Assembly and Senate, a robust caucus of Milwaukee Socialists made up the second-largest grouping in both chambers through most of the 1920s. Democrats were barely a presence.
The legislature that convened in 1923 had three Socialists in the Senate and 10 in the Assembly. The Democrats had no senators and just one assemblyman.
The Socialists were such a vital force in the legislature that Governor John Blaine, a progressive Republican from Boscobel, often worked with them when he wanted to get around more conservative stalwarts within his own party. The state's senior senator Robert M. La Follette ran for the presidency in 1924 with support from the Socialist Party and its former presidential candidate, Eugene Victor Debs. The US representative from Milwaukee through most of the 1920s was a Socialist, as was the city's mayor, Dan Hoan.
Socialists would remain a significant presence in the Wisconsin legislature well into the 1930s—so much so that when Republican Philip La Follette was elected governor in 1930, he chose a Socialist senator from Milwaukee, Thomas Duncan, as his executive secretary. Only with Franklin Roosevelt's landslide victory in the 1932 presidential race did Democrats finally displace the Socialists as Wisconsin's main legislative opposition party, and even then Socialists held several seats until the party linked up with the state's independent Progressive Party. Socialists continued to serve as mayors of Milwaukee until Frank Zeidler stepped down in 1960.
While a handful of Wisconsin legislators in the ensuing years identified as democratic socialists and ran with the support of Milwaukee's Democratic Socialists of America chapter—which enthusiastically backed Clancy and Madison when they ran as Democrats last year—this legislative session will be the first since the mid-1930s when socialists have formed a caucus.
The renewal of socialist fortunes is not unique to Wisconsin. Ever since the 2016 and 2020 presidential bids of longtime democratic socialist Bernie Sanders, socialists have been on a winning streak in local and state elections across the country. Dozens of democratic socialists now serve on city councils and school boards and in legislative chambers from Maine to California. So it shouldn't be all that surprising that Milwaukee, a city with so much socialist history, has seen a left-wing resurgence.
Clancy believes socialists can renew their influence on Wisconsin policy-making.
"Wisconsin socialism, specifically, is the least sexy socialism out there," he said. "It's about sewers and infrastructure, and that's important to remember. When you look at the history of what Socialists in Milwaukee and Wisconsin accomplished, it's a reminder that you can focus on equity issues that really matter to people and have an impact."
Clancy had done that on the Milwaukee county board, prioritizing projects such as providing legal protection for tenants facing the threat of eviction.
"I label a lot of what we did on the county board, and what I expect we'll do in the legislature, as harm reduction," he said. "We can start by talking about harm reduction in a capitalist system, as opposed to systemic change. But that doesn't mean we won't be talking about the need for systemic change."
The Assembly socialists know they'll face resistance from colleagues—including some Democrats who have encouraged Clancy and Madison to downplay their ideology.
But Madison thinks the time is right to highlight the "s"-word. When he was running for the Assembly last year, he said, he found there were advantages to identifying as a socialist. "Surprisingly, it brought more people into the campaign. Even some Republicans backed me because they saw me as an independent voice. I know Republicans throw out the term 'socialism' all the time to provoke fears in folks. But when I talk to Republicans in person, I hear them say, 'Look, I know you're sincere in trying to work for the people.'"
That's the key, Clancy explained. "There's a lot of interest in socialism, especially coming off the pandemic. A lot of what socialists want to accomplish is the practical stuff that makes government work for people. It's so practical that we think the Republicans might steal some of our ideas, and we're fine with that."
---
John Nichols is a national affairs correspondent for The Nation and the author of the new book Coronavirus Criminals and Pandemic Profiteers: Accountability for Those Who Caused the Crisis (Verso). He's also the author of The Fight for the Soul of the Democratic Party: The Enduring Legacy of Henry Wallace's Anti-Fascist, Anti-Racist Politics, from Verso; Horsemen of the Trumpocalypse: A Field Guide to the Most Dangerous People in America, from Nation Books; and co-author, with Robert W. McChesney, of People Get Ready: The Fight Against a Jobless Economy and a Citizenless Democracy.
Copyright c 2023 The Nation. Reprinted with permission. May not be reprinted without permission. Distributed by PARS International Corp. 
Please support  progressive journalism. Get a digital subscription to The Nation for just $24.95!