labor
U.S. Labor Strikes Went Up Almost 50% Between 2021 and 2022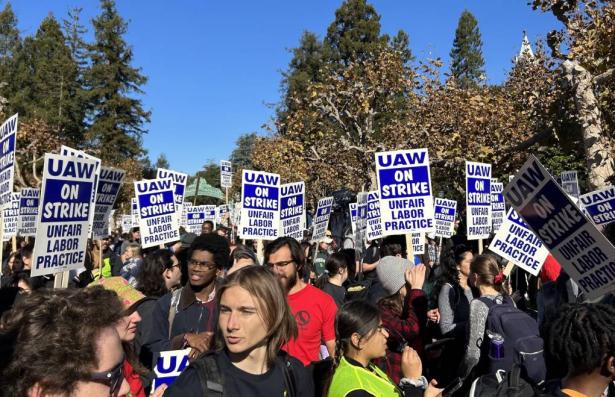 Hundreds of staff members at UC Berkeley demonstrate in November 2022 during a massive strike of 48,000 academic workers across all 10 University of California campuses. ,Jean Zamora/UC Berkeley
In 1968, Martin Luther King Jr. was assassinated shortly after speaking with sanitation workers in Memphis, Tennessee. The workers were on strike to protest their low wages and unsafe working conditions. 
Union membership and strike activity has fallen in the decades since King's death. But more recently, that has been changing.
The number of strikes in the United States rose almost 50% between 2021 and 2022, according to Cornell University's School of Industrial and Labor Relations. That pickup in activity has momentum.

In many industries, working conditions have worsened during the pandemic. Cathy Creighton at Cornell said workers are stressed.
"And with labor shortages, that exacerbates the stress because you have to do more with a lot less people."
Creighton, who used to be an attorney with the National Labor Relations Board, said going on strike can be risky. In some cases, employers are allowed to permanently replace striking workers.
But businesses might think twice about doing that right now, given how hard it's been to find workers in the first place.
"If there's nobody in line to take your job because there are just not enough people, that gives you incredible strength in striking," Creighton said, adding that many striking workers have won big concessions recently. 
Last week, nurses in New York City reached a deal to raise salaries by about 19% after striking for three days. But John Heywood, an economics professor at the University of Wisconsin-Milwaukee, said employers have been pushing back. For instance, look at the more than 250 Starbucks locations that have voted to unionize.
"There isn't one signed contract yet," he said. "And you can expect management to fight many, many of those."
Heywood said labor shortage might not last if the economy slows and unemployment rises.
"If it goes up a lot more, things would not look as favorable for labor," he said.
Thing is, unions have been pushing back against growing income inequality, said Kate Bahn, chief economist at the Washington Center for Equitable Growth.
Even if labor shortages go away?
"I think those underlying structural factors that have driven workers to the breaking point remain really persistent."  
And 71% of Americans approve of labor unions, according to Gallup. That's the highest approval rating since 1965.
"By getting unions that are engaging in collective activity more leverage through public support of their activity, that puts more pressure on employers," Bahn said. 
As more strikes succeed, Bahn said, workers are more likely to organize them at their own workplaces.