In Major Rebuke, New York Senate Committee Rejects Gov. Kathy Hochul's Court Pick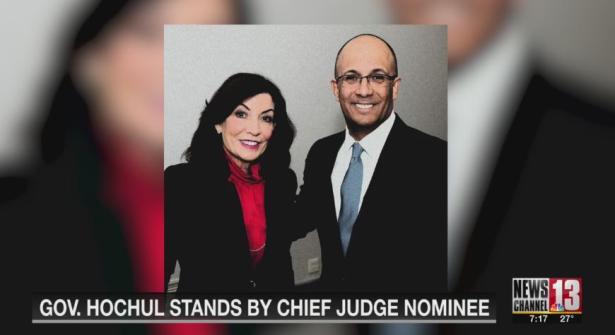 New York Gov. Hochul stands by her chief judge nominee, even as the State Senate Judiciary Committee votes not to advance the nomination to the full Senate., WNYT-TV (Albany, NY)
New York Governor Kathy Hochul's controversial nominee to lead the state's highest court has been rejected. In a Wednesday hearing, the state's Senate Judiciary Committee voted to prevent Judge Hector LaSalle from advancing to a Senate-wide vote, setting up a likely legal fight between Democrats in the state.
The final vote count was 2–10–7, with only two members voting in favor of totally advancing LaSalle. Ten members voted against LaSalle, while one Democrat joined the committee's six Republicans in voting to advance LaSalle without recommendation. All in all, LaSalle's advancement fails by a vote of 9–10.
New York Senate Democrats voted against LaSalle due to concerns over his judicial record on labor, abortion, and criminal justice. Hochul did not heed their earlier warnings, and instead promised to do "everything" in her power to push him onto the state's Court of Appeals. The effort first began in December, when, just weeks after beating a Republican during a midterm election in New York by only five points, Hochul chose to nominate LaSalle, whose record has been criticized by liberals, progressives, workers, and abortion voters as being antagonistic to supposed Democratic values.

Instead of attempting to massage away the criticism, or just respond to it and renominate someone else, Hochul dug her heels in.
On January 9, Ironworkers Vice President James Mahoney criticized Hochul's choice at a press conference, saying the nomination felt like being put "on the menu." He felt this way, he said, particularly after he and other labor organizers worked so hard to elect Hochul in the first place. Afterward, Hochul allegedly revoked Mahoney's invitation to her State of the State speech the following day.
On January 14, House Minority Leader Hakeem Jeffries tagged alongside Hochul at a Bronx rally to endorse LaSalle. He is "highly qualified to serve as the chief judge," Jeffries said. "Period, full stop." (Recall that Jeffries is House minority leader, and not House speaker, in large part thanks to the conservative majority on the state's top court, which drew unfavorable district maps.)
Finally, in one of the most brazen and bizarre displays of commitment to the nomination, Hochul appeared at two New York City churches on Martin Luther King Jr. Day to rally support for her nomination.
"Dr. King called upon us to be just and to be fair and to not judge people. And that has not been afforded to an individual named Judge Hector LaSalle," Hochul said. "My household knew the story of Dr. King.… When he was gunned down, assassinated, my family sat there and held hands and wept. How could this be? How could this man of God who taught us about nonviolence and social justice and change, and not judging people by the color of their skin, or one or two cases out of 5,000 cases decided."
If the shocking use of her pulpit on such a day wasn't enough, Hochul presided over the police removal of activist and church attendee Genesis Aquino, who stood up during Hochul's appearance to say she was praying for Hochul to heed tenants and working-class New Yorkers, hoping she would withdraw LaSalle and support eviction reform that would enable tenants to sue landlords for extreme rent increases.
All Hochul's efforts were for naught. But she may not be done yet. Despite the committee's "no" vote, Hochul is reportedly hiring a litigator to stake a legal battle on the basis of whether a nominee can be voted down in the Judiciary Committee in the first place.
[Prem Thakker is an associate writer for breaking news at The New Republic. His work has appeared in The American Prospect, Washington Monthly, CNN podcasts, and his newsletter Better World..]