Chicago's South Side Is Heart — and Soul — of Lyric Opera's 'Factotum'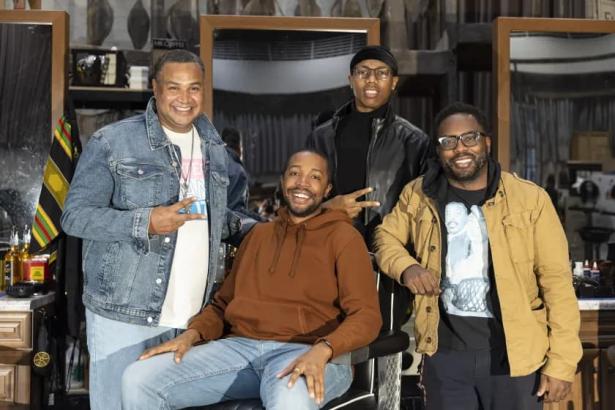 Director Rajendra Ramoon Maharaj (from left), conductor Kedrick Armstrong, co-creator DJ King Rico, and co-creator Will Liverman are photographed at a rehearsal of their world-premiere production of "The Factotum," at the Lyric Opera of Chicago,Anthony Vazquez/Sun-Times
About five years ago, after watching a documentary several times about the hugely successful Broadway musical "Rent," loosely based on Puccini's iconic opera "La Bohème," noted baritone Will Liverman got an idea. Why not update "The Barber of Seville," another celebrated historical opera, and set it in a contemporary Black barber shop?
"The Factotum," the resulting work, which Liverman created with producer/DJ/multi-instrumentalist DJ King Rico, opens at the Harris Theater for Music and Dance on Feb. 3 — the first of two world premieres this season presented by Lyric Opera of Chicago.

Lyric Opera of Chicago — 'The Factotum'
When: 7 p.m. Feb. 3, with four additional performances through Feb. 12
Where: Harris Theater for Music and Dance, 205 E. Randolph
Tickets: $35-$125
Info: lyricopera.org/factotum
"People know the experiences in the barber shop and have lived that," said Liverman, whose baritone is a familiar presence on the Lyric stage, "and so we wanted to create something that was accessible in that way and was a story that we had a perspective on."
The opera is among the first with an entirely Black and BIPOC cast and creative team, and it is the first to incorporate an onstage DJ as part of its innovative 18-piece orchestration, which includes electronic keyboards and electric bass and guitar. 
"I do think this is a groundbreaking, unique venture," said Anthony Freud, Lyric's president, general director and CEO, "and I think it has characteristics about it that make it really radical in its approach, in its conception."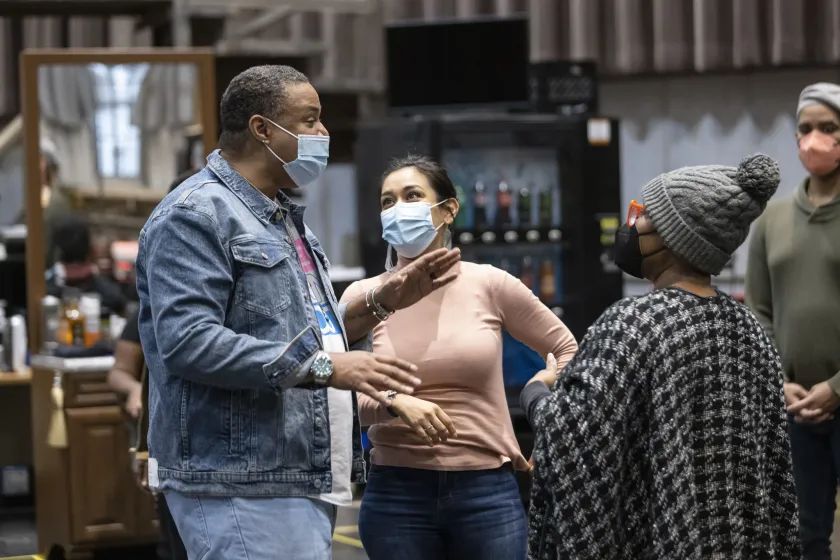 New works can sometimes be difficult sells for opera companies, but the five performances of this work are nearly sold-out, according to Freud.
"It speaks to what people want in the world of opera," said Rajendra Ramoon Maharaj, co-book writer, dramaturg and director. "We've tapped into a way to make opera important, urgent, entertaining and exciting for folks who love opera and those who've never experienced it."
Liverman, who grew up in Virginia Beach, Va., and now lives in Chicago, has always been interested in composition and enthralled by theater. Although hesitant at first to dive into operatic conception, the singer took his idea for a revamped "Barber of Seville" to Rico, a childhood friend. They both discovered opera through a program in Virginia known as the Governor's School for the Arts that ran parallel to their traditional high-school curriculum.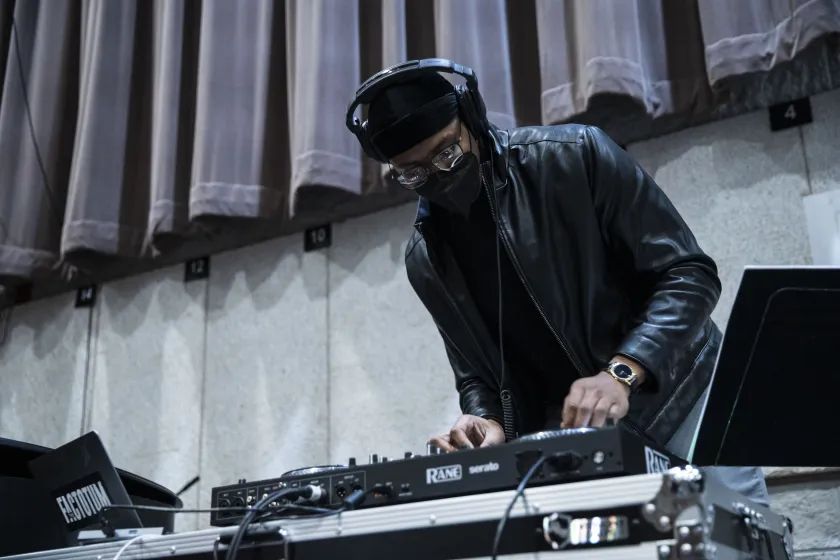 Rico didn't need much convincing to sign on.
"Carving out space for our stories to be told is always something that is appealing to me," he said, "and using the art form of opera, there are so many intricacies that you can pull from — the costumes, lighting, design and obviously the music."
About a year after conceiving and working on this project, Liverman mentioned it to Freud, and the operatic chief was immediately intrigued. Discussions continued, and Lyric sponsored a workshop in December 2020 that persuaded the company to commission the new work and provide additional support.
Because of the work's intimacy and what Freud and the creative team saw as a need for a close connection between the performers and audience, the opera will be staged in the in the 1,525-seat Harris Theater and not at the 3,276-seat Lyric Opera House, the company's home base.
Neighborhood barber shops play an important role in African American culture, and "The Factotum" revolves around Mike (Liverman) and Garby (Norman Garrett), co-owners of Master Kutz on Chicago's South Side. The two are at odds over an illegal numbers game that Garby operates after hours, a pursuit that winds up causing their niece, Cece (Nissi Shalome), to have a run-in with the police.
The word "factotum" denotes a person with multiple duties or activities, a kind of jack-of-all-trades, and that describes Mike, who is a focal point of the local community. He is an updated extension of Figaro, who is at the heart of "The Barber of Seville." 
A series of other characters that make up the local Black community – employees, customers, friends and romantic interests — come and in out of the story, which features 12 principal cast members.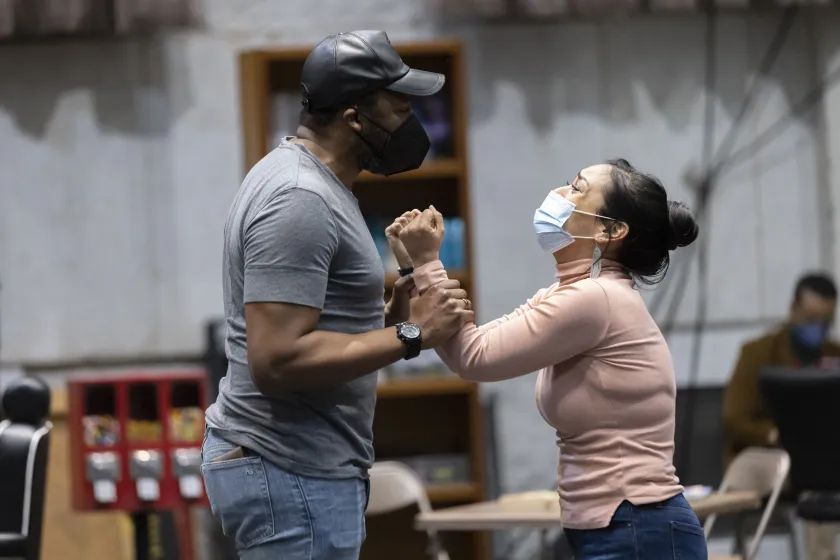 The creators have labeled "The Factotum" a "soul opera," but its influences go far beyond just soul music, taking in gospel, rap, hip-hop and R&B.
"It's a melting pot of all the genres that I know and love and grew up with," Liverman said, "and that Rico knows and loves and that he grew up with." 
Because Liverman and Rico are big fans of groups like Boyz II Men,they wanted a barber shop quartet to serve as the musical center of this opera and a kind of Greek chorus pushing the plot along.
"I would say the barbershop quartet is the glue that holds it together and makes it cohesive," Liverman said. 
---
Kyle MacMillan, a native of Kansas City, Mo., served as fine arts critic of the Denver Post from 2000 through 2011. Currently he is a Chicago based freelance writer and contributor to the Chicago Sun-Times where he covers visual art, dance and classical music, as well as larger issues and trends in the arts. His work has appeared in The Chicago Sun-Times, Ravinia Magazine, Art in America, Early Music America, Selvedge Magazine, Classical Voice of North America, The Wall Street Journal, La Voz Chicago, Playbill, WBEZ-FM (Chicago, IL), Art in America, Modern Luxury CS, Inkl Blog, EMAg, Classical Voice North America, Chicago on the Aisle.
The Chicago Sun-Times, winner of eight Pulitzer Prizes, is Chicago's oldest continuously published daily newspaper in the city. Founded in 1948 through a merger of the Chicago Sun and the Daily Times, it features hard-hitting investigative reporting, in-depth political coverage, timely behind-the-scenes sports analysis, and insightful entertainment and cultural coverage.  In 2022, it became part of the Chicago Public Media family of companies and now operates as a 501(c)(3) nonprofit organization. Become a member of the Chicago Sun-Times.