food
Cacao Makes a Comeback in Puerto Rico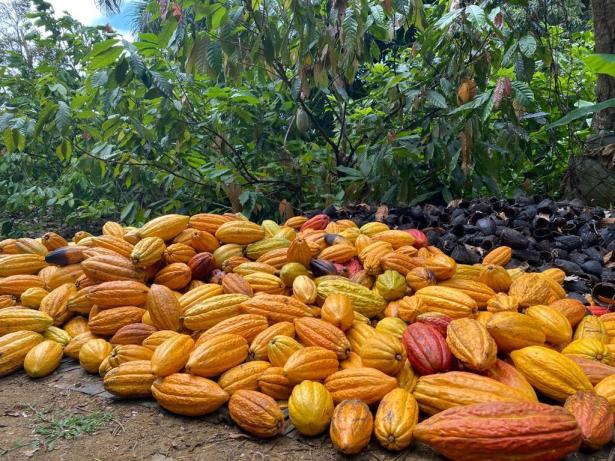 Specialty crops like cacao have prompted an agricultural resurgence in Puerto Rico.,Photography courtesy of Jen Ruiz
Cacao is considered a heart-opener. It stimulates blood flow and is used in ceremonies to foster a willingness to learn, grow and connect. It seems fitting, then, that cacao would be the crop to encourage Puerto Rico to open its heart once again to local farming and achieve international acclaim in the process.
With an abundance of fertile soil and ideal growing conditions, at first glance, it seems strange that more than 80 percent of Puerto Rico's food is imported. Neighboring islands such as the Dominican Republic grow and feed their population based primarily off their land, importing less than 20 percent of their food on average.
But Puerto Rico is different. Agriculture used to be a way of life for many, with small family farms throughout the island tending to crops such as plantains, sugar cane and rice.

Then, throughout the 1900s, tax incentives lured major pharmaceutical corporations
to the island. Suddenly, being a farmer was looked down upon. The way of life of the jibaro was traded for the metropolitan life of a corporate employee. The pay was better, the work easier and, over time, agriculture lost its allure. Coupled with hurricanes that routinely devastated harvests, a mismanagement of resources and the physical demands of manual work under the hot Caribbean sun, Puerto Ricans stepped away from the land and into the office.
However, over the past decade, agriculture has made a comeback. The introduction of gourmet crops such as cacao have made farming more enticing and more lucrative. Now, locally grown cacao is a burgeoning industry, with island farms and chocolatiers proving that Puerto Rico se levanta—it rises up once again.
Yadira Vazquez is the owner of Hacienda Chocolat in Fajardo. The farm recently won silver in the 2021 Cocoa of Excellence Awards, which recognizes quality, flavor and diversity in chocolate from around the world. Of the 235 samples that were submitted, only two Puerto Rican
producers won awards. That's not too shabby for a relative newcomer to the gourmet chocolate industry. Only four Puerto Rican farms have ever won awards in this bi-annual competition, and only recently, in 2019 and 2021.
Vazquez has always considered herself a "plant lady." She began experimenting with cacao in her yard, planting 10 trees at first. Then Eduardo Cortés, vice president of operations for Puerto Rican-based Chocolate Cortés, got a specialty crop grant from the federal government to sponsor 10 farmers to grow cacao on the island. Vazquez was selected for the second round of funding, and her grove blossomed. Now, Hacienda Chocolat has roughly 3,000 cacao trees, all different varieties. Her success comes as a surprise even to herself; she still juggles running the farm with her career as a radiologist. But the training she received from the federal grant money has allowed her farm to flourish.
She received courses and certifications from Ecuador, Costa Rica and Peru, studying cultivation, learning how to train employees and honing her knowledge of horticulture. While many of the grantees were committed to strictly growing cacao, Vazquez was always passionate about
sharing her love for gardening, sustainability, and the many ways we can use plants beyond consumption. Her grandfather used to be a coffee farmer and grew cacao for personal use. Vazquez sees cacao production as returning to her family's roots, literally and figuratively.
"Every time I walk and see the farm, I am reminded that, in the Aztec and Mayan cultures, cacao was considered the food of the gods," says Vazquez. "I am amazed by all the things we can do with the tree beyond chocolate." Indeed, cacao has multiple medicinal uses, and it is utilized throughout the island in unexpected products such as toothpaste.
"When people come to the farm and I begin to explain what we have, it is a pleasure for me to talk about this piece of paradise," says Vazquez. "I put up a Facebook page just to share what we were doing, and I started getting a ton of messages from people who wanted to visit," she says. "The messages haven't stopped." On a recent weekend, Vazquez hosted a whiskey and chocolate tasting class, with sessions at 10 am and 1 pm. Guests were still milling about at 8 pm, enraptured by the farm. Vazquez notes that cacao is one more thing in which the people of Puerto Rico can take pride. "It's taken some time," she says, "but, bit by bit, people are learning about the fruit of cacao."
That's why Vazquez plans to expand the business further, opening a chocolate factory in Rio Grande in 2023. Visitors can tour the farm to learn about the growing process, then see the production of chocolate from bean to bar in the on-site factory. Currently, guests can take tours of Hacienda Chocolat during the weekend, in English or Spanish. Vazquez also hosts private and special events, such as an art, wine and chocolate experience where guests create a painting while sampling charcuterie and the brand's single-origin artisanal chocolate bars.
Vazquez also puts an emphasis on collaborating with and championing other local businesses, such as her relationship with Montadero Chocolate.
German Ramos, owner of Montadero Chocolate in Caguas, opened his small chocolate shop last year, mid-pandemic. He uses 100-percent locally sourced cacao and has been the official chocolatier for Dewar's on the island. He also supports and recommends Hacienda Chocolat's production, speaking about it highly throughout his shop's two-hour chocolate tasting class.
Ramos attributes his success to the farmers on the island. "It's not just me making good chocolate," he says, "it's them growing high-quality cacao." Ramos was previously in the events industry, but he pivoted during the pandemic. Now, he is a self- taught master chocolatier and hopes to pass his knowledge on to his young son, who often wanders the store on weekends.
Companies such as Godiva and Lindt do not have shops in Puerto Rico. However, Montadero's storefront opened in 2021 and is part of a handful of brands introducing gourmet chocolate to everyday consumers on the island. Located in Caguas, the shop is in the middle of a dense residential area, and every aspect of the business celebrates Puerto Rico. The molds of the chocolate bars themselves, for instance, are in the shape of the mountains from Ramos' hometown. In the store, Ramos' grandmother is featured in a mural depicting the chocolate-making process. The message is clear: Puerto Rico does chocolate, too. And Montadero Chocolate is not alone. Stores such as Loiza Dark, Jeanmarie Chocolat and La Chocolatería are all contributing to the growing movement.
While it may have skipped a generation, the love of farming and high-quality crops is returning to Puerto Rico, one cacao bean at a time.