Workers' Rights Are Critical to Ukraine's Future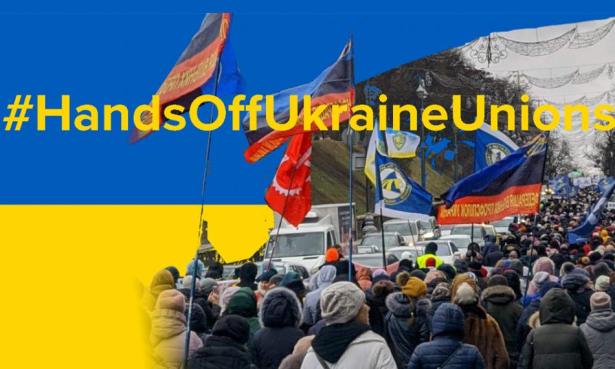 European Public Service Union
As Russia's war on Ukraine continues, Ukrainian workers and their trade unions have become an undeniable force for solidarity and community support throughout the country. Since the onset of the conflict, union members from the Confederation of Free Trade Unions of Ukraine (KVPU) and the Federation of Trade Unions of Ukraine (FPU) have mobilized in large numbers, remain united behind their elected government's efforts to manage the war and continue to make valiant sacrifices to defend the nation. However, in return, Ukraine's government is now moving to break the unions' power and take away crucial workers' rights that are central to upholding its democracy. 
In March, Ukraine President Volodymyr Zelenskyy addressed Congress and drew a powerful connection between his country and ours, stating that the war was a fight to protect our shared values of "democracy, independence, freedom and care for everyone, for every person, for everyone who works diligently…." A strong labor movement is central to Ukraine's struggle to remain an independent democracy because workers' rights and democracy are inextricably linked. That's been true throughout the conflict, and it will remain true when this war ends. 

Unions put their organizing skills to use in the immediate aftermath of Russia's attack as part of the Trade Union Lifeline initiative. They quickly converted their offices and properties into makeshift shelters to house more than 350,000 citizens displaced inside Ukraine. Unions also allocated donated funds to fill gaps in care and moved large numbers of humanitarian supplies, such as food, clothing, diapers and feminine hygiene products, to those in need. Both national union federation presidents have made numerous trips to front-line towns to personally deliver shipments. Workers on the job are keeping the economy going, while thousands of union members have enlisted in the military and the country's civil defense, many of whom have been killed in active duty. Their incredible efforts have been recognized by the AFL-CIO and the entire global labor movement, which has been unwavering in their support for Ukraine. 
In October, American Federation of Teachers (AFT) President Randi Weingarten traveled to Lviv, Ukraine, to provide support, meet with teachers and raise awareness about the war's impact on the lives of children. Dozens of teachers are working hard to ensure that students remain able to keep up with their education. Members of the Construction and Building Materials Workers Union of Ukraine (PROFBUD) have found creative ways to support the war effort, including procuring life-saving medications and improvising the creation of a communications outpost for their communities.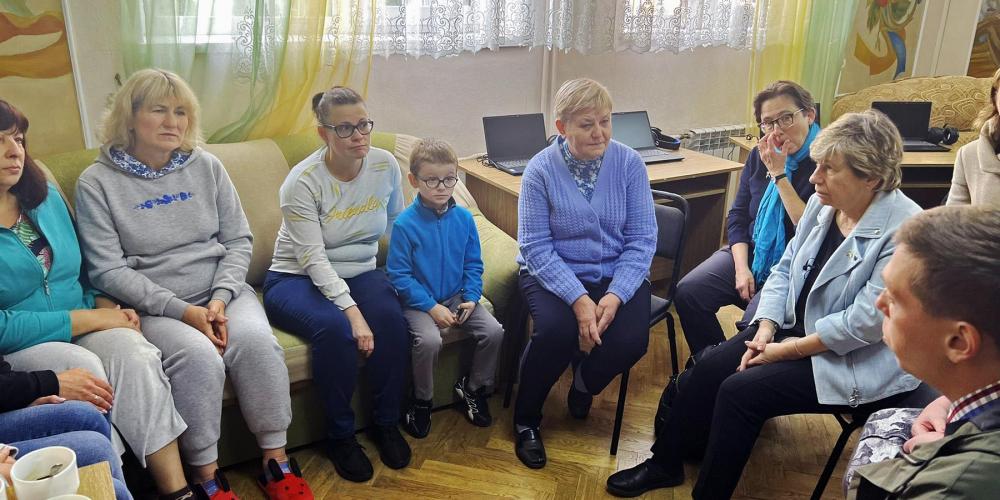 While labor has proven invaluable to every facet of Ukraine's fight to defend its sovereignty, Ukraine's parliament continues to advance several anti-worker, anti-union policy efforts under the cover of the crisis. In recent months, the parliament has considered more than 27 bills that would restrict or eliminate worker and union rights. One proposal would confiscate the property of the FPU and all its affiliated unions, many of which are being used to house the displaced. Given that this property has been maintained and managed for 30 years by union dues and finances with no issue, it is suspected that the policy's true motivation is to bankrupt the FPU and assert government control over valuable pieces of real estate.
These are not just hypothetical threats. Law 2434-IX, which was adopted in July and enforced officially in August, eliminated collective bargaining for all employers with 250 or fewer employees for the period of martial law and introduced precarious "zero-hour" contracts into Ukrainian labor relations. These contracts create a more perilous work situation because employers are not obliged to provide a minimum number of working hours to workers. Although these changes were passed for the war's duration, the government's Ukraine Recovery Plan indicates a desire to make these provisions permanent. Other equally troubling bills focus on eliminating worker protections on working hours, transfer rights, the right to organize unions, collective bargaining, social assistance funds, pension rights and administration, safety and health enforcement, unemployment benefits and the system that sets minimum wages—some of which have already become reality.
The rationale behind this effort—that worker rights must be eliminated to promote economic growth—relies on deeply flawed and outdated development models. These changes run counter to international standards that Ukraine previously ratified, and these modifications are in direct conflict with decisions handed down by the International Labour Organization that recognize taking action to confiscate union property as a significant violation of the freedom of association. The Ukrainian government is aware of this—having previously lost a similar property confiscation case in the European Court of Human Rights in 2018. Anti-union legislation also flies in the face of Ukraine's stated policy goal of further integration into the structures and norms of the European Union, where union coverage has remained high in many nations and workers' rights remain strongly protected. Many of these laws could not pass before the war and are now in motion only because of Russia's unprovoked attacks. 
Ukraine's fight for democracy must take a holistic view. Unions will be instrumental in rebuilding the country, and Ukraine's government cannot go down the path of destroying internationally recognized worker rights because of the ideological agenda of a few ultra-free-market, libertarian officials who are using the war to push their agenda of eliminating unions. Likewise, the war should not be used as cover for wealthy interests in Ukraine to squeeze more profits from Ukrainian workers, many of whom are making great sacrifices in service to their country.
We stand in solidarity with our Ukrainian sisters, brothers and siblings. But Ukraine cannot become a respected democratic nation if it continues to destroy the rights of workers and unions.