CWA, Filipino-American and Human Rights Groups Applaud Introduction of Philippine Human Rights Act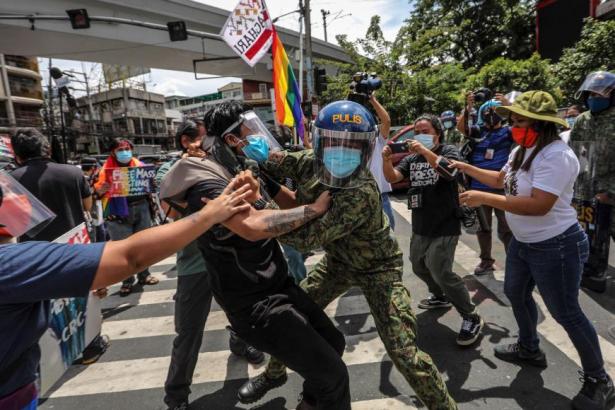 Police arrest protesters during a Pride march in Manila, Philippines, June 26, 2020,2020 AP Photo/Gerard Carreon
The Communications Workers of America (CWA), The Malaya Movement, the International Coalition for Human Rights in the Philippines and Kabataan Alliance applaud today's introduction of the Philippine Human Rights Act, led by Rep. Susan Wild (D-PA) and cosponsored by Reps. Costa (D-CA), Lofgren (D-CA), Haaland (D-NM), Schakowsky (D-IL), Khanna (D-CA), McGovern (D-MA), Rush (D-IL), Johnson (D-GA), Levin (D-MI), Lee (D-CA) Holmes Norton (D-DC), Raskin (D-MD), Lowenthal (D-CA), Pocan (D-WI), Omar (D-MN), Jayapal (D-WA), Gomez (D-CA), Ocasio-Cortez (D-NY) and Davis (D-IL).
Earlier this year, Philippine President Rodrigo Duterte signed the Anti-Terrorism Act—a law that Amnesty International has called "yet another setback for human rights." The law is clearly aimed at expanding the government's ability to target political opponents and activists. It allows suspects to be detained by the police or military without charges for as long as 24 days and placed under surveillance for up to 90 days. 
"CWA is proud to support the introduction of the Philippine Human Rights Act to protect the working people in the Philippines who are suffering greatly under the Duterte regime," said CWA's Senior Director for Government Affairs and Policy Shane Larson. "Although we're all dealing with the fallout of the pandemic right now, we cannot turn our backs on the crisis that Filipino workers have been facing under Duterte, which has greatly accelerated during COVID-19, with the Philippines government's intensified power grab to persecute its political enemies. We must show Duterte that Americans and the labor movement won't stand for him and his administration imprisoning and executing trade unionists and activists."

"The Anti-Terror Law is the latest addition to Duterte's arsenal in his war against human rights defenders and activists and will only worsen the widespread killings under Duterte," said Ramon Mappala, a former political prisoner and current member of the Malaya Movement. "The introduction of the Philippine Human Rights Act is a significant development for the Filipino-American community in the United States and Filipinos in the Philippines; this is a sign of hope for Duterte's victims and a strong warning to Duterte's regime. Despite the threats of the Duterte Administration, we will not be deterred until we see justice in the Philippines."
The Philippine Human Rights Act blocks U.S. funds for police or military assistance to the Philippines, including equipment and training, until such time as human rights conditions are met. Specifically, the Philippines must meet the following conditions to lift restrictions set by the bill:
Investigating and prosecuting members of the military and police forces who are credibly found to have violated human rights;

Withdrawing the military from domestic policy;

Establishing protections of the rights of trade unionists, journalists, human right defenders, indigenous persons, small-farmers, LGBTI activists, and critics of the government;

Taking steps to guarantee a judicial system that is capable of investigating, prosecuting, and bringing to justice members of the police and military who have committed human rights abuses; and

Fully complying with any and all audits or investigations regarding the improper use of security aid.
Other organizations supporting this bill include: the AFL-CIO, SEIU, Teamsters, AFT, Ecumenical Advocacy Network on the Philippines, United Church of Christ - Global Ministries, United Methodist Church - General Board of Church & Society, Migrante USA, Gabriela USA, Anakbayan USA, Bayan-USA, Franciscan Network on Migration, Pax Christi New Jersey, Kabataan Alliance, and National Alliance for Filipino Concerns.
For more information about the PHRA or to endorse, visit www.humanrightsph.org.