'Toni Stone' Shines Spotlight on Groundbreaking Baseball Player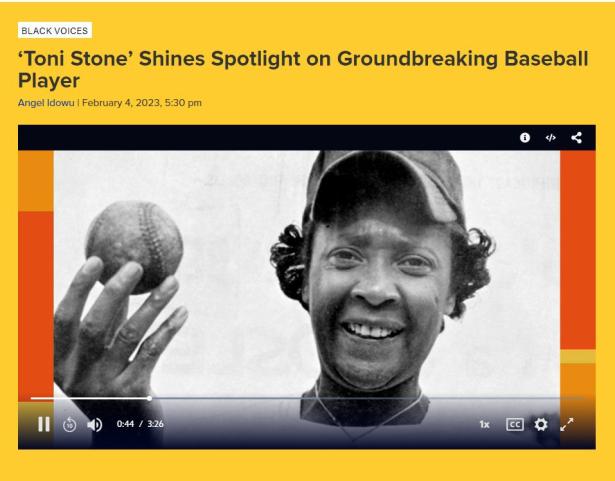 America's favorite pastime is taking center stage in a new production at the Goodman Theatre.
"Toni Stone" is the story of the first woman to play in baseball's Negro Leagues. Stone was rejected by the All-American Girls Professional Baseball League due to her race, so she instead joined an all-male baseball team, the Indianapolis Clowns, to play second base.
"I think it's of the utmost importance to play iconic characters who we have never heard of," said actress Tracey Bonner, who plays Stone. "I didn't, and I played baseball from 5-12 and softball, and I had never heard of this iconic woman."

Bonner said of the play: "What you'll learn are some of the obstacles she faced — part of that her mother not being supportive. She wanted to do traditional mother things. She was proficient in a lot of things and didn't want to limit herself. It follows her journey in an all-male sport, some of the things she had to do to fit in and some of the things she had to comprise herself to be in this sport." 
Playwright Lydia Diamond said one of the elements she wanted to highlight was that despite Stone's challenges, she achieved her goals.
"The story I'm telling is about Toni Stone," Diamond said. "Some things she encountered were horrible things. It made not what White people have done to us the story — it was important to me that that not be the story."
Diamond continued: "A thing I don't see on stage as much as I'd like — [I] wanted to see a group of men hold up a Black woman and tell her story. So the men play different characters. The men play women. Someone plays her mother. They play White and Black people, it's exciting. … I wanted to see Toni Stone on the stage by herself the way she would be. It's compelling to me, the way a woman pushes her way into a world that didn't want her and is so successful. That's part of the story of her story."
Set in the 1950s, the play aims to celebrate Stone's home runs, despite the racist and sexist barriers. Bonner said the show is a celebration of who Toni was, not necessarily what she did.
"She says it in the play: 'You can do anything if you work real hard.' Believe in yourself, and fight for what you believe in and who you want you be — I think that is the biggest takeaway," Bonner said. "Always fight for who you are and know that you are enough."
"Toni Stone" runs at the Goodman Theatre through Feb. 26.
---
Angel Idowu is currently the JCS Fund of the DuPage Foundation Arts Correspondent for WTTW/Chicago's PBS station. Prior, she served as a reporter and producer for CBS affiliate WJTV12 in Jackson, MS
Founded in 1955 WTTW (Window to the World) is Chicago's PBS station.  Support WTTW with a One-Time or Monthly Gift.
Our Mission
WTTW is committed to producing and presenting trusted, best-in-class content fueled by a distinctly Chicago sensibility. We engage our audiences by entertaining, inspiring, educating, and reflecting a diversity of perspectives. 
Our Purpose
We enrich lives, engage communities, and inspire exploration.
Our Values
Curiosity: We are driven by an appetite to learn and know more –  inside the organization, the greater Chicago area, and throughout the wider world – and we use what we  learn to inspire our audiences to explore.
Commitment: We are committed to building an innovative, creative, and collaborative culture that enriches, engages, and inspires our audiences.
Trust: We operate ethically, transparently, and with integrity.
Respect: We treat people fairly, value one another, and foster a safe environment that encourages collaboration, communication, and consideration.
Excellence: We strive to be a best-in-class content company by setting the highest standards of quality in all that we do.
Diversity & Equity: We celebrate differences, embrace inclusivity, and strive for equity. The stories we tell, as well as the people in front of and behind the camera and microphone, reflect the myriad faces and voices of our region.
Fun: We believe in an enjoyable, positive, and team-oriented workplace. We're committed to hard work that produces great content, and we don't take ourselves too seriously.