Roberto Clemente Book Removed From Florida Public Schools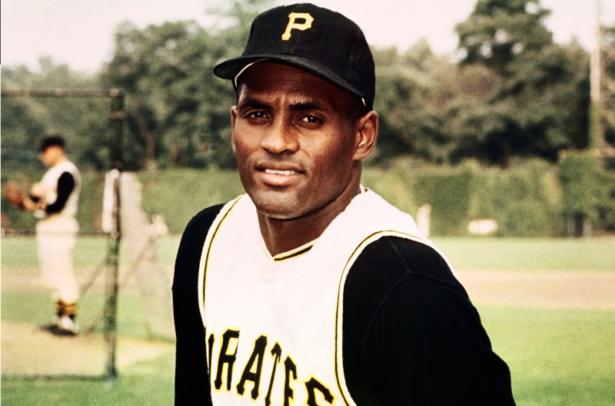 Roberto Clemente, pictured here in 1966, often denounced racism and spoke publicly about his experiences as a Black Latino climbing the baseball ranks during the civil rights movement, Bettmann Archive
A book about late Afro-Puerto Rican MLB legend Roberto Clemente can't be found in the shelves of public school libraries in Florida's Duval County these days.
"Roberto Clemente: Pride of the Pittsburgh Pirates" by Jonah Winter and Raúl Colón — and other books about Latino figures such as the late Afro-Cuban salsa singer Celia Cruz and Justice Sonia Sotomayor — are among the more than 1 million titles that have been "covered or stored and paused for student use" at the Duval County Public Schools District, according to Chief Academic Officer Paula Renfro.
School officials are in the process of determining if such books comply with state laws and can be included in school libraries.

Florida Gov. Ron DeSantis signed laws last year that require schools to rely on certified media specialists to approve which books can be integrated into classrooms. Guidance on how that would be implemented was provided to schools in December.
Books must align with state standards such as not teach K-3 students about gender identity and sexual orientation; not teach critical race theory, which examines systemic racism in American society, in public grade schools; and not include references to pornography and discrimination, according to the school district.
In January, 52 certified media specialists for Duval started reviewing about 1.5 million book titles, Sonya Duke-Bolden, a spokesperson with the public schools district told NBC News Friday. Close to 2,800 books have been approved by media specialists so far. Duke-Bolden did not say if more books were reviewed but not approved.
PEN America, a nonprofit group that advocates for free expression in literature, said in December that 176 elementary school books from their Essential Voices collection were among the titles removed from Duval County public school libraries.
The organization said the books removed included some substituted titles and more than 100 deemed to have "content too mature for the grade level for which they were included in that collection."
Duke-Bolden said that 47 substituted titles, which were swapped in for books in the Essential Voices collection that were unavailable, were sent back. Of the more than 170 books, "106 were deemed to be useful for our reading goals and have been distributed to classrooms" while 26 others remain under review.
"Note that even though a title may appear to be appropriate, we must evaluate each book's full content for its age-level appropriateness and full compliance with Florida law," Duke-Bolden added.
Of the books removed from Duval County, more than 30 were by Latino authors and illustrators or centered Latino characters and narratives. Among these were "Celia Cruz, Queen of Salsa" by Veronica Chambers and Julie Maren, "Sonia Sotomayor (Women Who Broke the Rules Series)" by Kathleen Krull and Angela Dominguez, and Winter's Clemente book.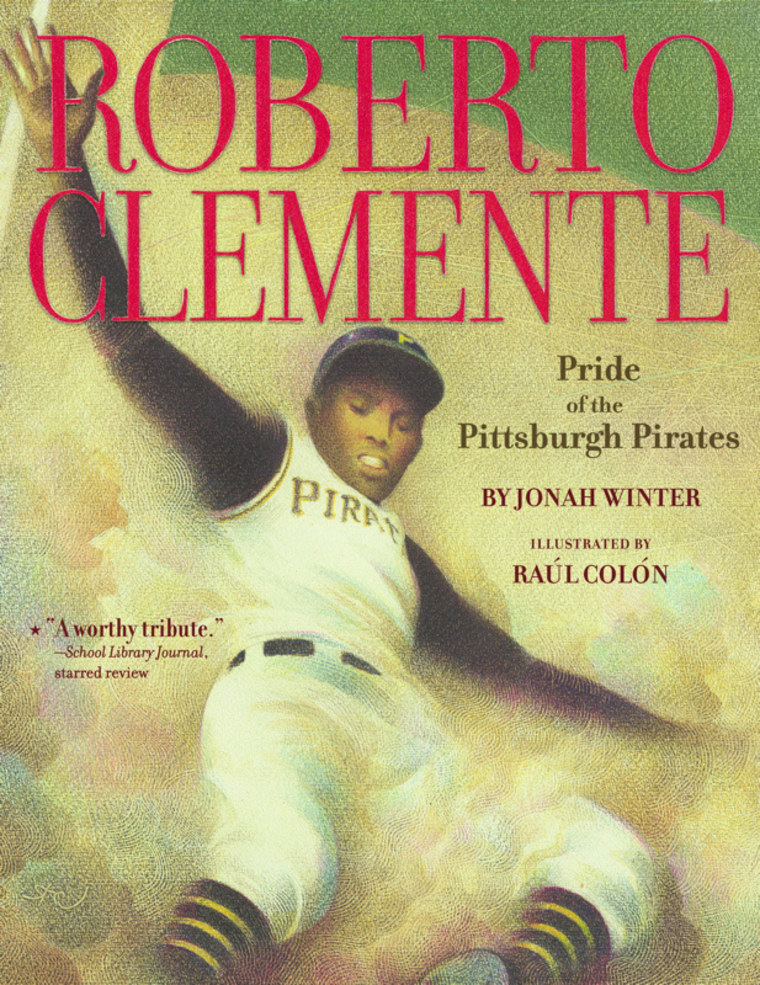 "Robert Clemente: Pride of the Pittsburgh Pirates" by Jonah Winter, illustrated by Raúl Colón.Atheneum Books for Young Readers via Simon and Schuster
The son of the Pittsburgh Pirates player, Roberto Clemente Jr., told NBC News he owns the book, which was written for children K-3.
"His story is his story. He went through racism. It's something that can't be changed," Clemente Jr. said. "But obviously, for the younger students, if it's something that they feel is too much for them, they might be able to utilize a different book with the same story, but it's framed differently for them, for that for that age group."
Clemente Jr. added that he expects his father's life story and legacy to empower people of all ages.
LatinoJustice PRLDEF, a Latino civil rights organization based in New York, blasted the school district in Duval for removing the Clemente book over its "references to racism and discrimination."
"Learning about Clemente's achievements, his pride in his Afro-Boricua identity and his struggles with racism and discrimination would provide needed insight on historical conditions in the U.S., and inspiration for the majority Black and Latino student population in Duval County schools," Lourdes Rosado, president and general counsel at LatinoJustice PRLDEF, said in a statement.
"We urge the school district to restore this book and others that shine a light on the experiences of exemplary people in our country who have contributed greatly to our society and culture," Rosado said. "Our children deserve to understand the full scope of our society's flaws and strengths." 
Clemente died in 1972, when his plane crashed off the coast of Puerto Rico as he was delivering relief supplies to earthquake victims in Nicaragua. He was 38.
His humanitarian efforts are perhaps his greatest legacy in addition to his professional baseball career. Clemente became a posthumous Baseball Hall of Famer, with exactly 3,000 hits, four National League batting titles, 12 Gold Gloves, an MVP award, two World Series championships and 15 All-Star appearances.
Clemente often denounced racism and discrimination in his native Spanish language, and he spoke publicly about his experiences as a Black Latino climbing the baseball ranks during the civil rights movement. He even spoke about political and social issues alongside Martin Luther King Jr.
"The book on Roberto Clemente is pending review," Duke-Bolden said. She couldn't immediately share the review status on the books about Cruz and Sotomayor. 
Cruz, known as the Queen of Salsa, was one of the 20th century's most celebrated Latin music artists. Sotomayor is the first Hispanic and the third woman to serve on the Supreme Court.
Clemente Jr. and his family are waiting to see what happens with the book about the baseball great and plan on reaching out to the school district some time next week.
"We need to continue to figure out how to continue that conversation and unifying our cultures and nationalities," he said.
Nicole Acevedo is a reporter for NBC News Digital. She reports, writes and produces stories for NBC Latino and NBCNews.com. Twitter.