Lessons From Majid Khan's Release From Guantánamo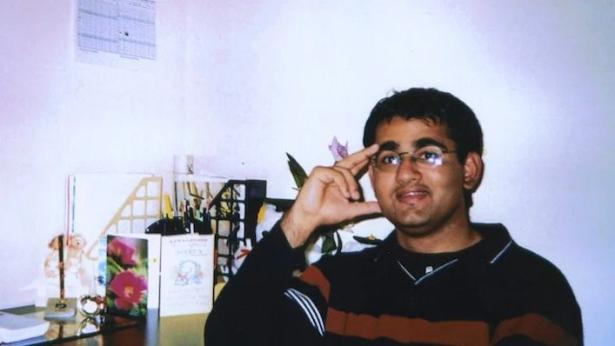 Majid Khan in 1999, during his senior year in high school in Maryland,Photo via Center for Constitutional Rights/Khan family
On February 2, U.S. prisoner and former al Qaeda courier Majid Khan was released from the Guantánamo Bay Detention Camp in Cuba after more than sixteen years of imprisonment. "We are very pleased with Majid's release," says J. Wells Dixon, a senior staff attorney at the New York City-based Center for Constitutional Rights (CCR).  
"Majid's transfer to Belize is the culmination of nearly twenty years of work by the CCR and the law firm Jenner & Block," Dixon tells The Progressive "Our only regret is that he was not released sooner."
On October 7, 2001, in the wake of the 9/11 attacks, the United States, together with Great Britain, launched "Operation Enduring Freedom," the war in Afghanistan and the beginning of the "global war on terror." It was followed, in March 2003, by the U.S. invasion of Iraq ostensibly to end Saddam Hussein's dictatorship and to destroy his alleged weapons of mass destruction (WMD). 

On January 11, 2002, the first twenty detainees were delivered from CIA black sites to the Guantánamo military prison, known as Camp X-Ray, on the island of Cuba. Over the following two decades, approximately 780 detainees would be held there. Today, thirty-four detainees remain imprisoned in the detention facility. Most troubling, this prison held more than 150 innocent men for years. The Guantánamo prison and associated military courts currently cost U.S. taxpayers about $540 million a year (with about $13.5 million being spent on each detainee).
Khan was born in Pakistan, where he lived as a child, and later grew up in a suburb of Baltimore, Maryland. After 9/11, he returned to Pakistan and became a courier for al Qaeda. He was arrested in Karachi in March 2003 and spent about three years in CIA black sites. He was then taken to Guantánamo in September 2006, which is when CCR began to represent him. He was charged by a military commission in 2012, pleaded guilty, and agreed to cooperate with U.S. authorities.   
"I have a story that I have waited almost two decades to tell, so I want to start by thanking you for taking the time to listen to my statement," Khan begins in his October 2021 personal statement before his sentencing by a Guantánamo military commission. Khan said, "I want you to know what I did, what happened to me, and what I hope for the future." 
Khan's testimony was also included in a report by the U.S. Senate Select Committee on Intelligence. He was the first former prisoner of a CIA black site to openly describe the violent and cruel torture he suffered under what was infamously dubbed "enhanced interrogation." "The more I cooperated and told them, the more I was tortured," he said.
The Committee's report was approved on December 13, 2012, but not declassified until 2014.  
---
Kahn admitted to helping finance the 2003 bombing of a Marriott hotel in Jakarta, Indonesia, that killed eleven people. The Senate report notes that he was "an operative who could enter the United States easily and was tasked to research attacks against U.S. water reservoirs." And, according to Khalid Sheikh Mohammed, who is considered to be the principal architect of the 9/11 attacks, Khan was "to deliver $50,000 to individuals working for a suspected terrorist leader named Hambali, the leader of al-Qaida's Southeast Asian affiliate known as 'J-I.' . . . Khan confirmed that the money had been delivered to an operative named Zubair . . . ."
According to Khan, the CIA black site had dungeon-like conditions in which he was kept naked with a hood on his head, his arms chained in ways that made sleep impossible. The report chronicles that at the "[b]eginning in March 2004, and continuing until his rendition to U.S. military custody at Guantanamo Bay in September 2006, Majid Khan engaged in a series of hunger strikes and attempts at self-mutilation that required significant attention from CIA detention site personnel." 
Most alarming was how the CIA responded to these actions:
Majid Khan was then subjected to involuntary rectal feeding and rectal hydration, which included two bottles of Ensure. Later that same day, Majid Khan's "lunch tray," consisting of hummus, pasta with sauce, nuts, and raisins, was "pureed" and rectally infused. Additional sessions of rectal feeding and hydration followed. In addition to his hunger strikes, Majid Khan engaged in acts of self-harm that included attempting to cut his wrist on two occasions, an attempt to chew into his arm at the inner elbow, an attempt to cut a vein in the top of his foot, and an attempt to cut into his skin at the elbow joint using a filed toothbrush. 
Majid also said during his sentencing that he was raped with a garden hose: "While I was hanging for these three days, I recall one instance where I saw a guard or interrogator's face," he said. "This man sexually assaulted me while I was hanging naked. He touched my private parts while we were alone. I told this man to stop and that I wanted to see a lawyer. He responded, 'Are you kidding, a lawyer? You are in no man's land. No one even knows where you are.'"
"Let me be very clear, enhanced interrogation techniques are torture. And torture is—and always has been in modern times—illegal," insists Majid's attorney, Dixon. "There is no exception under U.S. and international law for torture. And the torture that was inflicted on Majid was a war crime that should have been—and should in the future be—prosecuted as a criminal act." 
Colonel Douglas K. Watkins, a judge at the Guantánamo military court, considered Khan's treatment "shocking." In his June 2020 ruling on Khan's case, he wrote, "there is no serious dispute that Mr. Khan was tortured and suffered other illegal pretrial punishment both in CIA detention and at Guantanamo."
Shortly after the 9/11 attacks, in November 2001, President George W. Bush issued an executive order establishing military commissions in Guantánamo. They had no legal obligation to grant basic U.S. Constitutional protections to prisoners because the prison was outside of the United States. In addition, they did not have to adhere to the Geneva Conventions because these treaties did not apply to "unlawful enemy combatants." 
In 2006 the U.S. Supreme Court found that the system of military commissions that was to be used to try selected prisoners held at Guantánamo was in violation of the Geneva Conventions and the Uniform Code of Military Justice.
---
Dixon points out that "when Majid Khan was brought to Guantánamo in September 2006, the assumption by the Bush Administration was that the U.S. military would go along with what the CIA had done, and would help to cover up what the CIA had done." He then adds, "But when push came to shove when Majid got in front of a military judge and a military jury, that military judge said this was torture—and the military jury condemned it."
"There are thirty-four men who remain, and the overwhelming majority of those men have been approved for transfer," Dixon adds. "Belize's offer of humanitarian resettlement [for Khan] is a model for other countries to offer [resettlement to] the remaining men."  
Going further, he notes that "there [are] a small number of men who are still involved in the military commission system including the so-called 9/11 defendants—i.e., the five men who are accused of plotting the 9/11 attacks. So, what do we do about those men?"
"I'm not involved in those cases but having been through the military-commission system with Mr. Khan," Dixon argues. "I can say this, the military-commission system has failed to bring anyone to justice for anything through contested proceedings. The only success the military commission system has seen is through guilty pleas like that of Mr. Khan."  
Dixon adds, "My point is that we will never have accountability for 9/11 if those cases continue toward trial because they will never get to trial, and if they get to trial, they will be overturned on appeal because of issue of the torture." He goes further, pointing out, "negotiated resolutions of the remaining military commission cases is the only way to obtain any modicum of justice and accountability. And it's the only way Guantánamo is going to close."
David Rosen of New York City is the author of the book Sin, Sex & Subversion: How What Was Taboo in 1950s New York Became America's New Normal (Skyhorse, 2016).
Since 1909, The Progressive has aimed to amplify voices of dissent and those under-represented in the mainstream, with a goal of championing grassroots progressive politics. Our bedrock values are nonviolence and freedom of speech.
Based in Madison, Wisconsin, we publish on national politics, culture, and events including U.S. foreign policy; we also focus on issues of particular importance to the heartland. Two flagship projects of The Progressive include Public School Shakedown, which covers efforts to resist the privatization of public education, and The Progressive Media Project, aiming to diversify our nation's op-ed pages.   
You have the power to make a difference at The Progressive by giving us the strength to grow—allowing us to dig deeper, hit harder, and pull back the curtain further to hold accountable those who abuse power!mmThe Progressive, Inc. is a 501(c)(3) and all donations are tax-deductible to the full extent of the law.