How Minor League Ballplayers Won a Union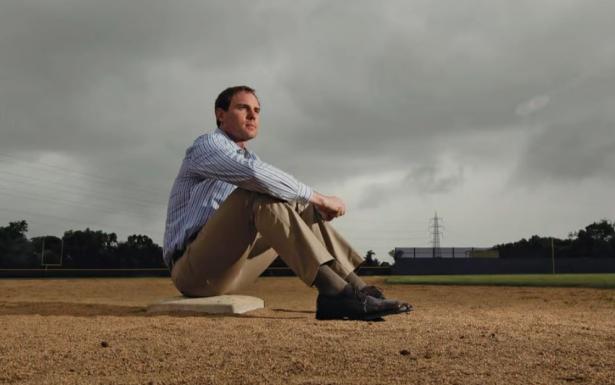 Throwing strikes: Garrett Broshuis spent four seasons in the minors before going to law school. His first case was a class-action suit against Major League Baseball, Jeff Roberson / AP // The Nation
Trevor Hildenberger is a 32-year-old pitcher for a minor league affiliate of the San Francisco Giants. He was used to spending his days thinking about balls, strikes, and fielding errors, but helping organize a union with his fellow ballplayers taught him a lot about political psychology.
"When I started to talk to players about how collective action could make things better for us, I had those conversations during batting practice, on the buses, or in the clubhouse," Hildenberger remembers. "I always spoke loud enough so that it didn't seem like I was whispering secrets to them, as if I was afraid that what I was asking them to do was dangerous."
Hildenberger, whose parents are active in a Northern California nurses union, believes that his efforts are simply a matter of dignity, fighting for what is fair for himself and the 5,500 other minor league players.

"My parents are proud of what I'm doing," he says.
Hildenberger, whose parents are active in a Northern California nurses union, believes that his efforts are simply a matter of dignity, fighting for what is fair for himself and the 5,500 other minor league players.
"My parents are proud of what I'm doing," he says.
Since the early 20th century, thousands of young athletes have endured low wages, overcrowded housing, indifferent medical care, and all-night rides in uncomfortable buses in order to play in baseball's minor leagues, hoping to eventually make it to "the show"—the major leagues. These players have long complained about their working conditions, but rarely in public. Many were grateful just to be paid to play baseball—a step up from working on farms or in factories back home. They also knew that players who grumbled about their circumstances could quickly lose their jobs or even get blacklisted by professional teams. So they kept quiet.
Now the decades of whispering have ended.
In mid-September, a majority of minor league players signed cards stating their desire for the Major League Baseball Players Association (MLBPA) to represent them through collective bargaining. Baseball's 30 team owners, 24 of whom are billionaires, immediately recognized the union as the minor leaguers' representative—meaning that when play resumes in March, baseball's entire player workforce will be unionized.
The fall announcement shook up the baseball world. Many sportswriters claimed that the union came out of nowhere. That's because the players had kept the organizing efforts quiet—despite the many phone calls, e-mails, and one-on-one meetings they employed to spread the word.
A union for minor league players was considered a pipe dream only a decade ago. One major stumbling block was the players' reluctance to take on the team owners. Even Marvin Miller, the MLBPA's legendary first executive director—who negotiated the first collective bargaining agreement in professional sports in 1968—believed that minor league players, who had "stars in their eyes" about making the major leagues, would never unionize.
"The notion that these very young, inexperienced people were going to defy the owners—it's just not going to happen," Miller told Slate in 2012.
But in the past few years, a group of minor leaguers had begun organizing to change the conditions that they once believed were unchangeable. Like any organizing drive against a powerful and implacable employer, it's impossible until it's not.
And as with any social movement, the minor leaguers' success depended on a combination of harsh conditions, missteps by baseball's owners, and the presence of a handful of agitators and organizers who persuaded competitive and individualistic ballplayers that only by joining forces could they improve the conditions of their work and not jeopardize the slim chance they had to climb the ladder to the big leagues. What follows is an exclusive, inside account of just how that was accomplished.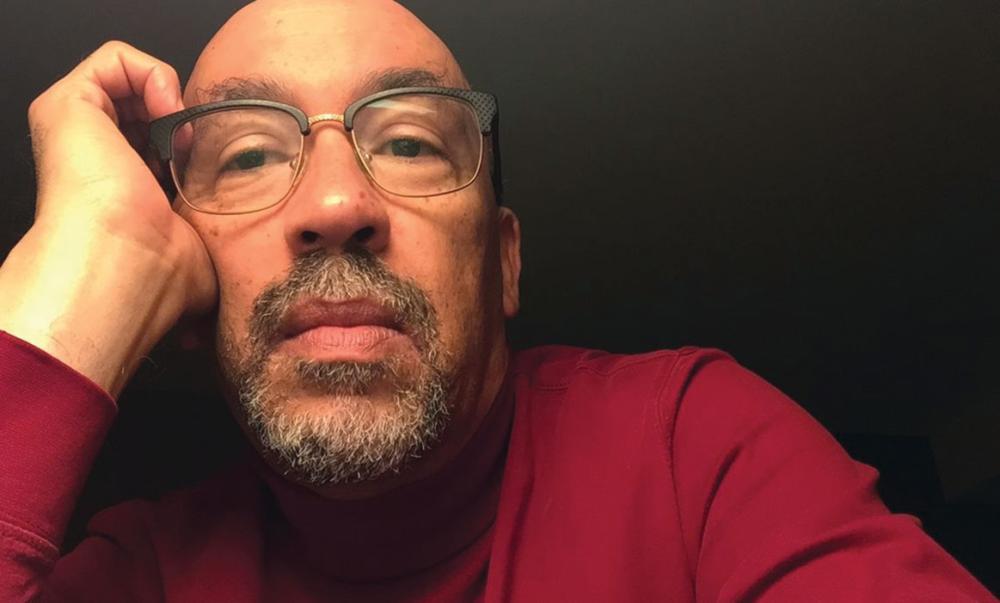 Standing in the Dodger Stadium dugout before a game against the Arizona Diamondbacks this past September, Gavin Lux, the Los Angeles Dodgers' second baseman, reflected on his experiences in the minor leagues.
"In Rancho Cucamonga, where it's as expensive as shit, we were living five or six guys to an apartment and sleeping on blow-up mattresses," he recalls. (The LA suburb is home to a Dodgers Single-A minor league team.) "When I moved to Oklahoma City [the Dodgers' Triple-A affiliate], I had to pay for my new place plus an apartment that no one was living in anymore."
The conditions Lux describes are typical for the over 5,000 minor league ballplayers who, in any given year, are employed by one of the 30 major league teams, which collectively own 120 minor league franchises. For decades, the players accepted that "grind"—low salaries, poor living conditions, no power or voice in their professional careers—as the sacrifice required to make the big leagues. Only about 10 percent of minor leaguers eventually play in the majors.
In 2022, players in Triple-A leagues, one step below the majors, made a weekly minimum of $700—but only during the baseball season. Double-A players made a minimum of $600, and Single-A players $500. Minor leaguers didn't get paid at all for the weeks they spent at spring training. Most minor leaguers made less than $15,000 a year, which means they had to take second and third jobs during the off-season to pay for rent, food, and other living expenses.
Caleb Joseph, who spent parts of seven seasons (2014 to 2020) in the majors with the Baltimore Orioles, Arizona Diamondbacks, and Toronto Blue Jays, vividly remembers his seven years in the minors. "One peanut butter and jelly sandwich and a banana between games of a double-header was very common," he recalls. Fifteen years ago, Joseph made $350 a week—before taxes—playing for the Orioles' Single-A affiliate in Aberdeen, Md. "When you're looking at $2,000 a month in rent, and you're not even making $1,500 a month in salary, those numbers just don't add up," he says.
"I lost money playing baseball every year until I got called up to the big leagues," Joseph says. "If you are married, which I was when I was 26 years old in Triple-A, you are absolutely behind the eight ball, because you can't shack up with a bunch of other guys to make the rent."
"I've seen teammates who were homeless and guys who had families who couldn't pay for diapers for their kids," says Dominic Pipkin, a pitcher for the Jersey Shore BlueClaws, the Philadelphia Phillies' High-A affiliate. "You wouldn't want to wish this on anyone."
"I thought it was a little crazy how teams essentially prey on guys' dreams," says Dodgers pitcher Walker Buehler, lounging on a couch in the Dodger Stadium clubhouse before an afternoon game in September. "Only 10 or 20 percent of those guys will ever play in the big leagues, maybe," says Buehler, who studied political science and sociology at Vanderbilt University, "so being part of a union will give them more leverage to help get the pay they deserve for being professional athletes."
His teammate, future Hall of Fame pitcher Clayton Kershaw, says, "I got paid a lot of money when I signed out of high school…but I understand there are a lot of guys who didn't get that kind of signing bonus or make a lot of money in the minors. So having a union would be really awesome for those guys."
"I was in the minor leagues for five years, and I remember my first paycheck was $353," Dodgers manager Dave Roberts says. "We talk a lot about the value of the farm system, but the compensation or how the players are taken care of is not reflective of that value. It's been a long time coming."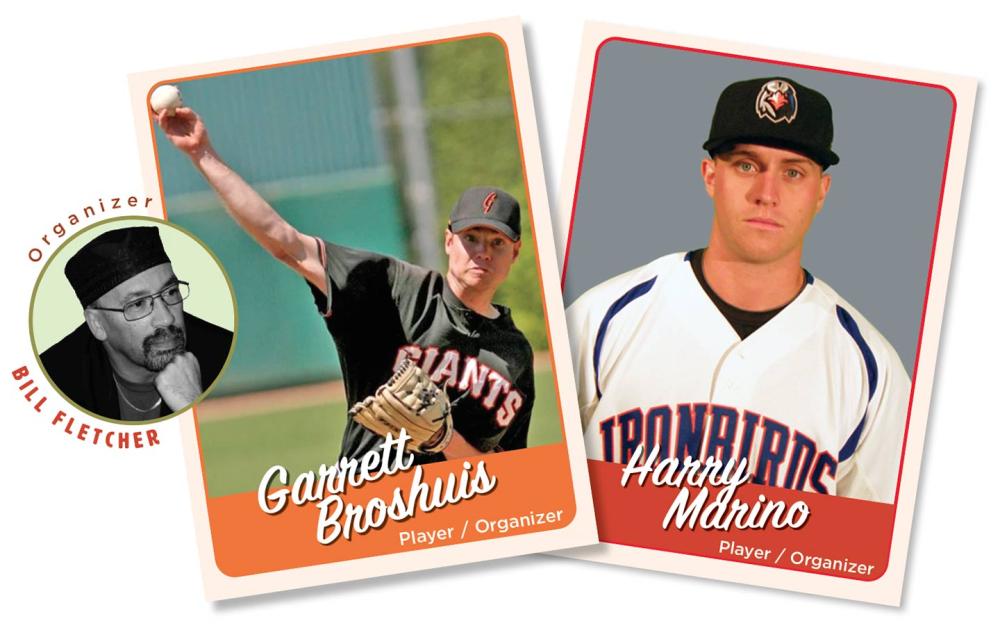 Garrett Broshuis grew up in the small town of Advance, Mo., graduated from Advance High School as class valedictorian with a perfect 4.0 GPA, and went to the University of Missouri on both an academic and an athletic scholarship. In his senior year, the 6-foot, 2-inch pitcher was 11-0, earning All American honors.
After he graduated in 2004, Broshuis was drafted by the San Francisco Giants into their minor league system. For the next five seasons, he played for four teams, rising to Triple-A but never advancing to the major leagues.
"Once I got into minor league baseball, it seemed like a step down from college baseball," Broshuis says. "The talent was better, but in terms of how players were treated, it was much worse. In college, I had my own apartment with two friends. But in the minors, I shared an apartment with five other players, and we all slept on air mattresses on the floor. It was even worse for players from Latin America, who were sending money back to their families on their meager paychecks. We were playing in front of five or six thousand fans, but we weren't getting paid a living wage."
"A roommate of mine wouldn't eat breakfast, and sometimes skip lunch, when we were on the road…. He told me he couldn't afford it," Broshuis says. "He racked up a credit card debt…. The whole time, he had debt-collecting companies going after him. He made it to Triple-A, but never to the majors."
The Giants didn't pay minor league players during the off-season, so Broshuis took on several jobs—as a personal trainer, giving pitching lessons, and in a cognitive-psychology lab at St. Louis University. Late at night, he lifted weights and ran to stay in shape.
"I was working from 8 AM until 9 or 10 o'clock at night. I was always exhausted. My wife worked full-time as a physical therapist, but we still couldn't make ends meet."
Broshuis began writing articles for The Sporting News and Baseball America about the life of a minor league player. When it became clear that he wasn't going to make the majors, he decided to go to law school. He studied for the LSAT during the long bus rides between games and was accepted at St. Louis University's law school.
He went into private practice with a St. Louis firm—but he didn't leave his baseball career far behind. One of his first cases, in 2014, was a class-action lawsuit against Major League Baseball, its 30 owners, and former commissioner Bud Selig on behalf of several minor league players. Eventually, more than 20,000 players and ex-players joined the suit, which claimed that MLB failed to pay minor leaguers the federal minimum wage and did not compensate them for overtime hours.
The same year that Broshuis filed the lawsuit, Matt Paré, a Boston College graduate and minor league catcher who was earning $7,500 during the 22-week baseball season, started a blog called Homeless Minor Leaguer. It featured videos about players, including Paré himself, who hoarded free clubhouse food, often resorted to couch-surfing during the off-season because they couldn't afford an apartment, and accumulated huge debts in order to pursue their baseball dreams.
Broshuis's lawsuit and Paré's blog triggered news stories about the minor leaguers' predicament, including a lengthy article in The Washington Post in August 2016. Candice Cason, a psychologist living in Maryland, read the article, gave it to her husband, Bill Fletcher Jr. (a Nation editorial board member), and told him, "These guys need a union."
"She wasn't simply informing me," recalls Fletcher, a veteran union organizer, civil rights activist, and former assistant to the president of the AFL-CIO. "She was giving me my marching orders."
Fletcher, a baseball fan, contacted Broshuis, who had been mentioned in the article. They quickly hit it off and began talking regularly about how to bring a union to the minor leagues. At the time, Fletcher says, the Major League Baseball Players Association indicated that it didn't think that was even possible, so Fletcher reached out to other unions—including the United Steelworkers and the Communication Workers of America—but those discussions didn't pan out. Broshuis and Fletcher quickly concluded that no union drive could succeed without the MLBPA's support, so they developed a strategy that they hoped would gain enough momentum to persuade the MLBPA to jump on board.
Union organizers often say "a bad boss is the best organizer."
In 2016, in response to Broshuis's lawsuit, the MLB team owners—who are big donors to both Republican and Democratic politicians—persuaded Representatives Cheri Bustos (D-Ill.) and Brett Guthrie (R-Ky.) to introduce the Save America's Pastime Act. The bill purported to protect teams in financial peril by exempting MLB from the federal minimum wage and overtime laws—but only for minor league players. Facing criticism, Bustos dropped her support and the bill quietly died, but MLB didn't give up. In March 2018, Congress incorporated the provisions into a 2,232-page omnibus spending bill, which President Trump quickly signed.
The bill mandated that minor leaguers need not be compensated for more than 40 hours of work a week, even if they actually spend 60 or 70 hours a week practicing, playing, and traveling with their teams.
Minor league teams—many of which are partially owned by the parent organization—provide only the ballparks, equipment, travel, and hotels when teams are on the road. It's the major league parent clubs that are responsible for minor leaguers' pay, health care, and pensions.
The 30 MLB teams hardly need a financial bailout. They are currently worth an average of $2.07 billion—an all-time high and an increase of 9 percent over last year. The value of the teams ranges from the Miami Marlins' $990 million to the New York Yankees' $6 billion. In the 2022 season, MLB set a revenue record of $10.8 billion from ticket and concession sales, parking fees, corporate sponsorships, and TV contracts to broadcast games.
When Congress passed the omnibus spending bill, including provisions of the Save America's Pastime Act, Trevor Hildenberger was in his first year in the majors, after being promoted to the Minnesota Twins in 2017. "Major League Baseball argued that we were 'seasonal apprentices.' That was inflammatory," says Hildenberger, who attended the University of California, Berkeley. "We sacrifice weddings and funerals and births to be here, and they don't even want us to make minimum wage. That was a big eye opener for me and many other players."
The players' anger was compounded when, in November 2019, MLB Commissioner Rob Manfred announced that he was shutting down 42 minor league teams, eliminating one-quarter of all positions for minor league players in one fell swoop.
"More than a thousand minor leaguers lost their jobs overnight," says Harry Marino, a former minor league pitcher who was an early recruit to the players' crusade. "It reinforced a sense of powerlessness, but it also provided an incentive to fight back."
Then, in early 2020, Manfred and the owners canceled the minor league (but not the major league) season when the Covid-19 pandemic hit. Suddenly, more than 5,000 players were out of work—and out of money. The MLBPA and some major league players provided some financial support, but it didn't replace the minor leaguers' lost salaries.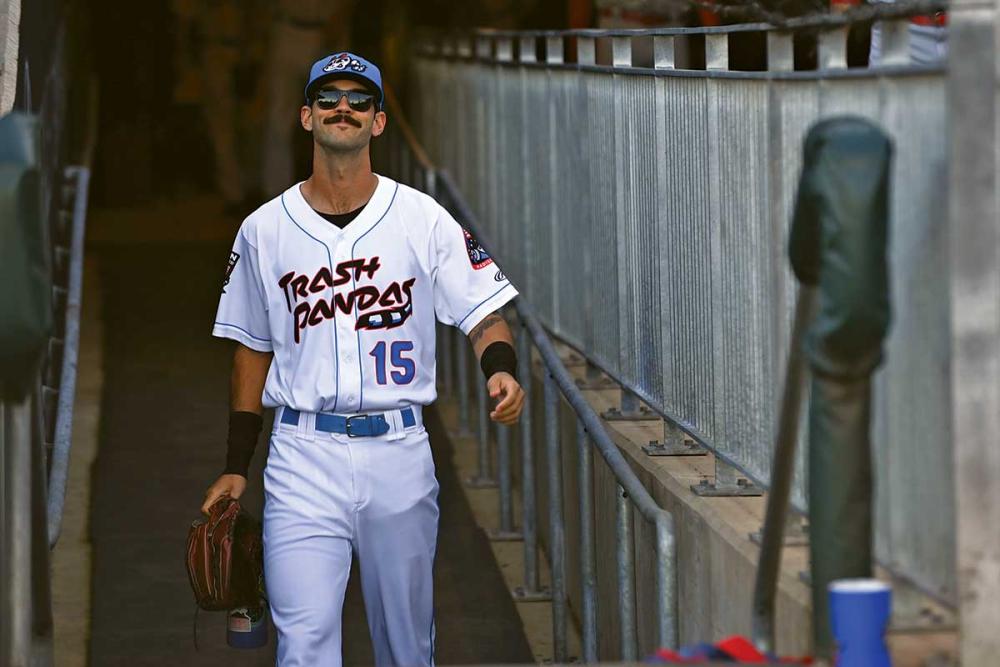 In 2018, Jeremy Wolf (a former minor leaguer), Slade Heathcott (who'd spent 10 years in the minors and part of one season with the Yankees), and Simon Rosenblum-Larson (a former Harvard pitcher then playing in the minors for the Tampa Bay Rays) started More Than Baseball. Rather than organize players, the group would help them pay their housing, food, equipment, phone, and medical bills and offer financial guidance and emotional support. During the canceled 2020 season, More Than Baseball provided over $1.3 million in direct aid to 1,300 players, money raised from major league players, fans, and businesses. (After an injury-riddled 2021 season in the minors, Rosenblum-Larson expected to play for the Rays' Double-A team, but last June, a few weeks after he wrote a Washington Post op-ed about minor league working conditions, the Rays released him).
In contrast, Fletcher, Broshuis, Marino, and a few other ex-players began talking to minor leaguers to test the organizing waters. They were careful at first not to broach the idea of forming a union. Instead, they talked to players about how to apply for unemployment, cataloged the complaints about housing, and kept track of which teams were providing stipends to help players navigate the pandemic.
"It wasn't necessarily about talking union all the time," Marino says, "but just how collective action and sticking together works."
A New Jersey native, Marino pitched for Williams College, a Division III school. After his graduation in June 2012, he signed a contract with the Arizona Diamondbacks as an undrafted free agent. He spent the 2012, 2013, and 2014 seasons in the low minor leagues, but after three years he reluctantly acknowledged that he wasn't going to make it to the major leagues. Instead, he went to law school at the University of Virginia, where he wrote a law review article analyzing the flawed theory of democracy underpinning the Supreme Court's Citizens United decision. Marino graduated in 2017 and, after serving as a clerk to two federal judges, spent a year working for the powerful D.C. law firm Williams & Connolly.
In 2020, Broshuis and Fletcher set up a nonprofit, Advocates for Minor Leaguers, and recruited other players and ex-players to join the board. To avoid the impression that the group was linked to the class-action lawsuit, Broshuis resigned from the board and was replaced as chair by Fletcher. Marino gave up his big law-firm salary to volunteer for Advocates. Soon the MLBPA took notice and provided the nonprofit with some seed funding, which along with a grant from the Ford Foundation allowed Advocates to hire Marino as a full-time executive director and, later, to hire several organizers.
"Harry took off like a bat out of hell," Fletcher says. "He started plotting out how to spread the word."
The pandemic also gave these athletes a chance to view their jobs and futures in a different light. "Early on, there was a justifiable amount of fear…knowing they might be jeopardizing their future careers and their major league aspirations," Marino says. "It took a great deal of courage for them to stick their necks out."
There were also logistical challenges. "You have 120 teams scattered throughout the country, in big cities and small towns, with the teams on the road half the time," Marino says. And many minor leaguers don't play on the same team for the entire season. They get promoted or demoted to other teams; a handful will spend part of the season in the majors.
Over the next year, Advocates recruited a core of players to spearhead the effort, focusing on improving pay and living conditions. Through Zoom calls, texts, and phone conversations, Marino and the player-organizers personally recruited more than 1,000 players, who in turn reached out to their teammates, quickly gaining momentum.
Hildenberger, who spent part of the 2022 season with the Giants' Triple-A affiliate in Sacramento, says that social media was a powerful tool: "Players were sharing their living and working conditions with thousands of fans, what food they were eating, where they were sleeping."
Kieran Lovegrove, a veteran of nine seasons in the minors with several teams, was an early recruit. He decided to help with the organizing effort after Marino contacted him about his housing situation in May 2021. At the end of spring training in Arizona, the Los Angeles Angels told him he'd be playing for the Rocket City Trash Pandas in Madison, Ala.—a Double-A team. According to Lovegrove, the Angels gave him a list of possible housing options 36 hours before he left.
"A group of us players started calling the numbers on the sheet, and we found there were no viable options," says Lovegrove, who is now retired from baseball. "Some of the apartments were far above our price range, unavailable, or not even built yet. I was furious, and we ended up renting hotels or Airbnb for a month."
According to Marino, housing was the top issue for many minor leaguers, including high rents, overcrowding, and forfeited security deposits when the players were moved from city to city.
"The Phillies want to treat their players well," says Craig Stein, a co-owner of the Philadelphia Phillies' minor league clubs in Reading and Allentown, Pa. "[The Phillies] don't want to see players sleeping in their cars."
Such words of sympathy, however, didn't help players pay the rent.
In September 2021, players for the Jersey Shore BlueClaws and the Brooklyn Cyclones—affiliates of the Phillies and the New York Mets, respectively—wore wrist bands during a game with "#FairBall" printed on them to protest their wages and living conditions. In a statement, they explained: "Minor League baseball players have been severely underpaid and silenced for decades. It is time for every Minor Leaguer to be paid a living wage."
Some major leaguers—including Andrew McCutchen, Jason Heyward, David Price, Chris Taylor, and Trey Mancini—expressed solidarity by also wearing the wrist band.
Three days after the minor leaguers made their public statement, MLB announced that the owners had agreed to provide free housing for minor league players starting in 2022.
That victory was crucial for showing skeptical or fearful players that progress was possible if they spoke out and stuck together. The organizing drive was also bolstered in May 2022, when Major League Baseball settled Broshuis's lawsuit, which had been winding its way through the courts since 2014. MLB agreed to pay $185 million to minor league players, which proved to them again that the owners were not invincible. MLB is expected to start allocating the settlement money this year, according to Broshuis.
"These victories really ignited a fire," Lovegrove says. "The owners saw fans and the media supporting us."
Many major league players were angered when Manfred orchestrated a lockout—an owners' strike—in December 2021. It quickly became clear to most players that MLB was trying to weaken or even destroy their union. The lockout ended in March 2022, after 99 days, when the two sides reached an agreement, but it left a bitter taste in the players' mouths.
That experience gave the MLBPA leaders an additional incentive to embrace the minor leaguers' organizing drive. Tony Clark, a former player and MLBPA executive director, recognized that having minor leaguers in the same union would make it easier for the MLBPA to inculcate a sense of union solidarity long before players reach the major leagues.
The union also made a special effort to reach out to Latino and Latin American players—who make up close to 30 percent of minor league rosters. Jose Brizuela, originally from Venezuela, who played for parts of five seasons in the minor leagues, was hired by Advocates for Minor Leaguers as an outreach coordinator.
"The first thing I did was to explain that as a human being, you have rights, and this is what we are fighting for," Brizuela says. "If we raise the salaries of players, the economic impact back in their home countries can be big. I've had teammates where their whole paycheck would go back to the Dominican Republic or Venezuela to take care of not just wives or kids but Mom, Dad, Grandma, and Grandpa."
"Many of the players didn't know what a union was," Brizuela adds, "but I found guys that other players listened to. Those are the natural leaders who players trust." He explained to their teammates that having a union meant "you have to have each other's backs."
Once the MLBPA decided to fully embrace the minor leaguers' efforts last August, it took only 17 days to successfully complete the organizing campaign. Since Major League Baseball did not demand a secret-ballot election (which it could have done under National Labor Relations Board rules), the union won its victory after a majority of players simply expressed their desire for union representation by signing cards affirming their support for joining the MLBPA.
Major League Baseball didn't oppose the unionization effort because, insiders noted, the minor league players had generated so much sympathy from the public and from their major league counterparts. Nor, after the lockout battle, did the owners have the appetite for another protracted fight with players. MLB was also worried about the Senate Judiciary Committee's plan, announced in July, to hold hearings on its exemption from federal anti-trust laws, particularly with regard to the minor leagues.
Once the MLBPA joined the fight, Marino and his colleagues disbanded Advocates for Minor Leaguers and joined the MLBPA's staff. Negotiations began in November. MLB Deputy Commissioner Dan Halem heads the owners' negotiating committee, along with Colorado Rockies owner Dick Monfort, who was virulently anti-union during his days as owner of a family cattle and meatpacking company. Bruce Meyer, the MLBPA's deputy director, is heading the players' bargaining team along with Marino. Minor league players have been present at the negotiations, either in person or by Zoom.
The players union put several proposals on the table dealing with housing, minimum salaries, food, transportation, health care, pensions, and grievance procedures. Both sides say they want to finalize the first collective bargaining agreement in minor league history by the start of this season, which begins at the end of March. It isn't clear how far apart the owners and players are.
In September, the MLBPA joined the AFL-CIO—the labor movement's umbrella federation—and its newly formed Sports Council, comprising unions of professional football and soccer players.
"There's been a reawakening to the power of collective bargaining sweeping the country," says the MLBPA's Tony Clark, "and it's being driven by those who, like our players, have a heightened sense of fairness and equity and are determined to effect positive change in the workplace."
"Organizing is clearly contagious," says AFL-CIO President Liz Shuler, referring to the recent nationwide surge of worker activism. "Workers, including minor league baseball players, are desperate for change—and the best way to achieve that change is through a union."
In 2018, during postseason games in Boston, some major league teams reserved rooms for players in hotels where the workers were on strike. After the teams refused to switch hotels and players crossed the union picket lines, labor activists cried foul. Now that the players' union has joined the AFL-CIO, employees who are organizing in their own workplaces could reap the benefits. Major leaguers could support these rank-and-file efforts by making statements of solidarity or even showing up on the picket lines and at union rallies.
Trevor Hildenberger is optimistic.
"We now know what can be done," he says. "We have power as workers, we understand the power of collective action, and we have a vision for what we can accomplish in the future."
[Kelly Candaele, a union organizer for 15 years, produced the documentary film A League of Their Own about his mother's years in the All American Girls Professional Baseball League.
Peter Dreier teaches politics at Occidental College and is author of several books including Baseball Rebels: The Players, People, and Social Movements That Shook Up the Game and Changed America, published in April, 2022.]
Copyright c 2023 The Nation. Reprinted with permission. May not be reprinted without permission. Distributed by PARS International Corp. 
Please support  progressive journalism. Get a digital subscription to The Nation for just $24.95!