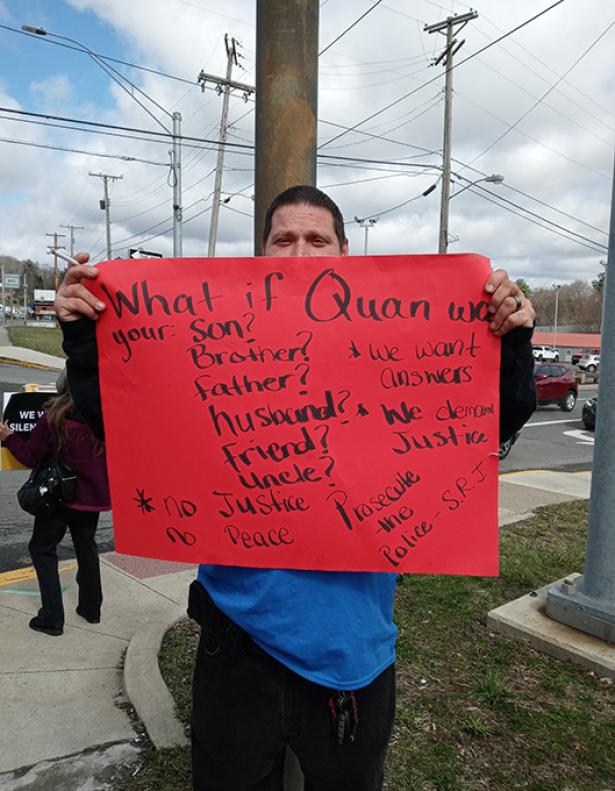 Marching through Beckley, West Virginia, on March 4, the crowd of 150 friends and families of Quantez Burks and Alvis Shrewsbury stretched a full block. I was there with others to honor the memories of the two men killed not far away in the Southern Regional Jail.
It was the first anniversary of Burks' death. Shrewsbury had died Sept. 17, 2022, after he was in jail 19 days.
State corrections officials told Burks' family that he had died of natural causes. But an independent medical examiner who examined the body of Burks found he died with numerous broken bones, including a broken nose, one leg and both wrists as though he had been handcuffed during the beating.

State officials haven't publicly stated how Shrewsbury died, but before his death he told his family how he was beaten by other inmates who were stealing his meals.
Burks was in jail after being arrested for wanton endangerment after discharging a firearm in his home. Shrewsbury was in the Raleigh County jail serving 90 days for a second drunk driving convention. Neither deserved to be beaten to death. And nobody has been charged in their deaths or held accountable in any way.
Just this past year 13 men died inside the Southern Regional Jail, leading the state in that statistic. But it is the Eastern Regional Jail in Martinsburg that leads in the number of suicides occurring in state jails.
Massive heroin and opioid addiction that plagues all of Appalachia, including Jefferson County has crammed West Virginia regional jails far beyond capacity. Men sleep on concrete floors, have food stolen, use broken facilities and are denied medical care.
Now the Burks family and the Shrewsbury family have joined with the Poor Peoples Campaign to seek justice for their loved ones who were not adequately protected from attacks and abuse. The families, one black and one white, gathered before the march for prayer led by Pastor Walter Leach of St. Paul Baptist Temple. In his prayer the pastor promised, "We will not give in. We will not give out." I heard that promise echoed over and over throughout the day.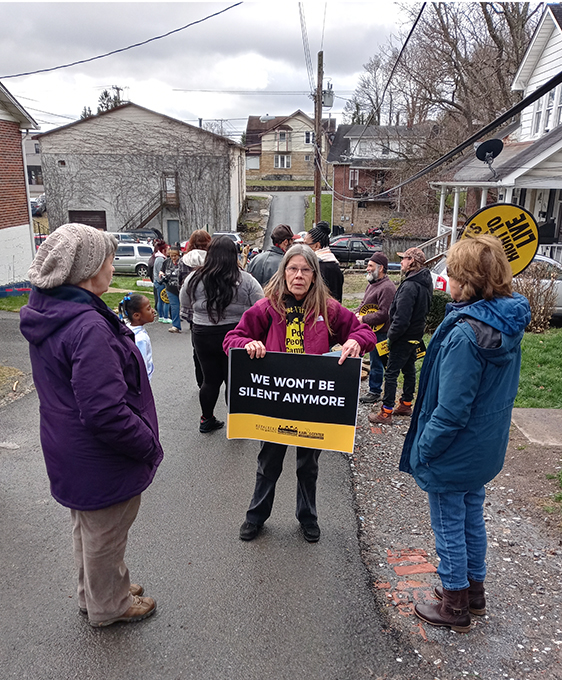 While waiting for the march to start Alvis Shrewsbury's fiancée, Justine Bradley, said: "I'm glad to be here and not let our tragedies be swept under the rug. It's sad that animals in animal shelters are treated better than people in West Virginia jails."
Mary Mullins, Shrewsbury's sister-in-law, said while at the rally, "Jail is supposed to be for reform. Not killing."
Under a sky spitting freezing rain with a cold whipping wind, Kimberly Burks, the mother of Quantez Burks, helped assemble the 150 marchers and stepped us off from the home of Quantez Burks at noon. We marched through the neighborhood and out to well-travelled thoroughfares and around the Beckley Police Station. We then lined a block of the main street through town holding and waving signs, some folks crying, others remembered the two men and the shock of their deaths.
Josh Eagle, a friend of Burks, held a sign that read: "What if Quan was your son? Brother? Father? Husband? Friend? Uncle? We want answers. We demand justice."
Rosetta Eagle, Josh's mother, said, "I cried for days after Quan died. He was like a son."
Quantez Burks' daughter, Kiera Burks, is a 22-year-old senior at Ohio State University studying social work. Of her father, she said, "He was the best dad. Loving and caring. Always there for me. It's heartbreaking. I miss him so, so much. I think about him every day."
It is the families and friends of men who are beaten to death behind bars who suffer the longest. It is the deepest most evil corruption that covers and enables cruelty and torture unto death.
A class action civil rights lawsuit with dozens of family members of inmates abused and/or killed in West Virginia jails has been filed in the U.S. District Court for the Southern District of West Virginia.  Stephen New and his law firm are representing the families.
Justice in these cases must include an acknowledgement by the state of overcrowding and abuse and public acknowledgement of what happened in every death or beating.  Justice must include immediate relief of overcrowding using innovative sentencing alternatives such as community service. Justice would include prosecution of everyone involved in the jail abuses from other inmates to corrections officers to corrections administrators. Justice would include a complete overhaul of both the West Virginia Division of Corrections and Rehabilitation and the West Virginia Department of Homeland Security which oversees the corrections division.
Last Friday, March 10, national leader, and founder of the Poor Peoples Campaign (PPC) Bishop William Barber came to Charleston to stand with grieving families and former inmates to tell their stories of casual cruelty in West Virginia jails.
Led by mothers of beaten and dead inmates we marched inside the Capitol to confront the governor with terrible secrets of torture. 
In the hallway of the governor's office surrounded by police and state troopers each mother spoke truth to power to the governor's staff. Then breaking down, crying as one cries for a dead son, they were followed by sisters, fiancées and one former inmate beaten but surviving; they all told everything.
Giving the staff the petition signed by more than four thousand we asked that the governor join our call to the U.S. Department of Justice for a full federal civil rights investigation.
The families, PPC and Barber promised one another to pursue this state outrage till justice is won.
Stewart Acuff is retired in West Virginia writing and politically active. He was a union, community and political organizer for 40 years. He was the National Organizing Director and Asst to the President of the AFL-CIO from 2000 to 2010. Stewart has written four books including two books of poetry. He's readying his fifth book for publication.