tv
Kneecapping 'A League of Their Own' With a Four-Episode Final Season Sucks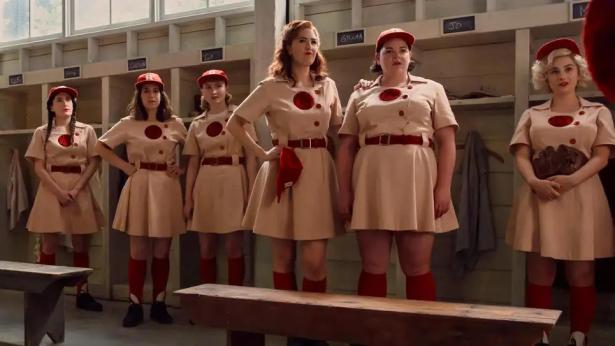 Photo: Courtesy of Prime Video
I am bright-eyed. I am bushy-tailed. I just recovered from food poisoning, only to discover that Amazon Studios will reportedly end Abbi Jacobson and Will Graham's reimagining of A League of Their Own with an abbreviated four-episode second season. Seriously, what the fuck?
According to an exclusive, but anonymously sourced, story in The Hollywood Reporter on Tuesday, it came down to cost:
The Sony Pictures Television-produced show will conclude with a four-episode final season. The news follows months of renegotiations with Sony to lower the show's licensing fee, and the cast had to sign new deals, given the order is for half the episodes that were featured in season one, sources say.

Showrunner Graham made a tweet thread about the shortened second season Tuesday, saying this news "isn't official." Gotta say, though, an exclusive news item in an industry trade magazine doesn't bode well. Jacobson hasn't commented on the so-called "limited series" order, per THR.
What's especially depressing about this report is that A League of Their Own has a number of impressive metrics to its name that would lead you to assume a full renewal would be in Amazon Studios' best interest. Its Rotten Tomatoes score is 94 percent from critics and 87 percent among audiences. It has also won a number of awards from the well-known (GLAAD, NAACP Image Awards, and Independent Spirit Awards) to the lesser-known (a Voice and Visibility Award from the National Council of La Raza).
But that wasn't enough for the little baseball show! Instead, the series is getting kneecapped. And I'm bummed! A League of Their Own is obviously incredibly gay, which is always a fun time for me, a lady gay. I have quibbles with the story structures and how long it took to merge the two worlds of Black and white ball players, but that doesn't mean it wasn't entertaining as all hell. I also cannot overemphasize how cool it was to see queer history (secret gay bars!!) on screen.
The League of Their Own news nods to a bigger, more annoying problem with media that includes queer people—and centers queer people, even! It seemed executives saw this as "a queer show" with limited mass market appeal. It's a pattern repeated in most shows about a marginalized group. It's a Black show. It's the gay show. It reduces our media consumption down to—ugh—identity politics. You want to support the lesbian show, because there's only so many of them right now. You want to support the Latina show, as she's the only one on TV. But when it's siloed into a "niche," as Graham called it, what are the odds it'll have a chance at surviving?
A show about ladies playing baseball should, in theory, be for everyone. In the case of A League of Their Own, Graham said the show's audience is not "small or niche." "The audience is domestic, but our understanding is that it's very big," Graham tweeted on Tuesday, alluding to how Amazon Studios, like many streamers, doesn't release traditional metrics to help explain its decisions to cancel or renew shows. "It has outperformed many other shows that have been renewed."
If you're also bummed by this news, Graham maintains there is hope: "If you want to see more episodes or more seasons of this show, now is your moment. People are listening." The hashtag #MoreThanFour Episodes is circulating online. Don't let A League of Their Own meet the untimely fate of so many other excellent shows cancelled too soon. Or worse, join Autostraddle's Cancel Your Gays list.