We Finally Know the Case Against Trump, and It Is Strong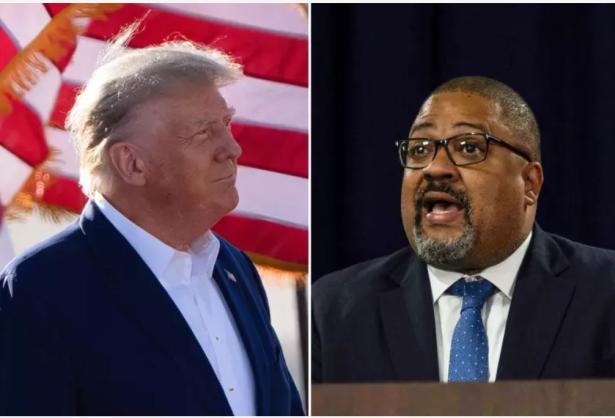 Former President Donald Trump (left) speaks in Waco, Texas, on March 25, while Manhattan District Attorney Alvin Bragg speaks at a press conference in New York on September 8, 2022,Photos by Suzanne Cordeiro and Alex Kent / Agence France-Presse (AFP)
For weeks, Alvin Bragg, the Manhattan district attorney, has come under heavy fire for pursuing a case against Donald Trump. Potential charges were described as being developed under a novel legal theory. And criticism has come not only from Mr. Trump and his allies, as expected, but also from many who are usually no friends of the former president but who feared it would be a weak case.
With the release of the indictment and accompanying statement of facts, we can now say that there's nothing novel or weak about this case. The charge of creating false financial records is constantly brought by Mr. Bragg and other New York D.A.s. In particular, the creation of phony documentation to cover up campaign finance violations has been repeatedly prosecuted in New York. That is exactly what Mr. Trump stands accused of.
The judge and jury will make the ultimate determination, but they will be far from the first to consider this question, and the answer has usually been a guilty verdict.

First, a note about the Manhattan D.A.'s office that will prosecute this case: It is hardly a typical local cog in the judicial system. In fact, it is unique. Its jurisdiction is the financial capital of the world. That means the office routinely prosecutes complex white-collar cases with crime scenes that involve the likes of the BNP Paribas international banking scandal. Big cases involving powerful, high-profile individuals have been handled by the office for decades. That was proved most recently by the office's conviction of the Trump Organization and the guilty plea of one of its top executives, Allen Weisselberg, on charges relating to an intricate yearslong tax fraud scheme.
The books and records counts laid out in the charging papers against Mr. Trump are the bread and butter of the D.A.'s office. Mr. Trump, who pleaded not guilty to all charges on Tuesday, is the 30th defendant to be indicted on false records charges by Mr. Bragg since he took office just over a year ago, with the D.A. bringing 151 counts under the statute so far. Indeed, the Trump Organization conviction and the Weisselberg plea included business falsification felonies.
The 34 felony books and records counts in the Trump indictment turn on the misstatement of the hush-money payment to Stormy Daniels arranged by Michael Cohen in the waning days of the 2016 election and the repayment of that amount by Mr. Trump to Mr. Cohen, ostensibly as legal expenses. There are 11 counts for false invoices, 11 for false checks and check stubs and 12 for false general ledger entries. This allegedly violated the false records statute when various entries were made in business documents describing those repayments as legal fees.
Moreover, the statement of facts alleges that deals, including one for Ms. Daniels and another for Karen McDougal that involved The National Enquirer, which had longstanding ties to Mr. Trump, were for the purpose of helping him win the presidency. If that is proved, then the deals would be "attempts to violate state and federal election laws," as Mr. Bragg said in a statement, such as on their amount and disclosure. In this theory, the false records in the indictment covered up the campaign finance violation.
While the particulars of Mr. Trump's case are unique, his behavior is not. Candidates and others have often attempted to skirt the disclosure and dollar limit requirements of campaign finance regulations and falsified records to hide it. Contrary to the protestations of Mr. Trump and his allies, New York prosecutors regularly charge felony violations of the books and records statute — and win convictions — when the crimes covered up were campaign finance violations, resulting in false entries in business records to conceal criminal activity.
For example, the Rockland County D.A. convicted the executive Richard Brega for falsifying business records by misrepresenting the source of funds that he funneled into a campaign. The Oneida County D.A. charged a county political party chair, John Dote, with pilfering campaign funds and failing to properly account for them, resulting in conviction for felony falsification of business records (and second-degree grand larceny). The Brooklyn D.A. convicted Assemblyman Clarence Norman for soliciting illegal campaign contributions and for felony falsification of business records. And on and on, in New York and federally.
There have also been several analogous prosecutions for falsifying records to cover up campaign finance violations in New York and elsewhere that did not result in conviction. That in itself is not unusual, as judges and juries sometimes disagree with a prosecution. And it is, in fact, a good thing — a sign of a criminal justice system that tries to operate with fairness.
What these cases demonstrate is that Mr. Bragg is not navigating uncharted waters. They also support a corollary point in favor of this prosecution. Some legal analysts have pointed to an intent to defraud issue with the charges. The statute says that a person is guilty of falsifying business records when, "with intent to defraud," the individual commits certain acts.
These analysts say that requires proving that the scheme resulted in cheating or depriving another person of property or a thing of value or a right and that there is no such evidence here. That may be the case in other jurisdictions, but in New York, there is no such requirement.
New York appellate courts have held in a long series of cases that intent to defraud includes circumstances in which a defendant acts "for the purpose of frustrating the state's power" to "faithfully carry out its own law." To the extent Mr. Trump was covering up campaign contributions that violated New York law, that seems to be exactly what he did.
It's also worth noting that Mr. Trump was a federal candidate, whereas the other New York cases involved state ones. But court after court across the country has recognized that state authorities can enforce state law in cases relating to federal candidates. Those courts have allowed state cases concerning federal campaign contributions under widely varied circumstances, including for fraudulently diverting funds from political action committees founded to support federal presidential campaigns, violating state law limits on corporate contributions to federal campaigns and transgressing state laws concerning donations to PACs that funded federal campaigns. Some of the examples involve criminal enforcement by state authorities, some civil, but the point is the same: They can act.
So Mr. Bragg's bringing a state case concerning a federal campaign is hardly novel. In an abundance of caution, he not only alleges violations of state campaign finance law but also alleges federal violations. We believe that is permitted, given that the fraudulent books and records and other relevant statutes refer simply to covering up "another crime" or using "unlawful means" and do not specify whether they need be federal or state.
This approach is wise because to throw out the case, a judge would have to rule that Mr. Trump is covered by neither state nor federal campaign finance law. We think it is unlikely that the courts will embrace that Catch-22.
Whatever happens next, one thing is clear: Mr. Trump cannot persuasively argue he is being singled out for some unprecedented theory of prosecution. He is being treated as any other New Yorker would be with similar evidence against him.
The indictment is therefore anything but political. If anything, the more political choice would have been not to indict when there is so much scrutiny. Mr. Bragg appears to have the backbone to avoid such considerations in charging decisions. Good for him — and for the rule of law.
[Karen Friedman Agnifilo, a former Manhattan chief assistant district attorney, is a partner at Agnifilo Law Group. Norman Eisen, a senior fellow at the Brookings Institution, was special counsel to the House Judiciary Committee for the first impeachment and trial of Donald Trump.]