Mumia Abu-Jamal's Appeal Is Denied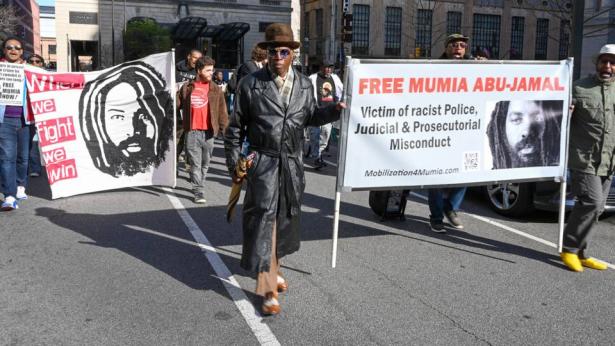 Image Credit: Joe Piette
Despite an international, high profile campaign for his release, Mumia Abu-Jamal's appeal was denied by Philadelphia Judge Lucretia Clemons on Friday, March 31.
Abu-Jamal has spent over 40 years in prison, convicted of killing a police officer after being politically persecuted for his work as a journalist and Black liberation fighter. The movement for his release has spanned decades and has grown to international levels, with high-profile figures such as NUMSA General Secretary Irvin Jim counted among his supporters.
As Angela Davis wrote in an open letter in February, on December 16, a judge ruled that over over 200 boxes of materials must be handed to Abu-Jamal's defense after previously-unseen exculpatory evidence was mysteriously discovered in 2018. This evidence relates to Abu-Jamal's trial and included documents that indicate that a witness was bribed for her testimony, that the prosecutor removed Black people from the jury for racial reasons, and that the prosecution offered leniency to one of their key witnesses for crimes she had been charged with.

Based on this new evidence, Abu-Jamal's defense requested a new trial. This evidence was not available to the defense during the first trial, and could very well have affected the outcome.
Racist jury selection
Evidence includes the trial prosecutor's notes in which he tracked the race of each juror during jury selection. The trial prosecutor also wrote the template that he created to select jurors, which he applied unevenly to potential jurors based on race. Documents submitted by Abu-Jamal's defense indicate that the prosecutor "deemed certain characteristics important for selecting jurors but struck prospective Black jurors who were more favorable with respect to those criteria than non-Black panelists whom he did not strike." The prosecution hid those notes for over 35 years.
Abu-Jamal's supporters have pointed to an official Philadelphia District Attorney's Office training tape from 1986 that revealed that prosecutors were trained on how to strike Black people from the jury without revealing racist intent in order to avoid a Batson challenge, or a challenge to jury selection on racial grounds. In the infamous tape, senior prosecutor Jack McMahon is filmed telling his trainees, "in selecting Blacks [to the jury], again, you don't want the real educated ones."
The new evidence could have given Abu-Jamal his best chance at release, after having endured medical neglect and torture during his decades-long stay in prison. Judge Lucretia Clemons dismissed Abu-Jamal's appeal largely on procedural grounds. As journalist and longtime Abu-Jamal supporter Noelle Hanrahan wrote, "Everyone in Philadelphia knows that his trial judge Judge Albert Sabo was a stone cold racist. Everyone knows that witnesses were bribed. Judge Lucretia Clemons stated that even if the jurors KNEW witnesses were bribed, it would not have affected their decision. Now, come on. Really?"
Abu-Jamal's supporters vow to continue fighting despite the setback.