Ecuador: Murder of Key Witness in Investigation of President Lasso, Others, Raises More Questions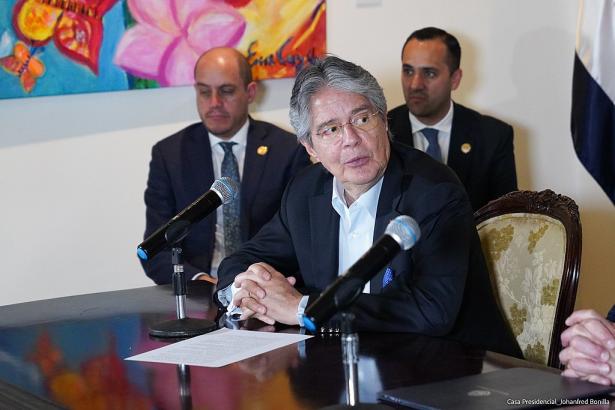 Ecuador's President Guillermo Lasso speaks during a news conference at the Rafael Angel Calderon Guardia museum in San Jose, Costa Rica, March 1, 2023,
Washington, DC — On Friday, Ecuadorian police found the body of Rubén Cherres, who had apparently been murdered, alongside three other people, in Punta Blanca, a seaside resort on the Ecuadorian coast. Authorities had been looking for Cherres since January 21, when a warrant was issued for his arrest. Cherres's murder is the latest crime in a series of corruption revelations that have shaken Ecuador, and that implicate Ecuador's scandal-plagued president, Guillermo Lasso.
"This multiple murder raises more questions about Lasso's inner circle and the mounting evidence that the president has been surrounded by corruption and criminal enterprises," said Mark Weisbrot, co-director of the Center of Economic and Policy Research. "The Biden administration should not be seen supporting a government like this."
Rubén Cherres was a close collaborator of Danilo Carrera, President Lasso's brother-in-law and lifelong business associate. Carrera was also an important funder of Lasso's presidential campaign. Carrera and Lasso share a long history at Banco de Guayaquil, in which Lasso is a majority shareholder, and in the offshore emporium that they built around it. When Lasso was elected in 2021, Carrera replaced him as president of the bank.

Although he holds no formal position in the Lasso administration, several former government officials have stated that Carrera plays an important advisory role to the president and is a powerful figure in the presidential palace. Notably, Carrera accompanied Lasso on his December 2022 trip to Washington, DC. 
"Several investigations have alleged that President Lasso has used the United States financial system as a tax haven and to hide assets, in violation of both Ecuadorian and US law," said Weisbrot. "The Biden administration should investigate this, in accordance with its commitments to countering this type of corruption, as well as supporting our own rule of law in the United States."
In the last few months, journalists from La Posta have accused Carrera of being at the center of a complex web of corruption. Carrera was first accused of being involved with false contracts in the energy sector. Then leaks of phone and chat conversations implicated Carrera in a cash-for-executive-appointments scheme, including appointments in ministerial positions. The murdered Cherres allegedly was the man tasked to run these schemes, which are now being investigated by the prosecutor general.
On February 24, the prosecutor general announced it was opening a new investigation into Lasso's shutting down of a police probe into Cherres's links with what Ecuadorian authorities have referred to as the "Albanian mafia," a drug-trafficking ring. The allegations are that Lasso exerted pressure on the commander of the National Police and the head of the anti-narcotics police to cover up the investigation's report.
Lasso, meanwhile, has done everything in his power to block investigations in which he is involved. He withdrew specialized police personnel from the prosecutor's office, and has repeatedly threatened journalists who have made this corruption public. The latter have complained that they have been the target of frequent death threats, most recently denouncing renewed threats to their lives and safety last Friday.
With the death of Rubén Cherres, a key witness in the potential links between the Lasso administration and organized crime has been eliminated. 
Lasso currently faces impeachment proceedings, which have been approved by the country's Constitutional Court. In accordance with the law, this impeachment will be settled in Ecuador's parliament, the National Assembly, which will vote in the coming weeks on whether to remove Lasso from office.
The Constitutional Court approved the impeachment proceedings on the grounds of an additional accusation of corruption that recently emerged. Lasso is accused of having opposed the termination, and then authorizing the renewal, of an allegedly overpriced oil transportation contract. The manager of the state-owned oil transportation company claims to have warned the president that this contract was not legitimately priced and would have significant budgetary effects. This manager was then fired after attempting to terminate these contracts. A report from the comptroller general also advising the president against the signing of these contracts was received, but ignored, by Lasso. As a result, Lasso has been accused by the National Assembly of embezzling public funds. 
"The Biden administration should refrain from any statement or action that could be seen as interference in Ecuador's sovereign judicial process and in the investigations into the possible crimes committed by Lasso. Failure to make clear that the US supports the rule of law in Ecuador risks alienating the US government from the population and from other governments in the region," said CEPR's Director of International Policy Alex Main. "In light of mounting evidence of criminal behavior at the highest levels in Ecuador, the Biden administration should scrupulously avoid expressing positions that could be seen as attempts to shore up President Lasso. Instead, the Department of Justice should show that it takes corruption allegations seriously, no matter where they may emerge, and investigate Lasso and Carrera's offshore holdings in the US."
---
The Center for Economic and Policy Research (CEPR) was established in 1999 to promote democratic debate on the most important economic and social issues that affect people's lives. In order for citizens to effectively exercise their voices in a democracy, they should be informed about the problems and choices that they face. CEPR is committed to presenting issues in an accurate and understandable manner, so that the public is better prepared to choose among the various policy options.
Toward this end, CEPR conducts both professional research and public education. The professional research is oriented towards filling important gaps in the understanding of particular economic and social problems, or the impact of specific policies. The public education portion of CEPR's mission is to present the findings of professional research, both by CEPR and others, in a manner that allows broad segments of the public to know exactly what is at stake in major policy debates. An informed public should be able to choose policies that lead to improving quality of life, both for people within the United States and around the world.
CEPR was co-founded by economists Dean Baker and Mark Weisbrot. Our Advisory Board includes Nobel Laureate economists Robert Solow and Joseph Stiglitz; Janet Gornick, Professor at the CUNY Graduate School and Director of the Luxembourg Income Study; and Richard Freeman, Professor of Economics at Harvard University.