Global Left Midweek – Focus on Africa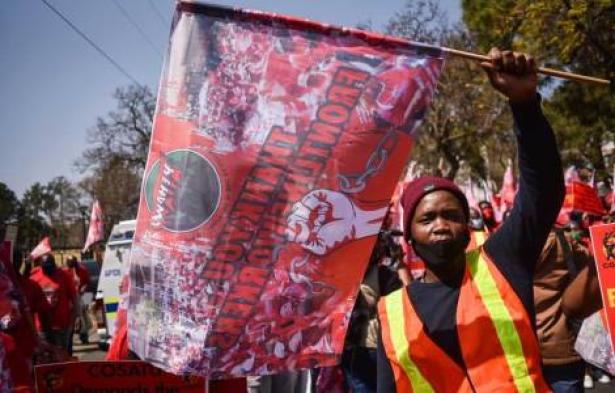 In Johannesburg, members of the National Education, Health and Allied Workers' Union struck for higher wages last month. Credit, The Citizen/Jacques Nelles
__________
Wave of Dissent on the African Continent
Overview   Felix Maringa / Deutsche Welle (Berlin)
 
West Africa   Forgbe Emma Kloh / FrontPage Africa (Monrovia)
__________
Sudan's Warring Armies and the Revolutionary Movement
__________
Controversy as COSATU Endorses SACP
Sihle Mavuso / IOL (Johannesburg)
Trade union federation Cosatu appears to be heading for another crisis after the SA Democratic Teachers Union (Sadtu) filed papers with the Johannesburg Labour Court challenging the federation's resolution to support the SA Communist Party in next year's general elections outside of the ANC-led alliance.
__________
Feminism in North Africa
Moha Ennaji / The Japan Times (Tokyo)
Since the Arab Spring, feminist movements have transformed gender roles in Morocco, Algeria and Tunisia and secured hard-fought real-world gains for women and girls.
__________
Problems With South Africa's EFF
Rebecca Davis / Daily Maverick (Johannesburg)
Only a few thousand people countrywide came out to actively support the EFF in its national day of protest on the Monday of a long weekend. But that doesn't mean the entire thing was a total washout for Julius Malema's party. Additionally, it is important to understand that not supporting the EFF shutdown must not be mistaken as supporting the ANC.
__________
Nigeria: Ethnicity and the Fight for Democracy
Omole Ibukun / Africa is a Country (New York)
The cultural and historical heritage of ethnic groups must not be sacrificed on the altar of national unity, but rather used as an instrument to motivate different ethnic nationalities into democratic struggles that unite us.
__________
Ugandan Champion of LGBTQ Rights
Amy Goodman / Democracy Now! (New York)
Activist Frank Mugisha speaks about a draconian new anti-gay bill the Ugandan government is on the verge of imposing, which makes it a crime to identify as queer, considers all same-sex conduct to be nonconsensual, and even allows for the death penalty in certain cases.
__________
Chris Hani's Legacy
__________
Fela Kuti: Musical Visionary
Brunno Braga / Travel Noire (Wildomar CA)
The Nigerian star was often arrested, and his music was often banned by the government because of his involvement in politics. Despite this, Nigerians loved him as he served as an inspiration to people all over the African continent and the African diaspora around the world.
__________
Neocolonialism Now
Tricontinental (Northampton MA)
'Debt's origins come from colonialism's origins. Those who lend us money are those who colonised us', Thomas Sankara explained. 'Debt is neocolonialism', where many of the African states are taken over by the 'technical assassins' of the international financial institutions. 'Debt is a cleverly managed reconquest of Africa aimed at subjugating its growth and development through foreign rules'.