Global Left Midweek – June 7, 2023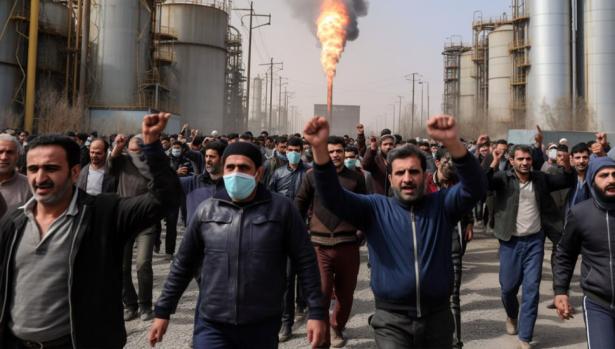 Workers protest in Iran
__________
Iran Strike Wave
Hamid Mohseni / Rosa Luxemburg Stiftung (Berlin)
We are seeing a continuation — or even an intensification — of industrial disputes in the country into what could be the largest wave of strikes the Islamic Republic has ever seen. For weeks, even months, pensioners, teachers, steel and metal workers, truck drivers, medical personnel, and workers from other sectors have been on strike, regularly taking to the streets throughout the country.
__________
German Police Attack Climate Activists
Olivia Rosane / Common Dreams (Portland ME)
German police on Wednesday raided the climate activist group Letzte Generation, or Last Generation, seized accounts, and shut down its website. Last Generation is an Extinction Rebellion-style group that uses direct-action tactics such as blocking traffic, shutting off oil pipelines, or dousing a Monet in mashed potatoes to call for more ambitious climate policies. 
__________
The Saga of Eritrea
Michela Wrong and Daniel Finn / Jacobin (New York)
Eritrea's long struggle for independence finally ended in victory three decades ago. However, the Eritrean leader Isaias Afwerki soon established a highly repressive political system that caused many young people to flee. Since 2020, Afwerki's army has been a key protagonist in one of the world's most destructive wars, fighting alongside Ethiopian government forces in Tigray.
__________
From PSOL: Brazil and Ukraine 
Israel Dutra and Federico Fuentes / Links (Sydney)
Dutra, of the Brazilian Socialist Left Movement (MES), discusses the twin challenge facing the international left today: inter-imperialist rivalry and combating the rise of the extreme right. MES is a tendency within the Socialism and Liberty Party (PSOL), of which Dutra is the secretary general.
__________
UK Rail Strike
Mick Lynch and Taj Ali / Tribune (London)
The Rail, Maritime and Transport Union (RMT) has called further strike action as part of a long-running, bitter dispute with train operating companies over pay, job losses and cuts that would destroy the railway as we know it. RMT General Secretary Mick Lynch has the latest on the dispute, how the government is scuppering negotiations and why rail workers are prepared to keep on fighting. 
__________
Re-Looking at Cuba
Rafael Hernández / OnCuba (Miami)
The so-called "Rectification of errors and negative trends" launched 30 years ago to review the Soviet economic model opened the Pandora's box of Cuban society. The setback of the Special Period (following the Soviet collapse) suddenly stopped that "Rectification," without having succeeded in replacing the criticized model; rather dragging it on.
__________
Syriza on the Canvas
Katy Fallon / Al Jazeera (Doha)
The election results have provoked soul searching on the left about what the future holds for Syriza and other left-wing parties, such as MeRA25, headed by former Syriza Finance Minister Yanis Varoufakis, which failed to gain enough votes to qualify for even one seat in parliament.
__________
Swaziland Communists Confront Repression
Pavan Kulkarni / Peoples Dispatch (New Delhi)
The Communist Party of Swaziland is set to launch a "Break the Chains" campaign to demand the release of political prisoners, including its Central Committee member Mvuselelo Mkhabela. The campaign will include protests and roadblocks in rural communities, starting with Mvuselelo's town of Hluti in impoverished Shiselweni, where he had organized the communities against the monarchy. 
__________
The Forgotten Socialists of Tiananmen Square
Yueran Zhang / Jacobin
"Democracy" as understood by workers was different from the liberal notion embraced by students and intellectuals; it was a distinctly socialist vision of democracy premised on the agency of the working class. This dimension of the 1989 Tiananmen Democracy Movement, as a workers' movement fighting for socialist democracy, has been mostly forgotten.
__________
Why ZANU-PF Still Can't Dance to Chimurenga Music
Mwai Daka / African Arguments (London)
Music was central to the liberation struggle in Zimbabwe, serving as a means to articulate the plight of the colonised natives during British rule (1923-1980). Music continues to serve as a medium through which revolutionaries and activists in Zimbabwe can redress injustices. It also continues to be repressed.