Justice Department Finds Pattern of Discriminatory Policing in Minneapolis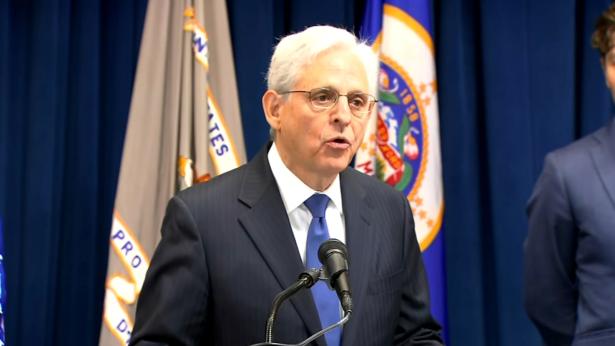 The Minneapolis Police Department routinely engages in a pattern of racist and abusive behavior that deprives people of their constitutional rights, according to the findings of a Justice Department investigation prompted by the murder of George Floyd three years ago.
The 89-page report, released Friday, caps an investigation launched in April 2021. It outlined four core findings: The department uses excessive force, including unjustified deadly force; it unlawfully discriminates against Black and Native American people; it violates citizens' free speech rights; and officers discriminate against people with behavioral health disabilities when responding to calls, at times causing trauma or death.
"The patterns and practices of conduct the Justice Department observed during our investigation are deeply disturbing," U.S. Attorney General Merrick Garland said at a news conference in Minneapolis. "They erode the community's trust in law enforcement. And they made what happened to George Floyd possible."

The blistering report marks the start of a new post-Floyd chapter that will likely span years, during which the city will have to make changes while under federal court scrutiny.
The report was drawn from reviews of thousands of hours of body camera recordings and documents, analysis of data on calls for service, stops, uses of force and other officer activities from 2016 to 2022. Investigators also interviewed some 2,000 community members, including family members of those killed by police, and members of the department in all ranks.
"In Minneapolis, we reached a tipping point. A tipping point long in the making and born of a flawed system, but also irrefutable," said First Assistant U.S. Attorney Ann Bildtsen . "And now, on this day, we are at a turning point, and there is a hope of change through justice."
The federal findings are separate from similar charges leveled in 2022 by the Minnesota Department of Human Rights, which also found a pattern of discriminatory behavior by Minneapolis officers in the decade before Floyd's killing in 2020. The Minneapolis City Council approved changes this spring to settle the state's case, including limiting police use of chemical irritants and barring officers from searches based on the smell of marijuana.
Now, city leaders will negotiate a court-enforceable consent decree with the Justice Department while appointing an independent monitor to oversee the state and federal agreements.
"Our success won't be relegated to a report," Mayor Jacob Frey said. "It won't be relegated to compliance figures or a judge's signature. Our success will be defined by the people of Minneapolis feeling safe, in fact feeling safer when interacting with police in our city.".
Police Chief Brian O'Hara, who was appointed this year, said he had "been through this before" when he helped lead his former police department in Newark, N.J., through similar reforms.
"We will change the narrative around policing in this city," O'Hara said. "Out of the darkness and trauma that our residents and our police officers have experienced over the last three years, we will emerge as a beacon of light for the rest of the world."
The Justice Department's investigation of Minneapolis is one of eight federal probes into law enforcement agencies launched since President Joe Biden's 2021 inauguration. The Trump administration had abandoned such police investigations. Since the 1990s, and before Trump, such investigations were commonly used by the federal government to intervene in institutional failures within police agencies.
Unreasonable use of force, shootings
In Minneapolis, federal investigators reviewed all 19 police shootings that happened from 2016 to the summer of 2022 and found that "a significant portion of them were unconstitutional uses of deadly force." They also studied hundreds of incidents involving "less lethal force" and concluded that officers "routinely" employed excessive force, "often when no force is necessary."
Among the shootings cited was the killing of Justine Ruszczyk Damond in 2017. She was shot by officer Mohamed Noor, who was "spooked" when Damond approached his squad after he responded to a 911 call.
The report also cited an incident involving an off-duty officer who responded to a shots-fired call and then fired at a vehicle carrying six people within 3 seconds of leaving his squad car, and another when a man was shot six times after he began cutting himself with a knife when left in a Police Department interview room.
"Shooting a man who is hurting himself and has not threatened anyone else is unreasonable," the report concluded.
The report also found that officers used neck restraints in at least 198 encounters during the same time period, including 44 that did not lead to an arrest.
Neck restraints were used 52 times in 2016, the report said. By 2021, one year after such restraints were banned in the wake of Floyd's killing by officer Derek Chauvin, the tactic was used only once. Chauvin killed Floyd by pressing Floyd's neck to the ground with his knee.
Department members, however, met the ban with "considerable resistance," according to the report. Officers and supervisors told federal investigators that they thought it was an overcorrection and "politically driven." Some officers continued to see neck restraints as an "efficient and reliable tactic," the report said. "These views took hold as MPD did not train officers in alternative tactics until the year after the ban."
The report found that, in less-lethal incidents, officers frequently use "gratuitous force" on people who were already restrained, subdued and handcuffed, in what was deemed "a "completely unnecessary act of violence" in violation of the Fourth Amendment.
In one case, a handcuffed and compliant Black man was thrown to the ground face-first after the officer claimed he had "tensed up" during a search while bent over the hood of a squad car. In another, a white man in a mental health crisis was slapped and punched by an officer for spitting at the officer while handcuffed to a stretcher.
"I'm really proud of myself; I only hit him twice," the officer said on body camera. The supervisor did not refer that officer for a misconduct investigation.
As illustrated by Floyd's killing, the report also found numerous examples of officers failing to properly render medical aid or intervene when another officer used unreasonable force. Despite department policy requiring officers to intervene, the only officers disciplined for failing to do so were the three fired and charged with aiding and abetting Chauvin in Floyd's killing.
The report concluded that despite frequent unreasonable uses of force, the department fails to properly investigate, or it takes officers' word for what happened even when the evidence indicates otherwise.
Unlawful discrimination
Justice Department officials Friday described how the investigation uncovered the department's first-ever findings of police discrimination against Native American people in addition to Black residents.
Assistant Attorney General Kristen Clarke said the investigation found that the MPD disproportionately stops Black and Native American people compared with white people, and conduct searches more frequently during those stops. Clarke said Minneapolis police illegally discriminate by using force more often after stops of Black and Native American people, another first in a federal pattern or practice investigation.
Clarke said that immediately after Floyd's killing, Minneapolis police officers "suddenly ceased" reporting race and gender in many stops despite department policies requiring that data to be collected.
The percentage of daily stops with known race data dipped more than 35 percentage points during that period, the Justice Department estimated. Still, Clarke said, analysis of the racial data available from Floyd's death until Aug. 9, 2022, showed "significant racial disparities." She said officers used force 49% more often during stops involving Black people and 69% more often during stops involving Native American people than they did during similar stops of white people.
Federal investigators found no "legitimate nondiscriminatory reason" for the disparities in treatment.
Garland said investigators found several cases in which officers were not held accountable for racist conduct until there was public outcry. In one case singled out by the attorney general, an officer who stopped a car carrying Somali-American teens said he was proud of the 1993 U.S. military raid in Mogadishu, Somalia — depicted in the movie "Black Hawk Down" — "when we killed a bunch of your folk."
"We didn't finish the job over there … if we had… you guys wouldn't be over here right now," the officer said.
First Amendment violations, failure to discipline
As has been widely documented, the report said the department "also fails to hold officers accountable for violating First Amendment rights," saying it disciplined officers for misconduct at protests only five times in a seven-year period.
The report determined that Minneapolis police retaliate against protesters and journalists by unlawfully restricting their actions during demonstrations. It also said officers penalize people who challenge or question them during stops and calls for service, while also interfering with the right to observe and record police activity.
The report included examples of officers cheering each other as they fired rubber grenades into a crowd of protesters and an officer kneeing the neck of a passive, restrained protester as he lay face down.
"These indiscriminate uses of force suggest that officers' true purpose is not to prevent criminal activity, but to retaliate against protesters for their constitutionally protected speech," the authors wrote.
The report examined a May 30, 2020, incident in which an officer pushed a journalist's head to the pavement and pepper sprayed his face before walking away — even as the journalist identified himself and held up a press credential.
Investigators found "numerous problems" with MPD's training system, saying that instructors don't have formal certifications and the department lacks criteria for selecting its instructors or evaluating their performance. The Justice Department said it knew of instances where officers served as field training officers — helping to train new hires — "even while under investigation for serious misconduct."
The report said supervisors lack training to properly review use of force and serious incidents, and that an effective early intervention system could help the department better identify signs that an officer needed help. It noted that the city received a $500,000 grant in 2021 to begin developing that system "but work was stalled until recently."
Many of the report's findings echo those of the Minnesota Department of Human Rights in its earlier investigation of the Minneapolis Police Department. The Justice Department report, for example, calls the department's accountability system "fundamentally flawed."
"It consistently fails at its core purpose: to find, address, and prevent officer misconduct," the report said. "Instead of a clear, straightforward accountability system, MPD's system is an opaque maze, with multiple dead ends where meritorious complaints are dismissed without investigation and often for no discernable reason."
The report called the department's complaint system "needlessly complex," noting that MPD used an eight-page flow chart to explain the steps in the process. Investigators found numerous instances where complaints were inappropriately closed. The report included a footnote that the Justice Department's analysis of MPD's accountability systems was conducted before changes were implemented in recent months.
Inappropriate response to behavioral health crises
The federal investigation waded into some issues that have dominated Minneapolis politics in the three years since Floyd's murder and suggested that some changes implemented by the city haven't gone far enough.
It accused the city of violating the Americans with Disabilities Act by discriminating against people with behavioral health disabilities when responding to emergencies.
"Many behavioral health-related calls for service do not require a police response, but MPD responds to the majority of those calls, and that response is often harmful and ineffective," the report said. "This deprives people with behavioral health disabilities an equal opportunity to benefit from the city's emergency response services."
The report credited Minneapolis for launching behavioral health crisis response teams staffed by civilians rather than officers. But it said the program lacks the capacity to respond as needed and that "the city itself has unanswered questions about whether the program is on track."
The report also said the city's 911 call center workers need better training to appropriately dispatch behavioral health calls. It noted that staffers specifically requested training to help handle calls in a "gray area." One dispatcher told investigators they are "trained to err on the side of caution and to oversend" police.
The report cited numerous occasions where police responded to a mental health crisis when no law enforcement response was required, or cases in which tragedy could have been avoided with de-escalation.
One incident was the 2018 killing of Travis Jordan, who was in the throes of a mental health crisis when his girlfriend called a non-emergency line asking for help. Officers were directed not to force their way into the home, but when they called him to come out, he emerged agitated and holding a knife.
"Responders could have taken more time to understand and de-escalate the situation, such as by allowing the man to stay inside the home, engaging in dialogue, attempting to gather other information from the girlfriend or other sources, and having officers on standby," the report said. "Such strategies may have avoided the use of force that ended the man's life."
JEFF WHEELER, STAR TRIBUNE Loved ones at the Say Their Names Cemetery adorned the marker for Travis Jordan, who was killed by police in November 2018.
The report suggested that officers, too, could benefit from better mental health support. While it credited the city with boosting wellness services in recent years, the reports said it remains unclear "to what extent those services are helping officers and affecting the conduct we observed during our investigation."
"Given the considerable challenges of the last several years in the Minneapolis community — from the COVID-19 pandemic to the widespread trauma and unrest following George Floyd's tragic murder — providing officers with emotional and psychological support is important to ensure that officer stress and fatigue do not contribute to constitutional violations," the report said.
The report concluded by listing 27 remedial measures that the Justice Department said could help improve the MPD. They included changes to use of force training and misconduct reporting, better collection of data of the race of those involved in police encounters, and improved accountability for First Amendment violations.
The report said city leaders "have been forthcoming about the need for reform."
"What we saw in the report is heartbreaking, and I think everybody in Minneapolis recognizes that," Garland said.
Stephen Montemayor covers federal courts and law enforcement. He previously covered Minnesota politics and government.
stephen.montemayor@startribune.com 612-673-1755 smontemayor
Liz Navratil covers higher education for the Star Tribune. She spent the previous three years covering Minneapolis City Hall as leaders responded to the coronavirus pandemic and George Floyd's murder.
liz.navratil@startribune.com 612-673-4994 liznavratil
News That Matters. All Day. Every Day. Subscribe to the Star Tribune.