Media Bits and Bytes – July 12, 2023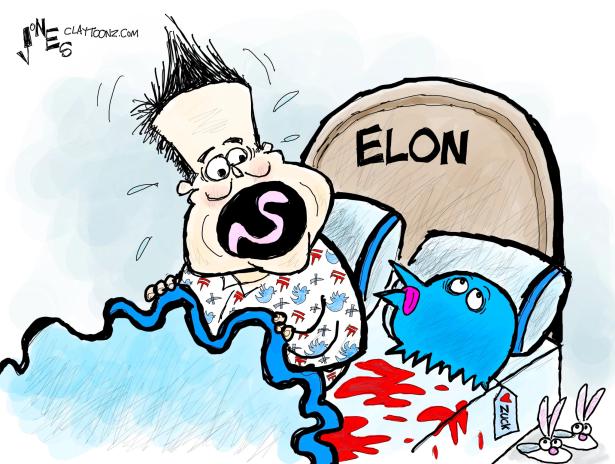 Claytoonz
By Veridiana Alimonti, Daly Barnett, and Agneris Sampieri
Electronic Frontier Foundation
The right to seek, receive, and impart information has enabled the exercise of other rights and strengthened the internet ecosystem, but not without backlashes and critical challenges. The current discussion about platform regulation in Brazil demonstrates that much effort is going into addressing these challenges.
Warner Discovery in the Clutches of an Idiot
By Drew Magrery
SFGATE
David Zaslav is the man in charge of frankencorp Warner Bros. Discovery and, in an impressively short period of time, has managed to f—k up nearly everything within its considerable portfolio. You have to really try to make CNN more inane than it already was. Zaslav did.
Berlin Court Backs Palestinian Journalist
The New Arab
A court in Germany ruled that the dismissal of a Palestinian-Jordanian journalist by German broadcaster Deutsche Welle for alleged expression of anti-Semitic and anti-Israel views was invalid. Farah Maraqa was one of five members of staff, of either Lebanese or Palestinian origin, fired by DW in February 2022.
By Justin Peters
Slate
The changes were catalyzed by three main factors, the most important of which is the network's recent and alarming prime-time ratings slump. Tucker Carlson lost the internal power struggle with Murdoch, but it was a Pyrrhic victory for the network, which has foundered since Carlson's exit. Finally, Fox News wants to make sure that its hosts avoid any more costly defamation lawsuits.
By Sonali Kolhatkar
CityWatch
The framing of "Will AI replace your job?" obscures the bigger problem that has been at work for centuries: and that is how our jobs, and therefore our educations, careers, and livelihoods, are at the whims of a capitalist system intent on minimizing costs and maximizing profits.
World's Oldest Newspaper Stops the Presses
By Donna Ferguson
The Guardian
The world's oldest national newspaper has printed its last daily edition almost 320 years after it began. Wiener Zeitung, a Vienna-based daily newspaper, will no longer print daily editions after a recent law change meant it had ceased to be profitable as a print product.
By Jon Allsop
Columbia Journalism Review
Reporters too often treat the Supreme Court as hallowed institutional ground and its decisions as pure expressions of judicial science, rather than as a political body engaged in politics. This criticism has resurfaced during the Court's most recent term and has perhaps come into sharper focus than before.
By Kim Masters
The Hollywood Reporter
Film directors, including Scorcese and Spielberg, rushed to TCM's defense, pledging to be involved meaningfully in nurturing the channel — though obviously they can do nothing to stem the erosion of cable audiences at the root of the channel's chaos.
By Andrea Long Chu
New York Magazine
Taylor Sheridan's Yellowstone is known for being a red-state show. But its political ideology is lifted from the left. In fact, the whole moral vision of Yellowstone is founded on a striking equivalence between the genocide of Native peoples and the present-day encroachments on the rancher heroes' way of life.