State Guard Set Up by DeSantis Is Being Trained As Personal Militia, Veterans Say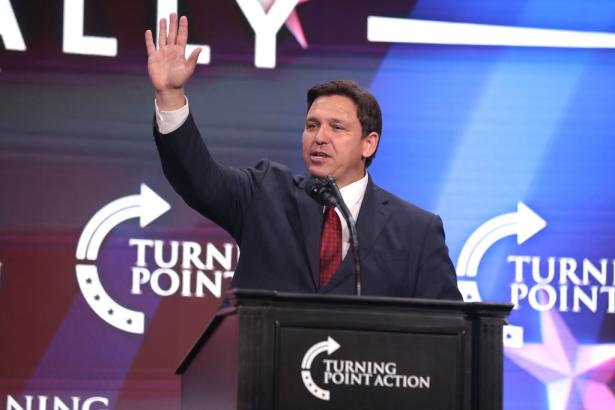 Ron Desantis, Gage Skidmore (CC BY-SA 2.0)
A Florida state guard established by the rightwing governor, Ron DeSantis, under the guise of a civilian disaster relief force is instead being trained as an armed, combat-ready militia under his personal command, according to military veteran recruits who have quit the program.
Several veterans resigned after an encampment last month having become concerned at the "militaristic" training and "abuse" one disabled veteran suffered at the hands of instructors, according to an investigation by the Miami Herald and Tampa Bay Times.
Promoted by DeSantis as an "emergency focused, civilian defense force" when it was established in June 2022, the state guard has quickly morphed into something quite different, the report found.

Volunteers have been trained for military combat, including the use of weapons; khaki polo shirts and pants were replaced by camouflage uniforms; and recruits were "barked at" by boot camp instructors at the joint training base who woke them before dawn and imposed lights-out by 10pm.
Additionally, DeSantis's compliant, Republican-led state legislature has contributed to the change of direction, this year approving a massive expansion in the force's funding, size and equipment. Its budget increased from $10m to $107.5m, and its maximum size more than tripled from 400 recruits to 1,500.
On the governor's shopping list were helicopters, boats, police powers and reportedly even cellphone-hacking technology for a force outside of federal jurisdiction, and accountable directly to him.
"The program got hijacked and turned into something that we were trying to stay away from: a militia," Brian Newhouse, a retired navy veteran with 20 years' experience, told the reporters.
Newhouse was originally chosen to lead one of the state guard's three divisions, and said he was removed from the base near Jacksonville on the first day of training after raising his concerns with national guard staff who were acting as instructors.
The abuse allegation, which was the subject of a police inquiry, relates to an incident in which a disabled retired marine captain said he was bundled into a van by national guard staff after he expressed his displeasure at how recruits were being treated.
"I don't even think the governor knows what's going on. I don't think this is a fly on his radar right now," Newhouse said, noting that DeSantis is a former navy lieutenant. "He would be appalled that a disabled veteran would be abused by other military members."
According to Newhouse and two others who quit, who have decades of military service between them, the trainers were inexperienced and the camp "slapdash". Volunteers were given almost no written training materials, and not tested on what they learned.
There were also no medical or physical assessments to determine recruits' fitness levels before they embarked on a demanding obstacle course and drill, they said.
The apparent dysfunction appears reflective of the organization's leadership as a whole. The Herald/Times reporters, who reviewed records as well as interviewing recruits, noted the state guard was seeking its third commander in eight months.
Its then director, the navy reserve captain Luis Soler, was excluded from the training camp and has since stepped down "for personal reasons", according to DeSantis's office, reported last week by the Florida Standard.
Newhouse said he and Soler viewed the program as an emergency management response team in line with DeSantis's original brief, and a way for citizens to serve their communities, rather than what it had become.
The Guardian has reached out to DeSantis's office, and state guard leadership, for comment.
The governor's media team referred the Herald/Times to the state guard, which sent a statement from Maj Gen John D Haas, Florida's adjutant general overseeing the state's national guard, who said the veterans were "dismissed" from the program, and had not resigned.
"[It's] unfortunate that some of these individuals resorted to complaints to the media," he wrote.
"We are aware that some trainees who were removed are dissatisfied. This is to be expected with any course that demands rigor and discipline."
Haas also seemed to confirm the veterans' assertion that the state guard's brief had changed. It was a "military organization", he said, that will be used for "aiding law enforcement with riots and illegal immigration".
Democrats expressed fear in 2021, when DeSantis first proposed to reactivate the state guard dormant since the second world war, that it would eventually become a paramilitary force beholden only to Florida's authoritarian leader.
"No governor should have his own handpicked secret police," said Charlie Crist, the losing Democrat candidate when DeSantis was re-elected in November.