Media Bits and Bytes – July 25, 2023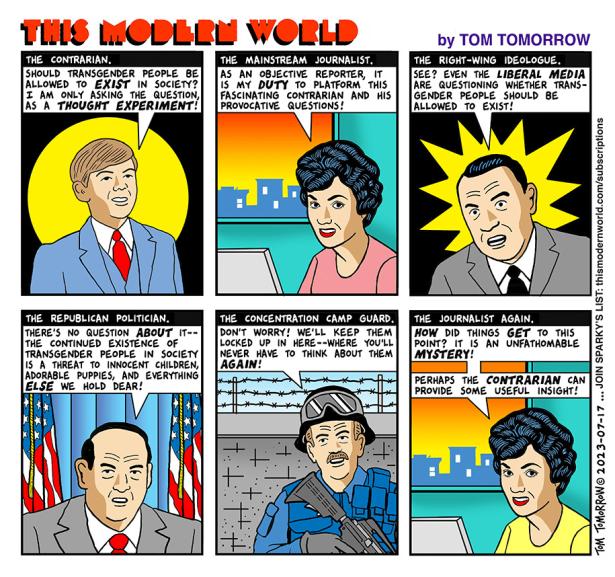 Tom Tomorrow
By Nolan Stout
Courthouse News
Seven leading technology companies have voluntarily agreed to follow guidelines on the development of artificial intelligence established by the White House. Amazon, Google, Meta and Microsoft are the big names announced Friday, joined by startups Anthropic and Inflection and ChatGPT-maker OpenAI. 
The Case For Social Media Socialism
Hunter
Crooks and Liars
At this point it's clear that "social communication" is rapidly making itself a necessity of modern existence, and that multicasting is going to be an intrinsic part of government information pushes in the future, not just private ones. It's now too important to society and the all-important "economy" to let corporate America turn into sludge; it's time for regulating the holy hell out of this.
Next Intellectual Property Orgy: Movies About Toys
By Alex Barasch
The New Yorker
Mattel had a children's-entertainment catalogue "second only to Disney." Just as Marvel had gone from ailing comic-book publisher to Hollywood behemoth, the toymaker could leverage its intellectual property at the multiplex. 
By Mathew Ingram
Columbia Journalism Review
The bottom line is that cutting deals with OpenAI—or Google's Bard, or Meta's LLaMa, for that matter—raises a host of potential concerns that in many ways are similar to those raised by past deals with Google and Meta. Any assistance provided to these companies could ultimately help put journalists out of business.
WGA and SAG-AFTRA Shake the Industry
By Brett Wilkins
Common Dreams
A coalition of digital rights groups is sounding the alarm as U.S. lawmakers try "to push through a swarm of harmful internet bills that would severely impact human rights, expand surveillance, and enable censorship" online by launching a week of action Thursday to demand Congress pass comprehensive data privacy legislation instead.
A TechCrunch investigation based on hundreds of leaked documents can now reveal how the spyware operation TheTruthSpy evaded detection, for years — details which have not been previously reported.
By Adam Gabbatt
The Guardian
Sound of Freedom, the religious, "QAnon adjacent" child-smuggling film that has enthralled conservatives across the US, passed the $100m mark in ticket sales on Thursday. But as the movie continues to cause controversy, questions are also being asked about who is actually watching it and whether that many people are watching it at all.
By Laura Hazard Owen, Mike Rispoli, Lisa Snowden, Nikki Usher and Ken Ward Jr.
Democracy
Local newspapers and media have been decimated in recent years by falling ad revenue and predatory companies gutting newsrooms for a quick dollar. We wanted to focus on green shoots throughout the country, so we assembled a collection of experts working in and studying local news ecosystems. 
By Abby Zimet
Common Dreams
At age 24, Wells became the co-owner and editor of two papers, Memphis Free Speech and Headlight, the country's first woman and black person to do so. After an angry mob trashed her printing press, she kept at it, arguing, "The people must know before they can act, and there is no educator to compare with the press."