labor
Staff at Grindr, the World's Biggest LGBTQ Dating App, Are Unionizing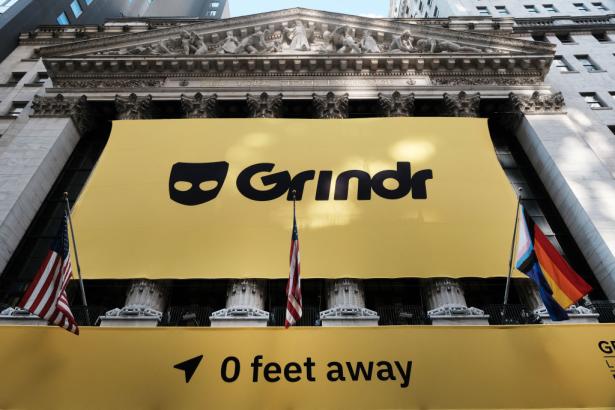 The LGBTQ social networking platform Grindr displays its banner outside of the New York Stock Exchange on November 18, 2022. ,(Spencer Platt / Getty Images)
On Thursday, July 20, workers at Grindr, the popular and long-running LGBTQ dating app, announced that they were unionizing with the Communications Workers of America (CWA). A supermajority of Grindr workers has signed union cards, and they are asking the company to voluntarily recognize the new union, Grindr United.
Workers are seeking greater job security amid volatility in the tech industry, guarantees against being forced to return to the office, and representation on Grindr's board of directors, among other demands; worker-organizers also say that their union drive was in part motivated by revelations that their new CEO, George Arison, has expressed support for and donated to anti-LGBTQ politicians. Earlier this week, Jacobin's Sara Wexler sat down with two Grindr United workers to discuss the unionization effort.
---
SARA WEXLER

What led to the decision to form a union?
JACK ALTO
We and so many of our colleagues really like our jobs and our user base and our company, and we want to make sure it's a sustainable workplace with sensible priorities. We've seen many good colleagues get fired or pushed out or leave due to various shenanigans; it doesn't have to be that way. We can form a union and talk about the issues and find sensible ways to get the work done and support each other.
QUINN MCGEE
I love working at Grindr. It has a wonderful, vibrant queer culture that has built the workplace and the company to allow queer joy. We want to ensure that the things that we love about Grindr are enshrined in a contract that can't be unilaterally changed, and that allows us to strengthen the company as a whole and retain people who care about the mission.
For example, even before unionizing, we have access to some excellent benefits. We have access to trans-inclusive, gender-affirming funds that have been a lifeline for me and many of my colleagues. We have generous paid time off and a vibrant work culture. We want to make sure that stays for the long haul and isn't jettisoned in order to make a few more cents for the next quarterly report.
SARA WEXLER
Were there specific events or catalysts that inspired all of you, despite the positive things you've just discussed, to think that you need a union?
JACK ALTO
We have seen a lot of warning signs of impending danger, and we don't think it needs to be that way. At the same time, across the industry we're seeing lots of very antiworker trends, including rounds of layoffs and bad policies like return to office. Twitter had a hard-core pledge that employees had to recommit to a certain degree of loyalty and intensity, which we think does not respect workers as professional adults.
We're here because we love this community and these users and this product, and we want to keep building it. For example, if we did choose to only hire for in-office work in certain locations, then I don't want to be made into a second-class employee for not living in a top-ten US city. There are many reasons why workers live in different places — for family, for benefits, for lifestyle, if they want to enjoy the great outdoors more, all sorts of good reasons. I don't think anyone should be forcing employees into an office just to have butts in seats. I think that's very silly.
With these warning signs and things like loyalty pledges going on at places like Twitter, I don't want a culture of fear. I want a workplace where we're all respected as adults, we bring our A game, we have good days, and we have bad days. Sometimes I need to work a little less and let the team know, and other times I'm energized and can take on more tasks. That's something that you can do when you communicate, and when you're respected as a person by your bosses.
QUINN MCGEE
The last year was a big year for Grindr, especially with a lot of changes in the second half of the year. The company went public and brought in an entirely new C-suite. The people who had shepherded the company from what it was before to what it was at the end of last year were all gone.
There's a lot of overlap between the LGBTQ community and believing in the power of unions; we, the people who work at Grindr, are members of this community and allies who want to center the queer experience. Coming from disadvantaged communities that are systemically underrepresented means that we've had to find power in togetherness. It's not a surprise that we are all invested in doing this for one another, but also that our users seem really stoked about us doing it.
We want to do this because the protections that our new C-suite got in their contracts seem like things that we should all have. Our C-suite has contracts that guarantee them not having to go into an office, that guarantee severance, that guarantee remediation for problems. That's great for them — we should all have that.
The at-will employment standard that we have here, at least in New York and in many places, relies so much on building a culture of fear rather than a culture of trust. I work in trust and safety, and I really believe in what I do. I think that one of the best ways to build trust and safety within the workplace is to earn the trust of employees and to commit to the safety of the people that you work with. The union is a way we can do that for one another that will allow us to avoid a slide down into a culture of fear that sometimes happens at public companies.
So much of what we're asking for is stuff that we already have or that our bosses already have. I think it's a right and righteous fight.
JACK ALTO
To be queer is to question a heteronormative society and ask: Are there ways that we can do this better? Are there people who are being pushed down, the downtrodden, who need a hand up? We see this as a way to help center the queer experience. Part of that as well is found family and explicitly looking out for each other, because we recognize — in an individualist, consumerist society — how fragile individuals and families are, and how fragile our support networks are. Those are things we have to build and implement to protect each other.
SARA WEXLER
It sounds like the push to go back into the office and a disconnect between new corporate leadership and the workers were major factors in deciding to unionize.
JACK ALTO
There is a big disconnect on our interests. We haven't heard any explicit return-to-office orders, but we don't want to be surprised with bad news. We see warning signs. We don't want to be caught flat-footed with a change that harms us and our colleagues.
QUINN MCGEE
Unionizing is the right thing to do in the best of circumstances. It's the way that we can make sure that we have safety and security and guarantees. It should be in the best interest of all sides, because unionizing means the company only has to do one contract instead of figuring it out individually with everybody.
I'm certainly not naive enough to think that we are in the best of circumstances. We're in a volatile time for our industry. We're in a volatile time for the globe. We're in a really volatile time for queer people — not just around the world, but in the United States, with so many anti-trans bills in particular being brought in state legislatures around the country.
I am lucky enough to live in New York, but I am a trans person and would very much like to not live in a transphobic hellscape that so many people in power seem to be pushing us toward. I can't change laws, but I can help the people that I work with, especially the more vulnerable people among us, to find a sense of security and safety at work. Sometimes it feels like not enough, but it is what we can do for one another at the moment.
SARA WEXLER
What are some demands you hope to win with the union?
QUINN MCGEE
So much of what we're asking for are things we already have that we just want in a contract. We want it guaranteed that we can work from anywhere. Most of us, especially anyone who was hired after 2020, were hired as remote employees. Remote work is humane: it lets us take care of our families and our pets and saves us hours of travel each day. We want that in a contract. Our CEO has that in his contract; he has in his contract that he can't be made to go into an office. That's great — love that for him. We would also like that.
We want guaranteed severance, if we are let go for whatever reason. Our CEO has that in his contract — love that for him. We would also like that.
We have excellent health care at the moment. That includes gender-affirmation benefits. That's something that keeps Grindr the wonderful queer place that it is and supports our employees in ways that are far too rare in the corporate workforce. We would like that in a contract so that it can't be taken away.
Probably the biggest swing we're asking for is that — as members of this community, as the workers who build this app — we would like to elect an employee to sit on the board of directors. We are in the muck of Grindr day after day. We believe that our point of view should be represented at the highest level of this company, which is the board. I am hopeful that the board would welcome an employee of Grindr. So much of what they're deciding has to do with the day-to-day lives of employees, and I'm very hopeful that they would want our perspective in the room.
JACK ALTO
So much of what we're asking for is, as Quinn said, what we already have — and basic respect as professional adults. We'd like to keep the great company culture we have now, which is a little silly; we have a queer sense of humor.
We're also fiercely protective of our users and community. We'd love to have more equity and intersectionality, reflecting the world of our users. We have so many users who speak Spanish. We want to reflect users who have disabilities and make sure it's not only a legal requirement to make the app accessible for them. More importantly, it's the moral and just requirement to make it accessible for them.
SARA WEXLER
When did the union organizing start, and what has the process been like since?
QUINN MCGEE
The organizing started in late December. Phone calls started on December 29, just before the New Year — by calling the people who I had come to lean on at work as friends, colleagues, and allies one by one, to start feeling out whether people would be interested in the union. There was a network effect where those people had other people who they knew and relied on as colleagues and friends, and those people had other people they relied on as colleagues and friends.
We had talked about unionizing before; it had come up earlier in small groups in 2022 as something that we should maybe look into, and as these things tend to do, it fizzled. It's been a wild few months. We found that we had supermajority support among our workers. An overwhelming supermajority of people want this — they want a contract with our bosses.
JACK ALTO
Over the spring and summer, we've seen various events happen, and different people have left for different reasons. All of these warning signs have added up and culminated in this supermajority. A lot of people realized, my job is more at risk without a union, and the viability and the sustainability of my workplace will be much more assured with a union. And then they came on board.
SARA WEXLER
Could you say more about these warning signs you mentioned?
JACK ALTO
I think the biggest warning sign is a disregard for the community and for the workers. There was public reporting of our incoming CEO's political donations. It told us that the selection process for the new management might not have been aligned with our workforce.
QUINN MCGEE
There was reporting about our current CEO, George Arison — about politicians he supported verbally and financially who are really at odds with what most of the Grindr workforce cares deeply about. I think one thing that we're all thrilled about is that this is our chance to maintain and build a platform that is safe for the whole queer community, and that is trans-inclusive both as a workplace and as a platform.
What George chooses to do with his money is his right. I don't believe that I would've made the same decisions with what to do with my money or vocal support. What we can do now as people at this company who are working with him is to build each other up — to strengthen each other and to make sure that we're all in this together — so that we can focus more on building a great place for all people under the LGBTQ umbrella, and focus less on worrying about what George did with his money.
SARA WEXLER
So the new CEO was donating to homophobic politicians, and that played a role in organizing and motivating people?
JACK ALTO
Yes.
QUINN MCGEE
I would be very surprised if it didn't.
SARA WEXLER
How many people have signed union cards so far, and how many people will the union represent?
QUINN MCGEE
There are about a hundred of us in the bargaining unit. Significantly more than two-thirds of the bargaining unit have signed on to support, including people who haven't actually started yet. We wanted to make sure to have a supermajority that covered where the bargaining unit would be.
We went past the support that we needed; we don't want this to be a 50-percent-plus-one victory. We'll take that over the alternative, but we want to show that this is something that the vast majority of people at Grindr want — to sit down with management as equals and make a contract that cannot be unilaterally changed based on the whims of the stock market. One of the very silly things about the current situation is that so much of this wonderful community that's been built to celebrate queer joy could be wiped out because of the whims of people making trades on Wall Street.
I'm going to be kind and say it's a very silly system, but the way that we can most protect one another is to have a contract that is locked in regardless of what people on Wall Street do, that keeps us safe and secure in our roles.
Another thing that a contract would do is allow people to always speak up for what's right and not just what's expedient. So much of what can be asked of workers at companies that are striving only to serve the bottom line is that they do what's expedient and not what's right. That's not what people who work at Grindr are interested in doing. If we wanted to work on what's expedient and not what's right, we probably wouldn't work here. So many of us want to be able to keep fighting for what's right and not just what's easiest.
SARA WEXLER
How has Grindr responded so far?
QUINN MCGEE
It hasn't. It has been absolute radio silence from management since we announced. That's not just about the union; that's about literally everything. We have not heard from management since July 20.
SARA WEXLER
When was the card signing?
QUINN MCGEE
Card signing began on Sunday, July 16; we crossed the supermajority threshold that we were aiming for on Thursday, July 20. The organizing committee sent a letter to management on Thursday afternoon requesting voluntary recognition, given that we have an overwhelming majority of workers at Grindr who want this. It's Tuesday evening [July 25], and we have not heard a peep, and not just about the union — about literally anything.
SARA WEXLER
How do you feel about the union effort so far? What are the energy levels among workers?
JACK ALTO
I feel more secure in my job and more able to focus on work now that I'm not afraid of getting disappeared suddenly. That's been fantastic. It's wonderful to see so many colleagues supporting this and raising their voices to say, this is what we want. We would like to have a bargaining unit. It's so joyous to see the public response of regular users, famous users, and other unions and organizations who support us as well.
QUINN MCGEE
It would be so much easier to not do this; to each be independent, to each be individual, to worry about ourselves. Forming a union is a radical act of kindness and love for yourself and your colleagues. It is potentially putting yourself slightly more at risk to better the conditions for everyone. I am so moved that so many of my colleagues have found it within themselves to do that for themselves and one another. It's everything I love about Grindr, because we're doing it with a sense of humor, with queer joy, and with candor. It's not only the best thing I've ever done at work — this is the best thing I've ever done in my life.
SARA WEXLER
How do you imagine a union changing your workplace once you win it?
QUINN MCGEE
We're hopeful that there will be less fear — with all the layoffs in our industry, and with changes that have happened within our own workforce — of people just disappearing and us not being told about what happened to them or why. There has been a culture of fear built at Grindr; I think it's probably not an accident.
We want guaranteed performance-improvement plans before we're just summarily let go — we have to be told whether we're meeting our goals, which means that there have to be goals set. If we can get this in a contract, where we are able to know if we're not meeting expectations and correct those before we're just suddenly kicked off one day, then there will be so much less fear. Nobody does their best work when they're afraid.
SARA WEXLER
Have you learned anything from this organizing experience?
JACK ALTO
I've learned you don't need to hate your job to want a union. You can love your job, and that's a fantastic reason to organize.
QUINN MCGEE
Massively cosigned.
JACK ALTO
I've also learned that the American workforce, and especially the tech industry, is a little misinformed about what unions are and how they work, for the most part.
QUINN MCGEE
It's almost like that's been done on purpose. [Laugh.] Right?
JACK ALTO
So many others have led the way and provided the torch light for us — such as employees at Sega and Activision and Trevor Project and Alphabet and Citizen and Apple — and we're hopeful that we can help break stigma, provide education, and showcase the benefits.
SARA WEXLER
What's next?
QUINN MCGEE
We remain hopeful that Grindr management is going to voluntarily recognize our union. A clear supermajority of workers want this. The faster we get to the bargaining table, the faster we can get to work.
SHARE THIS ARTICLE
CONTRIBUTORS
Jack Alto is a staff software engineer at Grindr.
Quinn McGee is a trust and safety product manager at Grindr.
Sara Wexler is a member of UAW Local 2710 and a PhD student at Columbia University.
Celebrate Bastille Day with Jacobin. Get or give a print subscription for just $7.89 this weekend by following this link.