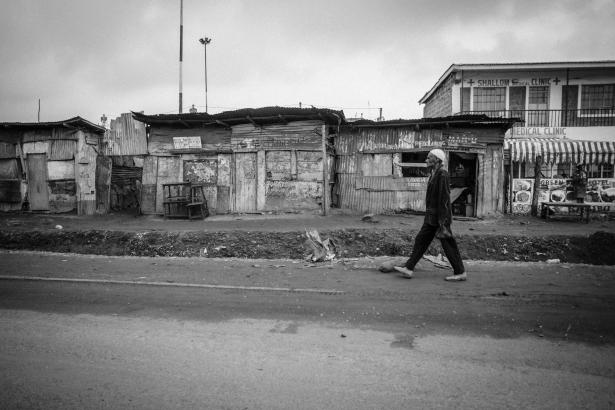 Photo by Bennett Tobias on Unsplash.
There should be no doubt that Kenya is in an intractable economic crisis. Filling up gas for a drive from Nairobi to my hometown in Limuru cost 10,000 ksh (about USD70). As a result of the high gas costs prices for everything else have gone up, including public transportation. And those who cannot hike up operating costs, such as the hordes of boda boda motorcycle taxis, are hardly making anything or operating at a loss.
Tax hikes mean those who are employed are taking less money home. And no point in kidding ourselves, in a corrupt country some of that money being generated from the higher taxes is going to the politicians. As will the promised 1 billion USD loan from the IMF on whose behest the new austerity measures are being implemented. It is a form of madness to think that a corrupt government will only steal money generated by taxes and do public good with the IMF loan. In short, in a country where close to half the population lives on less than USD2 a day, Kenya is simply unaffordable and the promise of relief is a lie—certainly a convenient lie for the government and IMF officials but a devastating one for Kenya's majority poor.
My drive to Limuru happened on the first Wednesday (July 19) of the protests. Everything was eerily quiet, Nairobi, renowned for its traffic jams, was quiet. Matatus and buses were parked in their hubs. Shops and stalls were closed. Even the hawkers that dot the roads and highways stayed home. Save for the heavy police presence everywhere, it felt like the country had come to a standstill.

We got to Kangemi shortly after the police had shot and wounded two protestors—the road was strewn with stones and armed riot police huddled by the side of the road waiting for the next wave of attacks that never came. In the end, six people would be shot to death throughout the country, and countless were injured and arrested. Coming from the US, where police arrest protestors and shoot black people, there were no surprises here. The US can hardly be the standard of good policing or democratic practices, but the lives lost simply for asking the government to center the people in its economic planning seemed especially cruel.
But it was the emptiness of the roads that made the whole drive eerie. Perhaps I was refracting what was happening in Kenya through what followed the 1982 coup in which 240 people were killed; or the ethnic clashes of the 1990s that culminated in the 2007 post-election violence. Yet, there was a general agreement among people that there was something different about the Kenya of today—that something was already broken and the nightmares to come were slowly but surely revealing themselves—like a bus carrying passengers and the driver realizing the brakes were out just as it was about to descend a steep hill.
Voting With the Middle Finger
But all this was predictable. President Ruto has been a known quantity since the 1990s when he led the violent Moi youth wingers. He and his running mate and later president, Uhuru Kenyatta, were brought in front of the ICC to face charges of crimes against humanity following the post-election violence in 2007. Some key witnesses disappeared and others were intimidated into silence. Who in their right mind gives evidence against those in control of the state? The ICC was already discredited as being Western-crimes-against-humanity friendly (the US has never been a signatory rightly afraid its former presidents, such as George Bush, would be hauled before the court). The ICC eventually withdrew the case in March 2015.
I kept asking everyone I met, why was Ruto voted in spite of his history? The answers varied: He rigged the elections; he did not rig and if he did, he only managed to be better at it than Raila Odinga; he appealed to the youth with the idea of building a hustler nation (what a telling term); the Kikuyus have vowed never to have a Luo president and therefore opted for Ruto who is Kalenjin as opposed to Odinga who is Luo.
I sat with older Kikuyu men in the little Nyama Choma spot in Limuru Market and they talked about a generational divide between the Kikuyu and youth (Ruto) and the elderly Kikuyus (Odinga). But the one I heard over and over again was that Kenyans are tired of the Kenyatta and Odinga political dynasties. As one Trump supporter was to say, they voted for him with the middle finger. And so, the Kenyans who voted for Ruto were giving a middle finger to the Kenyatta, Moi and Odinga political dynasties. But no one had really expected buyer's remorse to kick in one year into the Ruto presidency.
I also asked about Odinga's protests: what was the end game? One theory is that he was looking at power-sharing, having done it once before, following the 2007 elections. In our shorthand political language, he was looking for another handshake. Some said the people have a right to protest their government, and he is simply asking the government to repeal the tax hikes and reinstate the fuel subsidies. Others believed that he wants to be a genuine and useful voice of opposition for the good of the country and its poor.
My own theory is that he is attempting a people-powered, centered, democratic, and largely peaceful takeover—where people take to the streets to overthrow an unpopular government. We saw this in Latin America in the 2000s. In response to Odinga's absence during the three days of protests (he was sick), some leaders in his Azimio party have started using this language. The only problem with this strategy is that the sitting government has to be wildly unpopular. Ruto still has a lot of support, meaning that he does not have to compromise or give up power. It was to my mind turning into a stalemate and I was worried that the state would respond with more state-sponsored violence.
But real economics broke the stalemate. In a country where people are barely surviving and the majority are poor without savings to rely on, or relatives to reach out to for help, the hawkers, small stall and shop owners simply went back to work. In other words, those that would have been hurt the most by three days of protests (a day at home literally means a day without food for the family) simply went back to work, and the matatus and buses hummed back to life, slowly on Thursday and full throttle by Friday.
Saturday around Westlands might as well have been as busy as a Monday as people overcompensated for lost time to either sell or shop. If the protests were going to succeed the opposition (composed of some of the wealthiest families in Kenya, including Odinga's) really should have thought about how best to protect those who would be the most affected. They should find legal and innovative ways to put their money where their political mouths are.
Cuba as Kenya's North Star
Odinga had to change tactics and called for a day of protest against police violence instead of three-day weekly protests in perpetuity. He is now in danger of turning into a caricature of his old revolutionary self and becoming an Al Sharpton, who instead of protesting the American government for the police killings of black people, protests the police themselves leaving the government feeling sanctimonious. Obama or Biden could weigh in, in righteous indignation without offering any real change (remember Obama's emotional pleas over gun shootings and police shootings as if he was not the one occupying the most powerful office in the US)?
The one question that keeps eating at me is this: why is the most apparent outcome at the time a surprise later? Ruto was always going to sell off Kenya with a percentage for himself and his friends. Odinga was always going to capitulate. The end result is that the Kenyan bus will continue to careen on without brakes. So, what is to be done?
I was in Cuba earlier this year. I got a sense of the same desperation I felt in Kenya but the difference is Cubans have free access to healthcare, education, housing, and food security. They have free access to all the things that make basic survival possible. Before calling for the tax hikes and cutting fuel subsidies might it not have been more prudent to have a safety net for Kenyans? Would that not have been the most logical thing? But of course not, Ruto is acting at the behest of the IMF and big money. Ruto has learned the art of pan-African political rhetoric. Abroad he can call for a different non-US-centered economic system and castigate the French president over paternalism but at home, his politics are hustler politics.
Life in Cuba is difficult, as a result of relentless sanctions from the US,  but it is far from impossible. It remains the north star for those who understand discussions around fundamental change as the only starting point. We can have arguments about the nature of those fundamental changes, but we can all agree we should not be a country where one family, say the Kenyatta family, owns more than half a million acres of land. Or where, as Oxfam reported, four individuals hold more wealth than that held by 22 million Kenyans. The kind of politics that begin with a necessity for fundamental change will obviously not come from Ruto.
But one hopes it can still come from the Odinga camp.  Or even better, from a genuinely progressive people-powered movement that has inbuilt questions of fundamental change in its political, economic, and cultural platform.
In spite of the empty roads, Limuru Market was thriving and Wakari Bar kept its reputation as one of the best places for Nyama Choma and for lively political conversations. People are paying attention, after all, it is their lives and livelihoods on the line. Politicians, especially those in the opposition and the political left should listen as well.
Mukoma Wa Ngugi is a professor of literatures in English at Cornell, author of The Rise of the African Novel and the novels, Unbury Our Dead with Song and Nairobi Heat.
Africa Is a Country is a site of opinion, analysis, and new writing on and from the African left. It was founded by Sean Jacobs in 2009. Unless otherwise noted, all the content on Africa Is a Country is published under a Creative Commons license.