labor
Thousands of Los Angeles City Workers Stage 24-Hour Strike. Here's What They Want.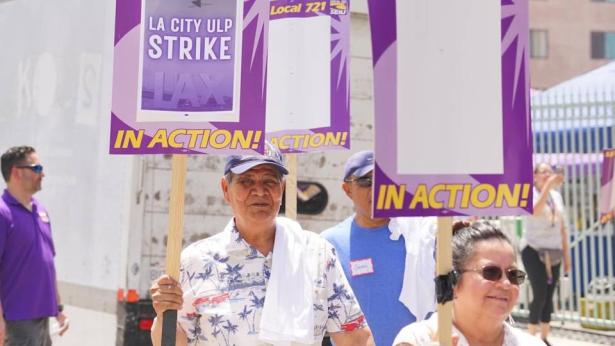 Los Angeles workers represented by SEIU Local 721 picket on Tuesday.,SEIU Local 721 via democracynow.org
Thousands of city workers in Los Angeles abandoned their jobs Tuesday in a one-day strike, calling attention to their claims of unfair labor practices and what they say is the city's unwillingness to bargain in good faith.
The strike is the first work stoppage for employees in America's second-largest city in more than 40 years. About 11,000 city workers for SEIU Local 721, including sanitation workers, heavy-duty mechanics and engineers at the Los Angeles International Airport, custodians at public schools and lifeguards are staged the walkout and took to picket lines early Tuesday.
The disruptions led to trash-pickup and non-emergency 311 call center delays as well as some animal shelters and swimming pool closings. Police and fire service were not expected to be impacted, nor were flights at the airport where some protesting occurred, but travelers were encouraged to arrive earlier than usual for departing flights.

Los Angeles has seen its share of labor stoppages this year. Writers in Hollywood have been striking since May with actors joining them last month. Union workers at 46 L.A. area hotels have had staggered stoppages this summer and Los Angeles Unified School District education workers held a contentious three-day strike in March.
"We're proud to join writers, actors, and our countless other Union siblings striking for respect in Los Angeles," SEIU Local 721 posted on X, the social media site formerly known as Twitter.
L.A. Mayor Karen Bass said Monday in a thread on X that "The City of Los Angeles is not going to shut down," due to Tuesday's strike. But Bass acknowledged "parking enforcement, traffic operations, control for permitted special events and constituent calls for service to signals and sign repair will be impacted. Residents may experience traffic delays at major events held within the City of Los Angeles."
Why are Los Angeles city workers going on strike?
Citing "repeated labor law violations," the union, whose members protested at the airport and at City Hall, declared a strike on Aug. 4. The union voted to authorize a strike back in May if new contract negotiations stalled during the summer. The union believes the city has failed to bargain in good faith and engaged in practices restricting employee and union rights.
"We're not trying to destroy or hurt anything," Gilda Valdez, Chief of Staff of SEIU Local 721, told KNBC-TV. "But we want to send a strong message to the city of L.A. Don't come to the table and mess with us."
SEIU 721 represents more than 95,000 public service workers in Southern California. While the SEIU workers' contract with Los Angeles has yet to expire, the union members decided to hold the one-day walkout to show the possible impact of a longer work stoppage. Nationwide, about 323,000 workers have gone on strike this year, according to Bloomberg Law data, the busiest year for strikes since 2000.
Bass said in a statement Saturday, city officials are available around the clock "to make progress" on contract negotiations.
"City workers are vital to the function of services for millions of Angelenos every day and to our local economy," Bass said. "They deserve fair contracts and we have been bargaining in good faith with SEIU 721 since January. The city will always be available to make progress 24 hours a day, seven days a week."
Port of Los Angeles experienced delays due to workers' strike
The Port of Los Angeles, the nation's busiest port by container volume, also was impacted by the workers' strike.
While the port remains open, at least four ships scheduled to arrive Tuesday were delayed due to the stoppage. About 300 of the port's 850 employees are represented by SEIU Local 721, port spokesman Phillip Sanfield said in an emailed statement to USA TODAY.
It's not clear how many port workers are participating in the strike, Sanfield said. The striking workers include pilot service boat operators and deckhands needed to get port pilots on the inbound vessels.
"Cargo vessels scheduled for entry or departure on Tuesday are being delayed one day due to the job action. The Port looks forward to the return of a full workforce on Wednesday," the port spokesman said.