The Hollywood Strike Drags On Because of One Stumbling Block: Studio Greed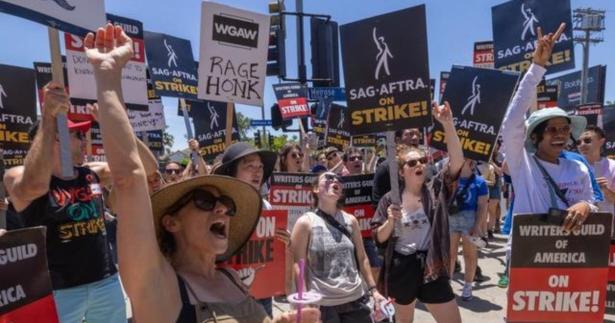 CBS News
On Friday, negotiators for the Hollywood studios finally sat down with the Writers Guild of America after a three-month standoff. But don't hold your breath. The Screen Actors Guild is still on strike, studio tycoons sound like Logan Roy and the two-union shutdown could drag on for months.
Writers and actors want raises, residuals from streaming platforms and some regulation of AI.
But media CEOs such as Disney's Bob Iger are crying poor. Iger recently said that "disruptive forces" such as streaming, shrinking TV audiences and an uncertain economy made this "the worst time in the world" for talent to insist on their fair share. The content creators must "be realistic about the business", he added.

The reality is that show business is doing fine, as confirmed by strong earnings, sky-high executive pay and summer box-office hits – Barbie, Oppenheimer and Mission Impossible. Besides, studios today are diversified entities that own streamers, TV networks, theme parks, cable properties and sundry and foreign operations.
Disney's streamers – Hulu, Disney+ and ESPN – boast billions of dollars in revenue. That, plus 12 theme parks, five cruise ships, Pixar, Marvel and others, made for a profitable 2022.
Comcast/Universal/NBC is a $120bn company that doesn't rely on movies as much as it leans on its cable TV monopoly. Sony is a multinational with electronics, games, image sensors and Columbia Pictures under its roof.
Some studios are just arms of a Frankencorp – a mish-mash of discordant parts. In 2022, the men behind the new $43bn Warner/Discovery/CNN merger borrowed some $50bn, fired 1,000 workers, and tarnished the HBO, TCM, and CNN brands. There may be a catchy slogan about Discovery's bird programs and Food Network shows (Polly Warner Cracker?). But Jack Warner's once-lean studio now epitomizes bloated conglomerates that squeeze employees and customers.
Warner's CEO, David Zaslav, has become a symbol of Hollywood avarice. To be fair, he's under pressure to cut TV residuals, payroll and debt. But an analysis by the Los Angeles Times showed that his total pay from 2018 to 2022 was nearly half a billion dollars. His salary is so excessive that 40% of company shareholders voted against it in May.
Pay packages for most studio leaders have soared. Netflix co-chief executive Ted Sarandos has collected $192m over the past five years; Universal/Comcast's leader Brian Roberts, $170m; and the executives at Apple, Paramount and Fox have done very well, even when they've messed up. (See Fox's $787.5m defamation suit.)
Meanwhile, about 87% of SAG actors don't make the minimum income – $26,470 a year – to qualify for its health insurance. The median pay for a weekly writer-producer has declined 23% over the past decade and half of all TV writers are paid WGA minimum. Residuals for writing a hit Netflix streamer can amount to 89 cents.
If the AMPTP would accept the WGA's proposal of 6%, 5% and 5% increase in wages and base residuals over three years, it'd cost the studios about $500m a year – or 0.5% of the $210bn revenues they collected in 2022. Bean counters call that a rounding error.
By refusing to settle, the AMPTP is hurting ancillary workers, too – the waiters, cooks, seamstresses and other blue- and pink-collar workers who support scripted shows. These people have already survived Covid lockdowns and inflation and now they're losing jobs in not just Los Angeles but in film hubs such as Atlanta, Austin, Chicago, and New York.
Taxpayers subsidize producers who film on their streets. California just raised its "refundable" tax credits to $300m and New York increased its tax credit cap to $700m. But when residents see how their generosity is being repaid, they may not extend those perks to the film-makers.
More troubling is that, for the first time in nearly a century, the smoke of class warfare is wafting over the labor table. In July, a studio source told Deadline that the AMPTP's strategy was to let negotiations drag on until "union members start losing their apartments and losing their houses"; another anonymous studio source claimed that the tactic was a "cruel but necessary evil".
It's one thing for corporate leaders to try turn one strike into two. But it's quite another to try and expand LA's homeless population by sacrificing workers from your own company. Although the AMPTP disavowed the comments, the casual cruelty resurfaced days later when Universal pruned trees that had given shade to picketers during a heat wave.
The city fined Universal $250 and Sag and WGA filed claims of unlawful labor practices. No wonder a recent poll found that the public favors strikers over executives.
And so the hot labor summer burns on. An unemployed carpenter spies a tabloid story about Jeff Bezos vacationing on his $500m super-yacht. An out-of-work designer talks about Iger renovating his $33m mansion in Brentwood, adding a two-story stable. A WGA member pickets the Apple store then drives past Sarandos' $34m faux Italian villa in Montecito, shaking her fist.
It helps to review the last time these two unions were on strike simultaneously. It was 1960, and agent Lew Wasserman acted as unofficial mediator. When the head of 20th Century Fox, Spyros Skouras, whined about how he couldn't give residuals, Wasserman took him aside and said: "Don't be greedy."
That maxim should guide today's studio bosses.
Kathleen Sharp is the author of Mr & Mrs Hollywood (Blackstone) and co-producer of The Last Mogul (ThinkFilm)