The Georgia Indictment Speaks to History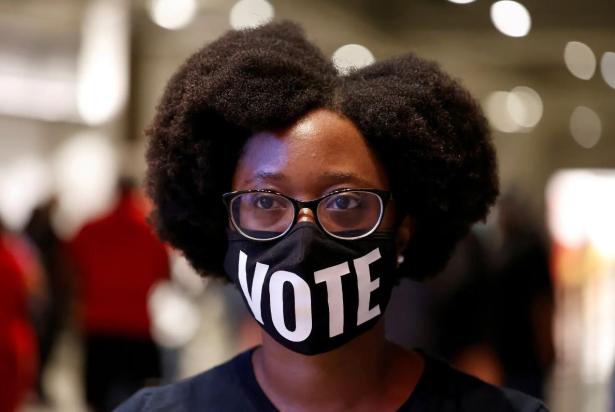 A woman waiting in line to cast her ballot in Atlanta in the 2020 presidential election.,Credit: Christopher Aluka Berry/Reuters // New York Times
Decades from now, when high school students want to learn about the great conspiracy against democracy that began in 2020, they could very well start with the 98-page indictment filed Monday night in Georgia, in which former president Donald Trump is accused of leading a "criminal enterprise" to stay in power.
No one knows whether these charges will lead to convicting Mr. Trump and the other conspirators or to keeping him from power. But even if it doesn't, the indictment and the evidence supporting it and the trial that, ideally, will follow it will have a lasting value.
Unlike the other three cases against Mr. Trump, this one is an indictment for history, for the generations to come who will want to know precisely how the men and women in Mr. Trump's orbit tried to subvert the Constitution and undermine American democracy and why they failed. And it is a statement for the future that this kind of conduct is regarded as intolerable and that the criminal justice system, at least in the year 2023, remained sturdy enough to try to counter it.

History needs a story line to be fully understood. The federal special counsel Jack Smith told only a few pieces of the story in an indictment limited to Mr. Trump, focusing mainly on the groups of fake state electors that Mr. Trump and his circle tried to pass off as real and the pressure campaign on Vice President Mike Pence to certify them. But in Georgia, Fani Willis, the district attorney of Fulton County, was unencumbered by the narrower confines of federal law and was able to use the more expansive state RICO statute to draw the clearest, most detailed picture yet of Mr. Trump's plot.
As a result, her story is a much broader and more detailed arc of treachery and deceit, naming 19 conspirators and told in 161 increments, each one an "overt act in furtherance of the conspiracy," forming the predicate necessary to prove a violation of the RICO act. (Neither of the indictments, unfortunately, holds Mr. Trump directly responsible for the Jan. 6 riot — a tale best told in the archives of the House Jan. 6 committee.)
Not each of the acts is a crime, but together they add up to the most daring and highest-ranking criminal plot in U.S. history to overturn an election and steal the presidency — and a plot that appears to have violated Georgia law, leaving no question about the importance of prosecuting Mr. Trump and his co-conspirators. Ms. Willis has risen to the occasion by documenting a lucid timeline, starting with Mr. Trump's brazenly false declaration of victory on Nov. 4, 2020, and continuing with scores of conversations between the president and his lawyers and aides as they try to persuade a number of states to decertify the vote.
The narrative contains tweets that might be just eye-rolling on their own — such as Mr. Trump's utterly false claim that Georgia Democrats had fed phony ballots into voting machines — but that in context demonstrate a relentless daily effort to perpetrate a fraud well past his forced exit from the White House on Inauguration Day.
The world knows about people like Brad Raffensperger, the Georgia secretary of state, who was asked by Mr. Trump to "find" him enough votes to overturn the state election and who refused. It knows about how Mr. Pence rebuffed his boss's demands to decertify the vote on Jan. 6 and of officials in other states and in the Justice Department who collectively helped save democracy by resisting pressure from the conspirators.
But Ms. Willis, in trying to tell the full story, made sure the high cost paid by lesser-known figures was also recorded for the books. Specifically, the indictment focuses on the outrageous accusations made against Ruby Freeman, the Atlanta election worker who was singled out by Mr. Trump and his lawyer Rudy Giuliani for what they insisted was ballot stuffing and turned out to be nothing of the kind.
Mr. Giuliani told a Georgia House committee on Dec. 10, 2020, that Ms. Freeman and her daughter, Shaye Moss, were "quite obviously surreptitiously passing around USB ports as if they're vials of heroin or cocaine" in order to alter votes on "crooked Dominion voting machines." For this, Mr. Giuliani — who admitted last month that he had made false statements about the two women and is facing a defamation suit they filed — was charged in the indictment with the felony offense of making false statements.
Ms. Freeman was also targeted by other conspirators charged in the case, and she may well have been chosen for that role because she is Black and was thus a more believable villain to the kinds of people who have most ardently swallowed Mr. Trump's lies for many years. As the indictment painstakingly lays out, Stephen C. Lee, a Lutheran pastor from Illinois, went to Ms. Freeman's home and tried to get her to admit to election fraud; he was charged with five felonies. He enlisted the help of Willie Lewis Floyd III, a former head of Black Voices for Trump, to join in intimidating Ms. Freeman; Mr. Floyd was charged with three felonies. Trevian Kutti, a publicist in the worlds of cannabis and hip-hop, was also recruited to help pressure Ms. Freeman, who said Ms. Kutti tried to get her to confess to voter fraud. Ms. Kutti now faces three felony charges.
In the "vast carelessness" of their scheme, to use F. Scott Fitzgerald's phrase, the plotters smashed up institutions and rules without regard to the resulting damage, willfully destroying individual reputations if it might help their cause. Ms. Freeman was one of those who was smashed, exposed by Mr. Trump to ridicule and abuse, though he never paid a price. Now, thanks to Ms. Willis, Ms. Freeman's story will reach a jury and the judgment of history, and the record will show precisely who inflicted the damage to her and to the country.
[David Firestone, a former reporter and editor for the Washington bureau and the Metropolitan and National desks of The Times, is a member of the editorial board.]