Laid-Off Sierra Club Staffers: 'We Can't Give Up on United Fronts'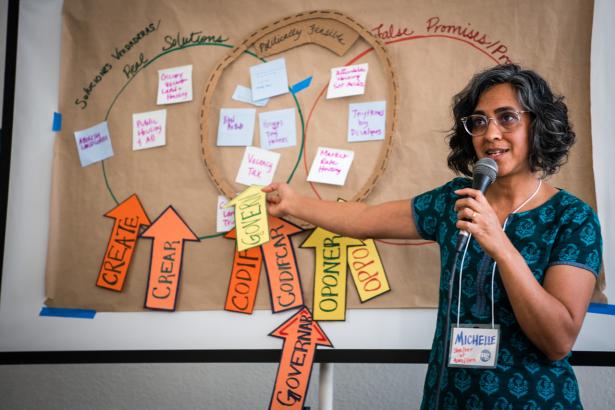 Michelle Mascarenhas facilitating the 3 Circles Strategy tool at the Prepare, Pollinate, Practice training for trainers in March 2020, (photo by Brooke Anderson)
For the last decade, climate justice organizers have seen the Sierra Club as a critical lever for moving a climate agenda that centers equity and just transition. It has the largest grassroots base outside of labor, the most substantial infrastructure of any national green group in the US, and roots in a movement that at times was not afraid to go toe-to-toe with large corporations or development-oriented pro-business government entities.
But beginning in May, the organization accelerated a restructuring process that included layoffs of the entire equity and environmental justice teams and of senior staffers, several Black women and other women of color among them. At the same time, numerous new executive-level staff with high salaries were brought on to usher in a new organizational direction. This move, led by new BIPOC executive leadership, pulls back years of steady progress towards aligning the organization with the more progressive climate agenda. It is a harbinger of a shift away from equity and towards green capital just as the 2024 election nears—and reflects an anti-woke backlash occurring in liberal organizations across many sectors of the movement.
To better understand these shifts, movement journalist Brooke Anderson interviewed two longtime climate justice organizers and veteran social movement strategists, Michelle Mascarenhas and Hop Hopkins. Prior to being laid off from the Sierra Club this spring, Mascarenhas was its national director of campaigns, and Hopkins resigned as its director of organizational transformation.

Hopkins and Mascarenhas had been working to align the Sierra Club with the frontline-led climate justice movement, as part of an intentional effort to shift the organization from its racist roots and practice. Founded in 1892, the organization led the creation of the National Park Service, expanding on a legacy of dispossession and genocide of Indigenous peoples by insisting that protecting land meant removing it from Indigenous stewardship. "The Population Bomb," which the Sierra Club published in 1968, was weaponized against poor people and people of color. It placed blame for the global ecological crisis on those least responsible: poor women of color and immigrants. This contributed to the anti-Black, anti-immigrant, anti-single mother attacks that continue to this day. 
The sophisticated analysis Mascarenhas and Hopkins offer of "what time it is on the clock of the world" (to borrow from the late, great Grace Lee Boggs) doesn't just speak to happenings inside the Sierra Club. Rather, it holds deep-rooted and durable wisdom for left organizers attempting to make critical interventions in larger, liberal or centrist spaces in the non-profit industrial complex—and clarifies the sides and the stakes in today's debates over climate policy. 
Brooke Anderson: Why did you both choose to work in the Sierra Club, and what did you hope to accomplish there? Why is it important to the left what becomes of the Sierra Club?
Hop Hopkins: I've been heavily influenced by the chapter structure and national reach of the Black Panther Party for Self-Defense, the Brown Berets, and the American Indian Movement. The Black Panthers had 13 chartered chapters. Imagine if they had been able to scale to 30-40 cities? Or had a chapter in every state? For me, this was an organizational form that the Sierra Club represented. Ten years ago my community of social movement leftists mostly worked inside small to medium 501(c)3's and didn't have experience operating at a national scale. On the road to liberation, we knew we had to learn how to practice little "d" democracy and govern at scale. That's when I started to look at the Sierra Club as a site of struggle in order to gain experience governing at scale. At this time authoritarianism, white nationalism and the Southern strategy were not as ascendant as they are now. However, those of us intervening in and observing right-wing movements understood the global connections between climate denial, rising anti-democratic movements and the goal of the right wing to seize state and federal power prior to 2050—when the United States will be a majority-minority nation.
In order to fight a climate catastrophe that is global in nature, we need to understand how to scale our work inside and outside of the non-profit industrial complex into self-governing, member-based, power building pro-democratic forms of organization.
I'd been organizing for more than fifteen years in 2015 and had experienced the negative impacts from large mainstream environmental and conservation groups (big greens) within the environmental justice movement. The Sierra Club had a foundational role to play in the continued dispossession of Indigenous peoples from their lands and putting forward right-wing environmental ideology like that in "The Population Bomb," which to this day continues to be massively detrimental to Black, Brown, and migrant communities across the globe. We sought to align the Sierra Club, from being one of the most harmful organizations—where liberal middle-class white folks were, consciously or unconsciously, being organized into white supremacy—with the progressive wings of the pro-democracy, labor, and climate and environmental justice movements, and root the Club in the Jemez principles, Black Lives Matter, land rematriation, reparations, just transition, and redistribution of philanthropic funds. We were successful in achieving this alignment in many ways as were we successful in  developing a political home for white environmentalists to resist ecofascism and exposing them to anti-racist models of organizing in support of frameworks for the liberation of themselves, people of color and working-class white folks. 
Michelle Mascarenhas: We [the grassroots, frontline community organizing sector] formed the Climate Justice Alliance in 2012 to create a new center of gravity in the climate movement that called for system change, not climate change. We needed a climate movement that would center the extractive economy as the driver of climate (with "extractive economy" being shorthand for racialized settler-colonial globalized industrial capitalism), and advocate for a frontline-led just transition to regenerative economies. At the time, big greens and governments were not even giving lip service to these tenets in how they took on climate. That began to shift dramatically over the past decade. So the moment felt ripe to help align the largest grassroots membership-based environmental organization in the country, with 64 chapters including every state, Hawai'i, and Puerto Rico, with a just transition framework. As the climate crisis becomes more apparent, we need more on-ramps for white people, middle-class people, and others who might not yet be organized around their frontlines to engage in a movement for systemic transformation.
Bringing white people into the multi-racial front
BA: What is the potential power of bringing organizations like the Sierra Club into a united front [a broad coalition to advance shared objectives], and how can left organizers trying to make those interventions in liberal or neoliberal spaces stay grounded and aligned?
HH: The Sierra Club has significant influence on how the environment is conceptualized. Moving an organization like the Sierra Club on an intersectional journey—to how climate is intrinsically connected to the history of extractivism [the exploitation of land and labor for profit]—is an important endeavor. The hypothesis goes like this: If we are able to organize white middle-class environmentalists to develop an anti-racist root-cause analysis of the climate catastrophe, we will create the conditions for the Sierra Club to join a larger multi-racial united front for liberation. If we do this, then we will learn aspects of how to govern democratically at scale and organize white folks against white supremacy and ecofascism at one of the biggest non-profit sites of its production and reproduction. By moving the Sierra Club, it is having an exponential impact on other big greens, philanthropy, and politicians. Just as climate justice is intrinsically linked to racial justice, land back is inseparable from reparations. We're not going to get one without the other. To get the balance of forces to secure land back and reparations, and to improve material conditions for the working class, working poor, trans people, etc., it is important to have formations like the Sierra Club in a larger united front.
By not organizing that key space, white middle-class well-educated liberals continue to drift, or full on put foot to the pedal toward right-wing ideologies. Predominantly white institutions left to their own devices won't take on white supremacy on their own. They'll continue to tweak around the edges of extractivism, disposability, and sacrifice. 
In 1966 SNCC tried to wrestle with this question of what to do with well-meaning white liberals. However, leftists have largely retreated from organizing predominantly white spaces. Respect to organizations like SURJ and The Catalyst Project for having taken this task on. However, we need more forms of organizations with the specific purpose of attracting, supporting and developing hundreds of thousands of white folks into the struggles for climate, racial, gender and economic justice. We decided to take up the task and intervene in predominantly white liberal environmental spaces to help develop shared interest in defeating white supremacy, cultivate anti-racist leadership and help build a root-cause systems analysis of the climate crisis and social inequity.
In the last several elections, it's been clear that we're losing older white middle-class well-educated folks to conservative ideologies. The right wing understands this and values the power of the Sierra Club's membership base, and national infrastructure, and the political power it wields. So much so that they've tried to take it over twice—once in 1998 and again in 2004. During our years of organizing, we lifted up the genealogy of ecofascism and authoritarianism and how central they are to the birth and development of the environmental movement. Through webinars, teach-ins and articles we illustrated how they're not just trees in the same forest, but they're actually branches of the same tree.
The 'war on woke' subverts progress towards justice
BA: Help us situate that need for a united front—and where the Sierra Club stands in that project—in —the question of "What time is it on the clock of the world?"
HH: We're now seeing the Southern strategy coming into fruition. The Southern strategy is a Civil Rights-era Republican strategy to transition power away from the Democratic Party by appealing to the racism of white voters. They created media institutions, think tanks, university programs and the Christian right to agitate and exploit cultural and racial divisions and moved that strategy over several decades to get us to where we are now. 
Meanwhile,  the US Census reports that by 2044, the US will become a majority-minority country. Those on the Right have had that on their mind for a long time, and have been organizing to control the levers of power so that it doesn't impact their ability to lead. Politically, that has meant gerrymandering and voting disenfranchisement and voter suppression of more and more people of color to shift electoral outcomes.
Social scientists Judy Churdy and Hakeem Jefferson, who study whiteness and white ideas about racism, report that while there was an uptick in white concern about racism in the summer of 2020 amidst the uprisings surrounding the murders of George Floyd, Breanna Taylor and Ahmaud Arbery, it was an overrepresentation of people who sincerely care about racial justice, and fleeting. What we see now is an indicator of this fact. White ideas about racism are at a lower point now than they were in 2020. We're seeing the counterinsurgent backlash on the Right in the form of anti-"wokeness" and a liberal institutional retreat from justice, equity, inclusion and belonging.
The backlash is being experienced as a cultural phenomenon. Organizations that haven't moved to genuine understanding and anti-racist practice are experiencing the pushback from conservative forces inside and outside their organizations. As I mentioned earlier, the Sierra Club's board was almost taken over twice by conservative movements and I think we're experiencing the third instance now. If Sierra Club's commitment to racial justice is as genuine as claimed, why eradicate the equity department and create a narrative that the work that they were doing was harmful?
This is happening not just at the Sierra Club, but in a number of liberal institutions from corporate to non-profit formations. The impact has been devastating on people of color across the workforce. The gains made over the past decade and especially in the past two to three years will turn out to be more devastating if they too follow the trend observed by Churdy and Jefferson. 
BA:  Tell us about some of the progress in the last several years to align the Club with frontline, grassroots environmental and climate justice work being led by BIPOC communities.
MM: After widespread accusations of a staff and volunteer culture that tolerated abuse, the Sierra Club Board approved a set of values: anti-racism, balance, collaboration, justice, and transformation. These values provided a framework from which to do political education, and also a ground on which white volunteers, staff of color, and a range of folks coming from different backgrounds could come together, approach conflict and harm, and build across race, class, gender, sexuality, age, and life experience. 
Frontline groups were increasingly engaging with and putting pressure on Sierra Club to align with a climate justice agenda. In turn, Sierra Club's on-the-ground staff and chapter volunteers who were engaging with frontline groups often pushed the organization to shift priorities, policy, or strategy. Meanwhile, others in key roles were able to help anchor, support and train numerous staff and member leaders in the tenets of a climate justice and just transition agenda, culture, and practice in a relatively short period of time, laying the groundwork for deeper transformation.
HH: When I got to the Sierra Club nine years ago, you couldn't say the word racism without being accused of being a racist. Between then and now we operationalized the implementation of the Jemez Principles and the Principles of Environmental Justice; signed onto the BLM platform; passed an organizational resolution supporting reparations for Black people; adopted land acknowledgements; went through change processes resulting in structural shifts to increase transparency in decision-making and budgeting and correct historic pay inequity among national and chapter staff; and  conducted training and education around the exclusionary and racist origins of the Sierra Club.  These and many other moves made it possible for the organization to be explicit that its struggle for the planet is indistinguishable from the struggle for the humanity of all people. The Club has since recognized that the compounding crises we are collectively experiencing are a product of the legacy of colonialism, genocide, slavery and systemic exploitation grounded in anti-Indigenous and anti-Black policies and structures.
This hasn't been without difficulties and the work to get here began before Michelle and I became Sierra Club staff. A great many staff and volunteers that were involved in the efforts above are no longer at the Sierra Club; some were fired or pushed out, some left due to inhospitable working conditions or lack of alignment with the changes and others are resigning and being laid off now. Recognition is owed to many women of color, especially Black women, who carried much of this work and paid a uniquely heavy cost over the years.
Electrifying everything = electrifying exploitation
BA: What will the impact of these shifts at the Sierra Club be on the broader climate justice movement, and on grassroots frontline communities that the Sierra Club has been building with?
HH: These shifts represent a reassertion of carbon fundamentalism—placing prime attention on carbon as opposed to a systems analysis focused on ending extractivism, disposability, and racism. They pave the way for false solutions (strategies based in corporate ownership and technological fixes) like net zero and carbon offsets that dominate the climate change narrative. This anti-"wokeness" is an anti-systems framework. It doesn't want to go to the root causes of the issue. It's a neoliberal, compartmentalized reading of the problem that seeks to leave systems of power and governance unchanged and in the hands of those that created the problems in the first place. Trust has been broken internally and externally and some Sierra Club relationships may never be recoverable while others will continue to hold a tactical relationship to the organization. Over the years we were part of a successful movement to align the organization with the progressive wings of the environmental and climate justice sector and to help Sierra Club develop a more holistic, intersectional and interdependent worldview. Holding those positions in this current moment of backlash is a work in progress.
MM: We're in a moment of transition. That transition is inevitable but justice is not. Who leads is going to determine how it goes and where we end up. "Grey" capital—fossil fuel companies as a prominent example—is still working to maintain a large slice of the dwindling and disaster-prone pie. But "green" capital is rapidly gaining. With the passage of the Inflation Reduction Act, "green" companies are ready to build, build, build a whole new infrastructure reliant on mining for rare earth minerals, building individually owned vehicles as opposed to mass transit, and utility-scale solar that compromises biodiversity and leads further toward eco-apartheid. For the Sierra Club to shift from a core campaign of fighting fossil fuels toward an "electrify everything" agenda represents a huge shift toward false solutions and a missed opportunity for utilizing the political power that the Sierra Club wields towards a truly just transition.
For example, if solar in a red state is only being advocated for by Amazon and Walmart, the Sierra Club is likely to put its advocacy resources in support of those companies going solar. Electrifying everything is a framework to electrify exploitation. This is using the guise of the climate crisis to further extract from Black, Indigenous, people of color and poor white people and send them under the bus. If someone can't afford a car today, how is a tax credit going to get them an electric car tomorrow? If our communities are priced out of home ownership, how is a tax credit on rooftop solar going to help? Inequity will be exacerbated and resources wasted. The restructuring at the Sierra Club represents a deadly shift on how movement forces are shaping the economy in this critical time of transition.
The existing institutions are crumbling or collapsing or imploding, or transforming into vehicles for other purposes. At the same time, in this moment of transition, we need to be training our folks to be agents of their own collective self-determination. There is so much new muscle; we need to learn to do that well and every venue is an opportunity. We must move toward collective governance of our watersheds, foodsheds, tradesheds, housing, eco-resilience locally rooted in our neighborhoods and as part of indigenous sovereignty and racial justice. The Sierra Club chapter structure could be such a powerful vehicle for the work to craft permanently organized communities–but only after the transformative work to create principled anti-oppression spaces. Unfortunately, that work has been held up with the recent restructuring.
BA: There's a detailed piece in the Guardian about the labor issues in the restructuring. As director-level staff, neither of you were in the union's bargaining unit, but you've been supportive of the union. What is the role of unions in holding organizations like the Sierra Club to their espoused values and providing a place from which to organize for a more transformational agenda?
MM: Unions provide a critical organizing force within our institutions. They provide a place for protection and support around grievances—material conditions, wages, benefits, etc.—but have the potential to push for a transformative vision as well. At the Sierra Club, the union [Progressive Workers Union] has been led largely by women of color who are taking on the transformational agenda that Hop is talking about from both their positions in the Sierra Club, but also in their work building the union as a democratic institution itself. I met with the union stewards of my unit regularly to have a dialogue on how I could be moving our campaigns towards an anti-racist, collaborative, equitable, just, transformative agenda and how we could be doing that together. The union brings the perspective of the folks doing the work on the ground in an organized and strategic way.
Disaster capitalism inside your organization
BA: Many of us have been let go from liberal organizations while trying to advance more transformative, liberatory, or radical agendas. It can be confusing, isolating, and devastating for organizers. What advice can you offer?
HH: If we don't make meaning of the moment from a progressive, intersectional place, we can be subject to the gaslighting that neoliberalism promotes in times like this. When restructuring is happening organizations will say that they used an "equity lens" to help guide the decisions to balance the budget and make structural changes. This does nothing to explain the anxiety, isolation, and real confusion people feel while they are living in fear of losing their job as colleagues are laid off all around them. This is especially true when hard fought structural gains in the form of equity departments are dismantled and equity positions eliminated. Many of those laid off are people of color recently hired as a response to demands of institutions to increase their cultural competency and take action to address organizational and societal injustices. This is happening across the workforce with a disproportionate impact on women of color. How did using an equity lens arrive at these ends? You just might think you don't get it or if you're laid off, it must be your fault. 
Well, it isn't your fault. This is disaster capitalism right inside your own organization. Gaslighting is on nitrous in these moments. If your organization is undergoing a restructuring and ending its equity, justice and inclusion departments and programs, asking where will the work live on and how will progress be sustained, monitored and funded are good questions to cut through the gaslighting.
BA: What happens next?
HH: Again, what is happening inside the Sierra Club is happening in other parts of the NPIC [Non-Profit Industrial Complex] and I don't align with some of my comrades and friends who are saying "F*ck em." We won't abandon the years in the making of local, regional and national organizing infrastructure that was so costly to build and more importantly we won't abandon the communities and people that we've built trusting relationships with. From the inside and outside, we'll continue to agitate them to take more progressive positions based in solidarity and not charity. We'll continue to move the organization to run interference with philanthropy and other big greens in order to align with, partner with and take leadership from the grassroots environmental and climate justice sectors. We'll continue to make hypotheses, question the assumptions they're based on, test and evaluate them and then develop new hypotheses based on the new conditions. In other words, we're gonna "keep on keepin' on" being organizers.
MM: As social movement leftists, we cannot cede the space of the big institutions like the Sierra Club to the right or to liberal forces. As "strong men" archetypes rise to carry out authoritarian agendas in nation states around the world, we are also seeing that happen in our institutions as part of the backlash to the feminist, anti-racist gains we've been making. As they try to isolate us, it's imperative that we stay anchored to a political home that includes folks inside and outside those institutions. So it's key for us to build that space to recraft our strategy.
Secondly, the climate justice movement needs to gear up to take on this new front of facism. We've seen ecofascism coming from the Right but we need to now take on the liberals directing precious resources—time, labor, capital, attention—towards a testosterone-fueled "get mine," or growth at any cost, agenda. What we need to understand as the new renewable energy tyranny. The Sierra Club's new "electrify everything" framework is a death sentence for the majority around the world, from Ghana to the Gulf South and from the Arctic to Soweto. The Left has made great strides in the past several years to make what is materially necessary to address the ecological crisis—land back, indigenous sovereignty, reparations, community-controlled economy—more and more politically possible. We can't cede the space now.
Brooke Anderson is a freelance photographer and photojournalist based on unceded Ohlone land in Oakland, CA. Her most recent work can be found in YES! Magazine, Teen Vogue, and In These Times. She covers social movements for climate justice and worker power. She is a proud member of the Pacific Media Workers Guild, CWA 39521, AFL-CIO. She can be found on Instagram at @MovementPhotographer and on Twitter at @MovementPhotog.
Hop Hopkins is the former Director of Organizational Transformation at the Sierra Club, where he helped the organization evolve its commitment to anti-racism. Hop is a longtime social movement strategist and scholar, and has been a leader in movements from HIV/AIDS to anti-globalization, food sovereignty, anti-displacement and clean energy transition, after beginning his career as a grassroots environmental justice community organizer. Most recently he was a Climate Justice Fellow and adjunct professor at Antioch University. He is based on Tongva land in Los Angeles, CA.
Michelle Mascarenhas is the former National Director of Campaigns at the Sierra Club. Before coming to the Sierra Club, Michelle was a co-director of Movement Generation Justice & Ecology Project where she supported the formation of the Climate Justice Alliance, the Reclaim Our Power Utility Justice Project, and projects at the intersection of land, Indigenous sovereignty, reparations and Black liberation. Prior to her time at MG, Michelle worked as a union organizer and organized farm-to-school projects. Michelle is based on Chochenyo Ohlone land in Berkeley, CA. 
Convergence is a magazine for radical insights. We produce articles, videos, and podcasts to sharpen our collective practice, lift up stories about organizing, and engage in strategic debate — all with the goal of winning multi-racial democracy and a radically democratic economy.