Jackson out of Sight As Mississippi Goes to the Polls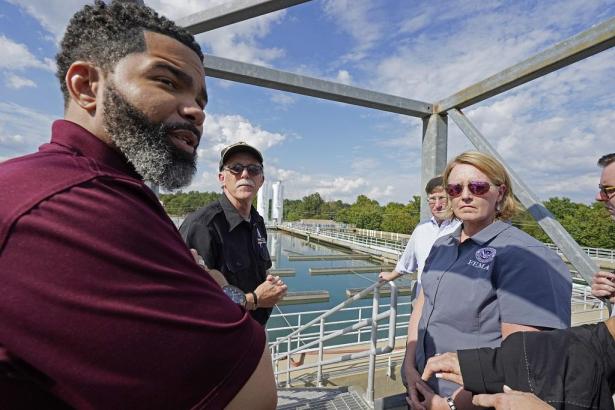 FEMA administrator Deanne Criswell, right, Mississippi Gov. Tate Reeves, second from right, and Jim Craig of the Mississippi State Health Department, second from left, listen as Jackson Mayor Chokwe Antar Lumumba, left, speaks about work being done.,Rogelio V. Solis / AP Photo
This week, 60 Minutes profiled football legend Deion "Prime Time" Sanders. Coach Prime shook up the college football world by moving from a coaching job at Mississippi's Jackson State University, a historically Black college, to a post at the University of Colorado in Boulder. The program was determined to capture the differences between Jackson and Boulder, and how Sanders reacted to moving from a predominantly Black city to an overwhelmingly white one, "a place with a water crisis to the kind of hipster college town where there is a shop devoted to kites." Paired to that audio was 20 seconds of damning video, depicting a derelict house and a resident carrying bottled water, a nod to Jackson's water crisis, up against beauty shots of Boulder.
That 20 seconds was enough to cue outrage from Coach Prime's former colleagues back East at Jackson State. They jumped all over 60 Minutes for showing the city in the worst possible light.
Sanders himself had delivered a strong message about Jackson and its water crisis almost a year ago. "The residents of Jackson are resilient," he said in a USA Today interview. "I mean, when you just sit there and think about Jackson is the darn state's capital and we dealing with this issue, we dealing with raggedy streets and, I mean, unpaved situations and, even at HBCU level," he added, "it's unbelievable."

President Biden plans to funnel $600 million into the city to deal with the water crisis, announcing the first $115 million allocation to get to grips with system disinvestment in June.
The water crisis in the state's capital and largest city may be old news to Mississippi residents. But it is not surprising that Jackson's woes, like Flint, Michigan's before it, keep the city in the headlines. But unlike Flint, Jackson has not been a top issue in this year's Mississippi governor's race. That's very different from the 2018 Michigan governor's race, where Gretchen Whitmer, a former Democratic state senator and county prosecutor, and Bill Schuette, the Republican attorney general, had wars of words over who bore ultimate responsibility for the fiasco after the city switched from its longtime water source to the polluted Flint River.
The 2023 Mississippi governor's race would appear to be a prime opportunity to propel Jackson's crisis, as well as the water problems faced by similarly situated communities, to the top of the state's agenda. But political culture works differently down South. Neither Republican Gov. Tate Reeves nor Democrat Brandon Presley, a utilities commissioner in the northern tier of the state, has had much to say about the Jackson crisis. And there seems to be little pressure on them to tackle the subject. A name-calling contest— "liar" is the most frequently used epithet— is under way, but Jackson isn't on the radar at the moment.
The controversies over rural hospital closures, expanding health and maternity care facilities deserts, and a welfare funding diversion scandal have pushed Jackson out of the election-cycle frame.
But others are thinking about how situations like Jackson affect other sectors of the economy. Last year, the Mississippi Economic Council, the state chamber of commerce, conducted an online survey of public and private business and community leaders and found three "issues of concern related to the business climate of Mississippi." Most states share two of the three top problems that MEC identified: a lack of qualified workers and ongoing COVID-19 impacts. But one was unique to the state: the image of Mississippi cited by a quarter of the leaders surveyed.
If business and community leaders are concerned about how the image of Mississippi affects the economy, then Jackson's crisis, and water quality and infrastructure more broadly, tarnishes that image and complicates the governor's position as a conduit for new economic opportunities from outside the state.
There's another factor that compromises the economic development picture: Among college graduates who study at Mississippi's state public schools, only half remain in the state three years after graduation. About 60,000 millennials, nearly 10 percent of the total, have left the state since 2010. There is also high out-migration among African Americans.
6.3 percent of Mississippi residents are served by community water systems with a serious drinking water violation in the past year, the third-worst rate in the nation.
Beyond contaminated water, Mississippi's wider health profiles in areas like diabetes, obesity, and heart disease—all cited by the MEC report—simply hinder economic development. What company is going to take a second look at business opportunities in a state where residents in the state capital really don't want to drink the water?
In 2020, the American Society of Civil Engineers gave Mississippi's drinking water infrastructure a "D." That was before Jackson's water system collapsed after a 2021 winter storm, and again after floods in 2022. Each event left residents without water for weeks. The Environmental Protection Agency's 7th Drinking Water Infrastructure Needs Survey and Assessment determined that over the next two decades, the country has $626 billion in drinking water system needs for treatment plant upgrades, pipe replacement, storage tanks, and the like. Mississippi's share of that is about $8 billion.
The state will see nearly $5 billion over the next five years from the bipartisan infrastructure bill; about $430 million will go to improving water lines and pipes. According to a United Health Foundation report, 6.3 percent of Mississippi residents are served by community water systems with a serious drinking water violation in the past year, the third-worst rate in the nation. Jackson, the largest water system in the state, skewed that rate.
But a Harvard Law School Mississippi Delta Project 2022 study of local water funding disparities has noted that poorly maintained drinking water systems are a feature, not a bug, of water infrastructure in the state overall. According to the EPA's current Enforcement and Compliance History Online data, 23 other municipalities in addition to Jackson have drinking water systems that are in serious noncompliance with the federal Safe Drinking Water Act. The two largest are the predominantly Black and high-poverty cities of Indianola (north of Jackson) and Clarksdale in the Mississippi Delta county of Coahoma, which has a total of four water systems in violation. Ten smaller systems have been in violation as long as Jackson.
For some residents, one possible factor for the corresponding lack of urgency on the campaign trail outside Jackson could be explained by a perception the crisis is at least on its way to being solved. With Jackson Mayor Chokwe Antar Lumumba and other community leaders vociferously protesting the governor's and state lawmakers' interference, and groups like the NAACP filing suit, the Justice Department and the EPA have restored some semblance of order. In addition to hundreds of millions in new funding, a third-party administrator has come in with a short-term privatization plan (which may morph into a longer-term one) that is poised to begin the work of rebuilding the system.
But concerns remain about transparency and accountability features to ensure that federal funding is actually distributed to historically disinvested communities to update their aging and ineffective water systems. The Program on Human Rights and the Global Economy (PHRGE) at Northeastern University's School of Law, the Center for Constitutional Rights, Food & Water Watch, and Jackson residents plan to present a report on drinking water access and affordability at a United Nations Human Rights Committee session in Geneva next month—another gut punch on the international stage. The report showcases testimonies from Jackson community members about continuing problems with water quality, and customer service missteps, such as failures to offer boil water notices in Spanish. Transparency in water system operations and federal and state funding disbursements continue to raise questions during the interim oversight period.
For other Jacksonians, the key reason why the city is out of the public consciousness has everything to do with race and candidates prioritizing the votes of white Mississippians, many of whom are not well-disposed toward the predominantly Black Democratic bastion. One-third of Jackson's residents are poor. Gov. Reeves and Mayor Lumumba are embroiled in an epic feud over control of the water system, if the "oily, discolored, grainy, blackish or brown, with a bad taste or smell" liquid that has come out of residents' taps (as described by Jackson residents in the report to the U.N. committee) could properly be called water.
Privatization, which appears to be fast-tracked, also has not emerged as much of an issue in the campaign. Some believe it is being pursued to wrest control away from a Black city. A long-term privatization plan, one that many people in the community oppose, could lead to higher bills for ratepayers. The governor has expressed support for privatization currently under the auspices of JXN Water and Jacobs Solutions, the private water management company that now runs the city's two water treatment plants and is seeking a contract of up to ten years. The Jackson Advocate reports that the company intends to keep on some workers who are currently members of the Mississippi Alliance of State Employees/Communications Workers of America, AFL-CIO Local 3570, but only if they agree to leave the union—and their state retirement benefits—behind.
As water issues pile on to existing health care problems, there are also major economic obstacles that should make any serious Mississippi chief executive think long and hard about some very fundamental obstacles that the state faces. As Deion Sanders points out, the situation facing Jackson is unbelievable. The Jackson water crisis is a key focal point in the image that Mississippi projects to the country and the world—an image that demands a first-class makeover, starting with the capital city.
---
Prospect senior editor Gabrielle Gurley writes and edits work on states and cities, transportation and infrastructure, civil rights, and climate. She was awarded the Association for Education in Journalism and Mass Communication's 2021 Gene Burd Award for Excellence in Urban Journalism.
Read the original article at Prospect.org.
Used with the permission. © The American Prospect, Prospect.org, 2023. All rights reserved.
Visit The American Prospect to subscribe or donate.