labor
How a California Child Care Workers' Union Fought for Living Wages — And Won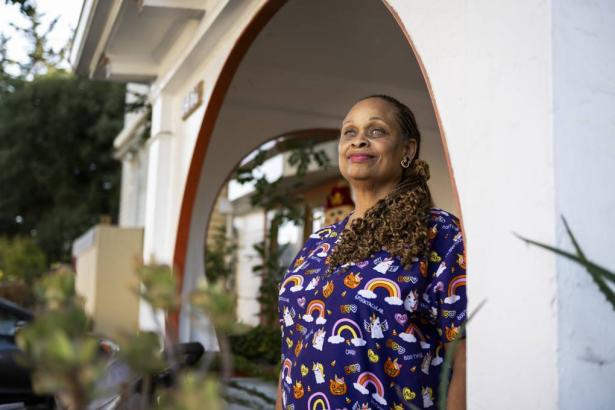 Nancy Harvey stands outside of her child care and early childhood education center, L'il Nancy's Primary Schoolhouse, in Oakland on Oct. 4. ,Beth LaBerge/KQED
When Nancy Harvey opened a daycare out of her West Oakland home nearly two decades ago, she wanted to give kids in her neighborhood a high-quality preschool.
She was up for the challenge, but what she wasn't prepared for was the low pay and lack of benefits: two things she took for granted when she worked in marketing and taught in private schools.
"A retirement plan was essential for anyone that worked a job and I couldn't understand how this very valuable industry did not have that," Harvey said.

As workers across occupations walked off the job during this remarkable year of strikes, a union representing 40,000 home-based child care providers like Harvey approved a landmark deal, which included a roughly 20% pay increase and unprecedented benefits. It was a big moment for a labor movement largely led by immigrants and women of color — two groups whose domestic work has historically been undervalued and excluded from labor protection laws.
Since child care in the United States is largely privatized, home-based providers are considered self-employed small business owners. But those who serve lower-income families have long argued they should be classified as public employees since their salaries depend on reimbursements from the state. In California, two-thirds of families who receive child care subsidies send their kids to home-based daycares.
For years, these providers complained they were paid so little that they themselves qualify for public assistance.
"It spoke pretty loudly as to what folks really thought of child care providers, that we were just folks that they could use and not necessarily think about our well-being and our future," Harvey said.
For Harvey, her involvement started with a knock on her door not long after she started her daycare. A union rep came in the middle of the children's nap time and pitched unionizing as a strategy to improve pay and gain benefits. She said she didn't hesitate to sign up.
Organizing isn't easy for home-based workers because they work independently, but Harvey said she felt a duty to speak up for her industry because many providers were in the same situation she was in, but were too busy to effect change.
'We have set them aside long enough and we can't do that.'
Nancy Harvey, child care provider, West Oakland
It took two decades of organizing — a lot of it done during nap time — before Child Care Providers United won the right in 2019 to collectively bargain. The union represents 40,000 home-based child care providers. It is a partnership between two chapters of the Service Employees International Union locals and the American Federation of State, County and Municipal Employees.
But just as Harvey and other providers got ready to negotiate their first contract with the state, the pandemic hit, greatly intensifying their economic insecurity. As essential workers, many home-based providers kept their doors open, but still struggled to pay their bills. They said they were seeing lower revenues due to enrollment declines and higher costs due to inflation.
"It was at that point that people really recognized the fact that, hey, this industry is important," Harvey recalled. "We have set them aside long enough and we can't do that."
The union reached its first contract in 2021, securing $100 million for health care, plus funding for training and pandemic relief. In one survey, many home-based providers reported delaying or not getting needed health care because they couldn't afford out-of-pocket costs.
Gaining the health care fund was bittersweet for Patricia Moran, a daycare owner in San José. She said a fellow provider and member of the negotiation team was diagnosed with lung cancer during the talks and didn't live long enough to see it.
"I knew providers who were going to Mexico, crossing the border for cheaper medical care and going so fast and coming back so fast they would sometimes get into car accidents," she said.
Moran, Harvey and dozens of providers bargained for the second contract this past year. They spent nights and weekends negotiating and held union demonstrations, including rallies outside the Capitol and the governor's mansion.
"I remember I slept like two hours because, in my daycare, some parents are bringing children at 5 o'clock in the morning," Moran said. "I was like, OK, I'm going to sleep. Maybe, maybe not. No, I'm going to stay awake."
The organizing paid off. Last month, the state finalized a landmark $2 billion deal to give them their largest pay raise to date and launch the nation's first retirement fund for unionized child care workers. The $80 million fund made California the first of 11 states with home-based child care worker unions (PDF) to offer this benefit.
Overall, the push to unionize child care workers has had more success in some states than others. Seven other states, for example, had granted that right to home-based child care providers before backing out, according to the Center for Law and Social Policy (PDF).
It helped that in California, a record number of women in the state Legislature made child care funding a priority in the 2023–24 budget year. 
State Sen. Nancy Skinner, an East Bay Democrat who chairs the Legislative Women's Caucus, said funding was urgently needed because many child care programs permanently closed after the pandemic.
"So we just saw this collapse that affected not only families, obviously, and the little kids that really deserve good child care, but also affected California's employers and our economy," she said.
But perhaps the biggest victory is that they got the state to fundamentally change the way it pays providers of subsidized child care programs so that they'll get closer to earning a fair wage, whether they're in the union or not.
That means, the benefit will extend to larger state-funded child care centers.
"They fought for the entire system … which is incredibly tremendous for all of us," said Nina Buthee, executive director of the advocacy group EveryChild California.
Buthee said she hopes better pay will encourage more private day cares to serve families who qualify for child care subsidies.
"It's really a huge step forward in terms of equity when you think about who our workforce is," said Brandy Jones Lawrence, a senior analyst at the Center for the Study of Child Care Employment at the University of California, Berkeley.
"It's also a huge step forward in our commitment to systemic reform," she added.
Harvey said these gains were long overdue. She's ecstatic about the changes and hopes child care workers in other states will follow in her union's footsteps.
At 61 years old, she said she feels more secure about retiring in a few years.
"We think of a retirement plan as a pot of money that's going to help you survive. And if you don't have that, then how are you going to survive?" she said. "I'm glad that the state of California heard our cry."