'McCarthyite Backlash': Response to Criticism of Israel Alarms Rights Groups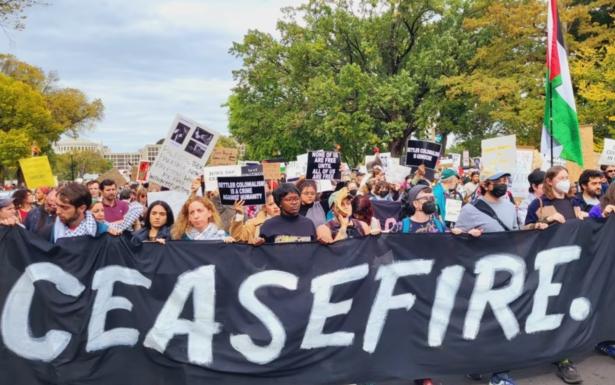 Civil rights groups in the US have warned of a "wave of McCarthyite backlash" against criticism of Israel's bombardment of Gaza after Americans expressing support for the Palestinians have been sacked, faced threats of violence and hounded by pro-Israel groups.
The American-Arab Anti-Discrimination Committee (ADC) has warned of the "continued criminalisation of advocacy for Palestinian rights" and described an "increasing tide of anti-Palestinian and anti-Arab attacks in the US" following the Hamas cross-border attack in which about 1,400 Israelis were killed and more than 200 abducted.
Palestine Legal, a Chicago-based civil rights group, said it had received hundreds of requests for legal assistance from people who have lost their jobs, been threatened with dismissal or faced other sanctions for speaking out in support of Palestinians.

Some of the more high-profile instances include executives at Wall Street financial firms pledging to blacklist students who sign statements in support of Palestinians.
The editor of the scientific journal eLife, Michael Eisen, was forced out of his job after reposting an article from the satirical magazine the Onion challenging the view that people should not criticise Israeli actions unless they first condemn Hamas. The Onion headline read: "Dying Gazans Criticized for Not Using Last Words to Condemn Hamas".
Hundreds of academics signed an open letter saying the dismissal was an offence to free speech.
Paddy Cosgrave, the chief executive of a major global technology conference, was forced to resign as head of his own company after leading tech firms, including Meta, Google, Intel and Amazon, pulled out of the annual Web Summit gathering in Lisbon next month after he posted on X (formerly Twitter): "War crimes are war crimes even when committed by allies, and should be called out for what they are."
David Marcus, a former Facebook executive, criticised Cosgrave for not condemning Hamas and said he "chose to support terrorists".
"As such I'll never attend/sponsor/speak at any of your events again," Marcus said on X.
Cosgrave apologised but the scale of the boycott forced him out.
A leading Hollywood talent agent, Maha Dakhil, whose clients include Tom Cruise, Natalie Portman and Reese Witherspoon, was removed from her company's board after sharing an Instagram post accusing Israel of genocide in Gaza.
Dakhil apologised for reposting "hurtful language" and said she was "grateful to Jewish friends and colleagues who pointed out the implications and further educated me".
In New York, the 92NY arts centre called off a series of book talks after several writers withdrew in solidarity with an author whose reading was cancelled because he criticised Israel.
The venue, which was founded as the Young Men's Hebrew Association 150 years ago, called off the talk by the Pulitzer prize-winning novelist Viet Thanh Nguyen at the 92NY's poetry centre after he signed an open letter in the London Review of Books calling for an immediate ceasefire and accusing Israel of "unprecedented and indiscriminate violence" and "grave crimes against humanity" in Gaza.
"Given the public comments by the invited author on Israel and this moment, we felt the responsible course of action was to postpone the event while we take some time to determine how best to use our platform and support the entire 92NY community," the management said.
Several other writers pulled out of events at the 92NY in protest and some of the poetry centre's staff resigned over the cancellation.
A New York museum, El Museo del Barrio, rejected an artwork commissioned for its annual Day of the Dead celebrations because it included a Palestinian flag and called off a fundraiser at which the piece was to be unveiled. The museum said the flag politicised the artwork but the artists said the work included other political elements including a denunciation of the police.
Rights groups have also warned of a growing climate of official hostility.
Hundreds of lawyers and legal organisations have signed an open letter calling on the US authorities to protect the rights of Americans to criticise Israel's assault on Gaza.
"Elected officials have irresponsibly accused protesters for Palestinian rights of antisemitism and support for terrorism, and called for the mobilization of law enforcement resources to police them, contributing to racist fear-mongering. This portends a dangerous reignition of 'war on terror' policies that led to extreme state repression and constitutional rights violations against Arab, Muslim and other communities of color," the letter says.
"The hundreds of incidents happening across the country signal a much broader effort to criminalize dissent, justify censorship and incite anti-Palestinian, anti-Arab and anti-Muslim harassment, doxing, and vigilantism against Palestinians and their allies."
On Friday, the US Senate unanimously passed a resolution condemning "anti-Israel, pro-Hamas student groups" after demonstrations on university campuses, some of which included antisemitic language and chants praising the Hamas attack. But many others have been in solidarity with Palestinian civilians under Israeli bombardment in Gaza.
The ADC condemned the resolution as a "blatant attempt to silence, demonize, and criminalize legitimate criticism and dissent surrounding Israel's occupation and war on Gaza".
"By conflating criticism of Israel with support for Hamas and antisemitism, this resolution threatens the very fabric of freedom of speech in American institutions of higher learning," it said.
"This resolution is not only misleading but eerily reminiscent of the McCarthy-era and post-9/11 tactics designed to suppress differing opinions and stifle discourse."
The ADC also accused American politicians of selective condemnation of violent language.
"While the Senate seems overly preoccupied with what students are saying, they're deafeningly silent about genocidal statements from those in positions of power: Israel's defense minister's dehumanizing reference to Palestinians as 'human animals', the threats from an Israeli major general of total destruction, Senator Lindsey Graham's callous statement that Israel should 'level the place' and Representative Max Miller's outrageous demand for Gaza to be transformed into a parking lot with its inhabitants displaced."
Chris McGreal writes for Guardian US and is a former Guardian correspondent in Washington, Johannesburg and Jerusalem. He is the author of American Overdose, The Opioid Tragedy in Three Acts
Sign up for a free Guardian newsletter: Scroll less and understand more about the subjects you care about with the Guardian's brilliant email newsletters, free to your inbox.