A Conservative With a Common Touch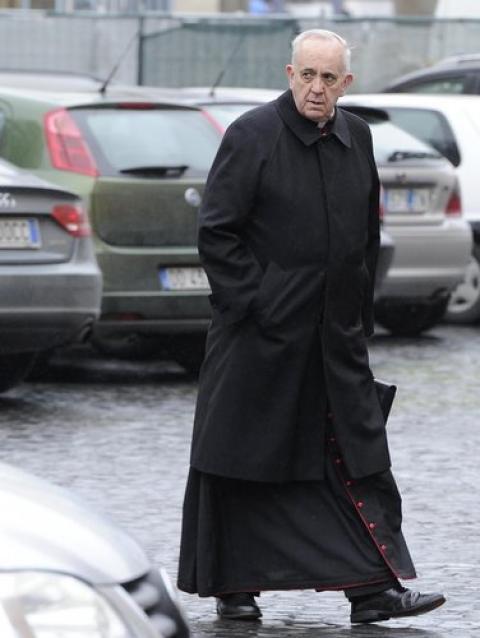 Cardinal Jorge Mario Bergoglio arriving last week at the Synod Hall in Vatican City. He is the first pope from the Jesuit order. , Ciro Fusco/European Pressphoto Agency
Like most of those in Argentina, he is a soccer fan, his favorite team being the underdog San Lorenzo squad. Known for his outreach to the country's poor, he gave up a palace for a small apartment, rode public transportation instead of a chauffeur-driven car and cooked his own meals.
Jorge Mario Bergoglio, 76, who was chosen as the new pope on Wednesday by a gathering of Catholic cardinals, is in some ways a history-making pontiff, the first from the Jesuit order and the first non-European to fill the job in more than 1,200 years.
But he is also a conventional choice, a theological conservative of Italian ancestry who vigorously backs Vatican positions on abortion, gay marriage, the ordination of women and other leading issues of the day.
He was less energetic, however, in urging the Argentine church to examine its own behavior during the 1970s, when the country was consumed by a conflict between right and left that became known as the Dirty War, during which as many as 30,000 people were disappeared, tortured or killed by a military dictatorship that seized power in March 1976.
Despite his aversion to liberation theology, which he views as hopelessly tainted with Marxist ideology, Cardinal Bergoglio has emphasized social outreach to the poor, and as cardinal of Buenos Aires has overseen increased social services and evangelization efforts in the slums that ring Argentina's capital.
"I am encouraged by this choice, viewing it as a pledge for a church of simplicity and of ecological ideals," said Leonardo Boff, a prominent founder of liberation theology from Brazil. What is more, Mr. Boff said in a telephone interview, Cardinal Bergoglio comes from the developing world, "outside the walls of Rome."
Jorge Mario Bergoglio was born in Buenos Aires on Dec. 17, 1936, to Mario Bergoglio, an immigrant from northern Italy, and Regina Bergoglio, a housewife. He came relatively late to the priesthood, enrolling in a seminary only at the age of 21, after earning a degree in chemistry.
By all accounts, he was a brilliant student who relished the study not just of theology but also of secular subjects such as psychology and literature. He was ordained a priest a few days short of turning 33, and from that point on, his ascent within the church was rapid: by 1973, he had been named the Jesuit provincial for Argentina, the church official in charge of supervising the order's activities in the country.
He remained in that post through 1979, and his performance during the Dirty War has been the subject of considerable controversy in Argentina. In 2005, shortly before the Vatican conclave that elevated Joseph Ratzinger to the papacy, Cardinal Bergoglio, considered a potential candidate, was formally accused by an Argentine lawyer in a lawsuit of being complicit in the military's kidnapping of two Jesuit priests whose antigovernment views he considered dangerously unorthodox.
The priests, who he had dismissed from the order a week before they disappeared, were discovered weeks later on the outskirts of Buenos Aires, drugged and partially undressed. At the time the lawsuit was filed, the cardinal's spokesman dismissed the accusations as "old slander" in statements to news organizations.
The lawsuit was eventually dismissed, but the debate about the case has continued, with Argentine journalists publishing newspaper articles and books that appear to contradict Cardinal Bergoglio's account of his actions. These accounts draw not only on documents from the period, of both the government and the church, but also statements by priests and lay workers who clashed with Cardinal Bergoglio in the 1970s.
After the church had denied for years any involvement with the dictatorship, he testified in 2010 that he had met secretly with Gen. Jorge Videla, the former head of the military junta, and Adm. Emilio Massera, the commander of the navy, to ask for the release of the priests. The following year, prosecutors called him to the witness stand to testify on the military junta's systematic kidnapping of children, a subject he was also accused of knowing about but failing to prevent.
In a long interview with an Argentine newspaper in 2010, he defended his behavior during the dictatorship. He said that he had helped hide people being sought for arrest or disappearance by the military because of their political views, had helped others leave Argentina and had lobbied the country's military rulers directly for the release and protection of others.
In November 2005, he was elected head of the Argentine Conference of Bishops for a three-year term, which was renewed in 2008. At the time he was chosen, the Argentine church was dealing with a notorious political scandal, that of Father Christian von Wernich, a former chaplain of the Buenos Aires police who had been accused of aiding in the questioning, torture and death of political prisoners.
The church authorities had spirited Father von Wernich out of the country and placed him in a parish in Chile under a false name, but he was eventually brought back to Argentina and put on trial. In 2007, he was found guilty on seven counts of complicity in homicide, more than 40 counts of kidnapping, more than 30 of torture, and sentenced to life imprisonment.
Father von Wernich was allowed to continue to celebrate Mass in prison, and in 2010, a church official said that "at the appropriate time, von Wernich's situation will have to be resolved in accordance with canonical law." But Cardinal Bergoglio never issued a formal apology on behalf of the church, or commented directly on the case, and during his tenure the bishops' conference was similarly silent.
In more recent years, Cardinal Bergoglio has clashed with the national government, particularly former President Nestor Kirchner and his successor and widow, Cristina Fernández de Kirchner, about issues like gay marriage, abortion and the adoption of children by gay couples. In 2010, for example, he described a government-supported law to legalize marriage and adoption by same-sex couples as "a war against God" and "a maneuver by the devil."
At the time, Mrs. Kirchner said, "Bergoglio's position is medieval." But on Wednesday, after he was announced as the new pope, she appeared willing to smooth over their differences in the past, congratulating him and telling him he had her "consideration and respect."