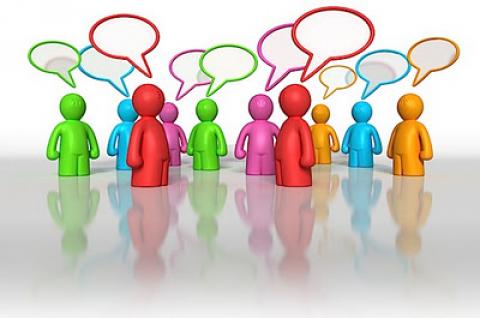 http://bytesdaily.blogspot.com/
I have read both sides of the issue of Social Security and Medicare "entitlements", and I fail to see how reducing Social Security or Medicare will have an impact on the budget. They are both self-funding programs, but need to be considered separately from the deficit. I do not understand why the President is playing this game.
Ron Franz
For this discussion to become real and meaningful we must review: 
Progressive Party and 1948 
Committee for a Labor Party
Working Families Party
Otherwise this will be a debate without hoping to lead to a strategy.
Martin Morand
Perhaps the writers have missed what has happened to every massed-based labor party in other countries.  Apparently they want to create something else to shackle the American working class to.  Whether in Germany or Britain, the labor parties are little better than the Democratic Party.  In the UK they could not even muster the will to oppose welfare cuts when in opposition.  It is not accidental, any more than the unwillingness of the official Labor Movement to capitalize on the Wisconsin uprising and save it own neck.  What kind of a party would the official Labor Movement build if they cannot mobilize over Wisconsin?
Sam Weinstein, 
Retired Assistant to National President of the Utility Workers Union of America
Spend some time talking to middle-class and working Americans and you will quickly learn that if there is anything they hate more than corporate CEOs, it's labor unions. While some of that antipathy can be attributed to the long campaign against unions waged by American corporations, a good bit of it can be explained by decades of union missteps; everything from ham-handed self-promotion to massive outright corruption.
Until working Americans can be convinced that it is in their interest to work together for their own good, a Labor Party is a pipe dream. And the day working Americans "get it" is the day you won't need a new party. The Democrats will already be there. The Democratic Party too often caters to the powerful and rich because there are not enough people demanding that they stop. Fix that, and you won't need to do anything else.
Kathleen Guido
I don't think that a merger of Left Parties is unthinkable; it would save me the trouble of choosing. But lack of unity is not the Left's central problem. Nor is a consolidation going to solve the Left's undeniable slide in influence. Indeed, Mark's comments reflect two of the more pernicious falacies of Left thinking that have hobbled socialism for almost a century.
Stop blaming McCarthyism. In general terms, blaming McCarthyism is blaming the Ruling Class for defending itself. You were expecting them to just just hand you the keys to the Congress and White House? Please. Assume that the Powerful will use their power to keep it. Then figure out how to overcome them. If that gets you down, you can take solace in the enormous respect for the Communist Specter that McCarthyism reflected. Right now people like Alan West, who imagine Communists in the Congress, are a joke. What does that say about us?
Let go of the idea that either Socialism, or the collapse of Capitalism, is inevitable. Nothing is inevitable. But to believe that either of these is truly strains credulity. Embrace the uncertainty, then strive for Socialism anyway--not because it is "foretold" by the science of Marxism leninism, but because it expresses the important value social justice.
The belief that Socialism, or the ultimate failure of Capitalism, are inevitable, is rooted in the notion of a "science" of Marxism-Leninism. Marxism-Leninism is not a science. But even if it was, scientists (and mathmaticians) long ago abandoned the belief that we can answer ever more complex problems with ever more sophisticated algorithms. Read Chaos Theory. That ship sailed a long, long time ago.
Capitalism's failure is not inevitable.
The triumph of Socialism is not inevitable.
It may even be that the best we can hope for is neither--that a balanced society has both socialist and capitalist spheres. But it may be that such a balanced society cannot happen without zealous advocacy of Socialism. That would be the place for a revitalized Left Party. 
Bill Kransdorf
Good decision. Now I think the judge should rule that ALL girls, whatever age, should have access to healthcare...as in Universal, single-payer. 
Barbara Allen Clarke
At last, someone willing to share the truth!!
I remember marching as a student and chanting "Maggie Thatcher Milk Snatcher" through the streets.
Talk to the person in the street from that time period, they wished she'd move to America where she was idolized!
Isabel Thompson
In David Corn's assessment of the Thatcher years, there is an important error. The top rate of income tax was indeed reduced, but so was the basic rate. This factor helps to explain in part the support Thatcher got from sections of the better-paid working class and middle class. The extract below from Wikipedia gives the main facts, and also shows how these regressive trends were continued under both John Major and Tony Blair. Dan Morgan:
"In the first budget after her election victory in 1979, the top rate was reduced from 83% to 60% and the basic rate from 33% to 30%. The basic rate was also cut for three successive budgets - to 29% in the 1986 budget, 27% in 1987 and to 25% in 1988. The top rate of income tax was cut to 40% in the 1988 budget.The investment income surcharge was abolished in 1985.
Daniel Morgan
It's times like this I almost wish I believed in the notion of eternal damnation.....
Alan Ware
"People praising Thatcher's legacy should show some respect for her victims." David Wearing
Carl Stilwell
Culture - music and art - show the real feelings of a people.
The former prime minister inspired bitter tunes by Elvis Costello, Morrissey, Pink Floyd, and many others. Update: She died April 8, 2013, at age 87 - though her death was celebrated by musicians years ago. 
October 11, 2012
Jay Schaffner
Nader's article on "bully capitalism" through deregulation is timely, important and a little scary. It raises the question about what an economy is for? Is it to increase the profits of ever larger corporations so that the corporate leaders (largely older white males), who are already very wealthy can get richer? Or is it to create a productive, creative society in which most people can earn a decent living so that they can support their families, contribute to society their talents and expertise, and purchase the goods they need.
Obviously the latter goal makes more sense for more people. But the former trajectory seems to be the one we are on and that is dangerous not only because it creates enormous inequality and wastes peoples' talents, but it also creates monsters - very wealthy men who feel entitled, who feel they can do and act as they please, who lack empathy and who fundamentally are undemocratic. This business trend in other words threatens our democratic freedoms. If a person is vulnerable in the labour market they can become virtual slaves.
President Obama really needs to look at this situation. And citizens need to push back big time.
Laurel MacDowell,
Toronto, Canada
It is difficult to take seriously the writings of the man who did as much as anyone else to bring on the malaise he talks about. No one can know whether the election of Al Gore would have led to the needed reforms but the disaster that was the presidency of George Bush would have been avoided. Nader's futile gesture -- his attempt to create a third party through electoral politics -- guaranteed the worst outcome. 
Ed Geffner
Since this article critiques the alleged failings of "Black Power" and "New Left" advocates, is it irrelevant to point out that the presumed architects of the March on Washington--Rustin and Randolph---harbored deep-seated and pervasive anticommunism, which in the long run was even more damaging to our movement and sheds even more light on why the U.S. continues its decline? 
Gerald Horne
Yes, re similarity with Home Care.  However, Home Care Workers only make $9-12 per hr working in a system where the health care system is broken.  Even under Obama, it's worse for the disabled and elderly.  I'm for us getting $50-60 per hour too!
Barri Boone, Home Care Worker
The larvae pictured from Carrie Arnold's April 7 Scientific American article are from beetles rather than flies. 
Gary Sinton
In Commemoration of Palestinian Prisoner's Day - Wednesday, April 17, 7pm 
First Congregational Church of Berkeley 
2345 Channing Way, at Dana
Introduced by Palestinian journalist from Dheisheh Refugee Camp, Ziad Abbas, who will speak about Palestinian children prisoners 
$15 general, $10 low income
Mail a check for however many tickets you would like to: Attn: Sue, MECA, 1101 8th Street, Berkeley CA 94710, along with a SASE and your phone number -- or come into our offices to buy tickets directly from Sue, 9am-noon weekdays.
$15 tickets also available (no service charge!) at these bookstores:
(East Bay) Books, Inc./Berkeley, Marcus Books, Pegasus/Solano, Pegasus/Shattuck, Walden Pond, Moe's, Diesel; (SF) Modern Times. 
Angela Davis co-founded Critical Resistance, taught the History of Consciousness, directed Feminist Studies, ran for Vice-President twice, and wrote many excellent books -- including Women, Race and Class and Abolition Democracy: Beyond Prisons, Torture, and Empire.
Now she is celebrating the release of her new book, The Meaning of Freedom and Other Difficult Dialogues. Angela will sign books after the event. 
This event benefits MECA's work with Palestinian children.
"Herbert Marcuse taught me that it was possible to be an academic, an activist, a scholar, and a revolutionary." --Angela Davis

 

"Davis' arguments for justice are formidable...The power of her historical insights and the sweetness of her dream cannot be denied." -- New York Times
Cosponsored by: KPFA, Arab and Muslim Ethnicities and Diasporas Studies/SF State University, Critical Resistance/Oakland, Arab Film Festival, Arab Resource and Organizing Center, Al-Awda, Justice Now, US Palestinian Community Network, Palestinian Youth Movement, Legal Services for Prisoners with Children, California Coalition for Women Prisoners, Freedom Archives, All of Us or None, Jewish Voice for Peace, Bay Area Women in Black, San Francisco Women in Black, International Jewish Anti-Zionist Network, Shomer Shalom Network for Jewish Nonviolence, Queers Undermining Israeli Terrorism, National Lawyers Guild.
Constructing a 21st Century Populist Movement: Re-thinking Wealth and Imprisonment Protest.
An Afternoon to Remember...
Fundraiser for Gaza Music School
BE THERE!
Saturday, April 20
4:00 p.m.
Fattoush Restaurant, San Francisco
KEEP THE SOUND OF HOPE ALIVE!
Program
Folksinger Barbara Dane
String Ensemble: Harry Chomsky, violin; John Bernstein, violin; Sue Soong, viola; Irene Herrmann, cello
George Lamam on the oud
Norman Finkelstein will speak on DEATH AND REBIRTH IN GAZA
Buffet meal - Authentic Arab Cuisine
Saturday,20 April 2013 - 4:00 p.m.
Fattoush Restaurant, San Francisco
Limited seating. Make your reservation now.
$150.00 per person
Call (415) 641-0678
Calling all workers, immigrants, Occupy, labor unions, students, worker centers, social justice groups, the unemployed, community organizations: the 99%. Let's come together to support worker and immigrant struggles, and fight the injustices of the 1%.
Films, videos and film festivals that focus on work, workers and worker's issues
Over 1,600 films and videos are listed here, searchable by title, director, actors and/or keywords (see search window at right). We've also categorized the database to make it easier to find films and videos about the topics you're interested in.
We're now enriching the database with more complete film descriptions, graphics and video clips and welcome your comments and suggestions.
If you'd like to be part of the team that maintains the database - or if you're interested in starting your own labor film festival - let us know.
Please join the family of Philip Bonosky novelist, journalist, political activist (1916-2013) in remembering his life.
Sunday, April 21st, 2013
2-5 pm
Winston Unity Center
235 West 23rd St., New York, NY
Refreshments served
It would take volumes to recount the contributions that Harry Kelber has made to the labor movement and to the well-being of the American people.  As one who has known him through many of his campaigns, I join in grieving his death, about which I have just learned through Jane Slaughter's article.  The labor movement and the American people are much the poorer as a result of his death, and we have the responsibility of redoubling our efforts to help bring about the kind of society to which he devoted his fruitful life.
Henry Foner, Retired President
Fur, Leather & Machine Workers' Union
No one better to offer a good and final word for Harry Kelber than Jane Slaughter.  He held focus upon the need for rank and file control of unions, even as he understood the need for broadening the the local perspective to include all of the rest of us (no easy achievement).  I voted for him in '95 and would do so again (although not against Rich Trumka). In heaven there is rest.
In unity, 
Jim Young
I knew and worked with Harry when I worked at NYS AFL-CIO in the eighties
He was a great teacher and his passing is a sad loss.
Richard Winsten
Harry also wrote a pretty good novel called "The Labor Leader."
David Berger