labor
Unions Battle to Represent 45,000 Kaiser Permanente Workers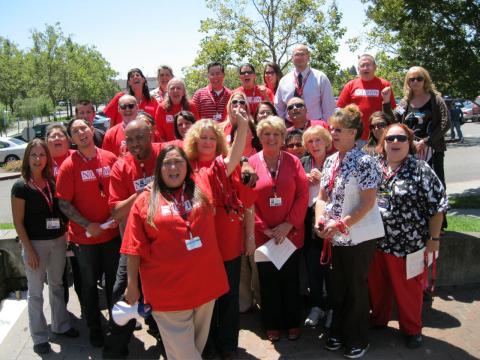 Kaiser Shop Stewards,
A high-stakes fight between one of the nation's largest unions and an upstart, homegrown rival over which one should get to represent thousands of Kaiser Permanente workers in California entered Round 2 this month.
This time, the fledgling National Union of Healthcare Workers, or NUHW, has brought some serious backup for its battle to supplant the Service Employees International-United Health Care Workers, or SEIU-UHW.

In January, it announced an alliance with the California Nurses Association, which is providing financial and organizational support to the NUHW's election efforts.
At stake is the right to represent more than 45,000 Kaiser workers in about 250 hospitals, clinics and other facilities throughout California – including about 6,500 workers in the Sacramento region.
Those voting for which union they want include most Kaiser employees who are not management, doctors or registered nurses.
The NUHW's pitch is that the SEIU-UHW has been too compliant in negotiating with Kaiser. The SEIU-UHW responds that it has gotten its workers healthy contracts that are among the best in the industry.
Such intramural union battles are unusual, said Nelson Lichtenstein, a professor of labor history at University of California, Santa Barbara. Often, two unions will vie to represent workers in an industry that's just starting to organize, but it's uncommon for one union to try to elbow another aside in a unionized workplace, he said.
Should the NUHW prevail, the union, headquartered in Emeryville, would immediately increase its membership eightfold and become an instant power on the California labor scene, giving it clout to organize more hospital employees and possibly home health care workers. Conversely, a loss by the SEIU-UHW – an arm of the national union giant – would slice away nearly one-third of its California membership in a single stroke.
A victory by the SEIU-UHW would mean its contract with Kaiser would last through 2015. An NUHW win means Kaiser would likely have to return to the negotiating table to face a feisty new union.
The mail-in voting concludes Monday and a final tally is expected Friday.
This is the second such election in less than three years. In 2010, 61 percent of Kaiser workers casting votes chose to remain with the SEIU-UHW. But the NUHW filed a complaint with the National Labor Relations Board alleging unfair tactics by the SEIU. An administrative law judge agreed and ordered the new election.
Since that election defeat in 2010, the NUHW has acquired a potent ally. The 18,000-member nurses association is providing financial support and is asking its members to lobby their non-nurse colleagues at Kaiser facilities to vote for NUHW representation.
"We are hoping these colleagues will consider the nurses' opinion that the NUHW is the better union for them," said Deborah Burger, CNA co-president and a registered nurse in Santa Rosa.
An NUHW win would mean the CNA and the NUHW would negotiate as a bloc. Known for its aggressive tactics, the CNA staged a series of one-day walkouts in 2012 to support a group of Kaiser workers who already belong to the NUHW, which was engaged in tough negotiations with the health care giant.
Kaiser officials have complained that the nurses' walkouts put patients at risk. But the health plan says it remains neutral in the fight between NUHW and the SEIU, and is prepared to work with the National Labor Relations Board to ensure a fair election.
"We respect the rights of our employees to choose whether they want to be represented by a union and, if so, which union will represent them," Kaiser said in a prepared statement.
Leaders of NUHW say Kaiser's claims of neutrality belie a bias in favor of the service employees. The NUHW has filed complaints with the National Labor Relations Board saying managers have discouraged workers from promoting the NUHW by – among other things – threatening to discipline or terminate them.
In a prepared statement, Kaiser denied any bias, but acknowledged that mistakes were made in one case, in South San Francisco. "When an issue is brought to our attention, we conduct a thorough investigation. If we find that a mistake has been made … we correct it and take steps to prevent it from happening again," the statement said.
It's in Kaiser's best interests to promote calm labor relations in the workplace, said John LaRocca, a business professor at California State University, Sacramento. "At first blush, they might like the idea that unions have to expend resources fighting each other," he said. "But management would prefer labor peace and labor stability."
The campaign has the earmarks of a hardball political contest. The NUHW and the nurses union say the SEIU-UHW has been too willing to give in to Kaiser during recent negotiations, surrendering potential wage hikes and benefits despite the medical giant's net income of $6.6 billion over three years.
The NUHW also contends that the SEIU ignores its members until it's time for a vote. "They don't return (members') phone calls, but then they fly hundreds of people in from across the country to work on elections," said John Borsos, secretary-treasurer of the NUHW. "In some hospitals, they are begging people to vote for them."
The combination of the NUHW and the CNA "means there will be wall-to-wall health care workers representation," Borsos said. "There will be a unification of purpose to stand up to Kaiser ... to have unions willing to put patients and workers ahead of profits."
SEIU-UHW President Dave Regan counters that his union has upheld the best interests of its members, negotiating two contracts that call for 4 percent annual raises until 2016 – a major feat given the deep recession.
"Our members at Kaiser are the best-paid hospital workers in California and maybe the nation," Regan said. "The choice in the election is whether people want to preserve that or put it at risk, to join an outfit that has failed to achieve its stated goals over the past four years."
The union clash dates back to 2009 when Borsos, who lives in Sacramento, and fiery Bay Area labor leader Sal Rosselli were ousted as executives of the SEIU's UHW division after a power struggle with their national union. That fight concluded with a federal jury finding that the dissidents had improperly used SEIU union dues to form a rival union. A jury ordered Rosselli and his leadership to replay $1.57 million in that case.
Since Borsos and Rosselli formed the NUHW, it has signed up about 10,000 workers – including 5,000 Kaiser employees in such positions as mental health professionals, dietitians, nurses and optical workers.
No matter who wins the election, the story is not likely to end. "The winner will have to worry about another election three or four years down the road," said LaRocca, the CSUS professor. "Whoever wins this election will now have to perform."
SEIU-UHW
Founded: 1934
Headquarters: Oakland
Membership: 150,000
Largest employee groups: 90,000 hospital workers, 9,000 nursing home workers, 60,000 home health care workers
NUHW
Founded: 2009
Headquarters: Emeryville
Membership: 10,000
Largest employee groups: 9,100 hospital workers, 400 long-term care workers