Songs for May Day - Songs for You and Me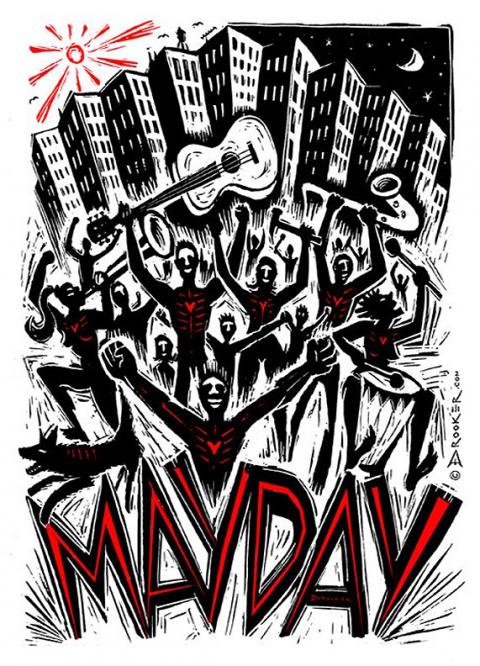 Drawing from Drooker's book, "Slingshot.", http://drooker.com/books/slingshot.html
"May Day has become an international celebration of the social and economic achievements of the labour movement. Although the commemoration of May Day as International Workers' Day received its inspiration from the United States, the U.S. Congress designated May 1 as Loyalty Day in 1958 due to the day's perceived appropriation by the Soviet Union. Alternatively, Labor Day traditionally occurs on the first Monday in September in the United States. People often use May Day as a day for political protest, such as the million people who demonstrated against far-right candidate Jean-Marie Le Pen in France in 2002, or as a day for protest against government actions, such as rallies in support of undocumented workers across the United States."
Folk-rockers rally for protest anthem
By RJ Cubarrubia
May 1, 2013 
New York's counterculture spirit lives on in the Last Internationale, a group of impassioned folk-rockers, and the new video for their fiery protest song "Workers of the World Unite!" In it, the band plays through the stripped-down track in an isolated shack, and images of hard-working farmers filter throughout the video (which you can watch here exclusively).
"[The song] is about poverty, oppression, injustice, the myth of the American dream and the need for workers' revolution against capitalism," the Last Internationale tell Rolling Stone. "We wanted to write a song with an anthemic chorus to perform at protests and for social movements in general, but we also wanted it to be very personal." To get their pure, no-frills sound, the band recorded the track at Estudio Sa Da Bandeira in Porto, Portugal while on tour. "We performed and mixed it live to quarter-inch tape with the engineer controlling the faders behind the board," the band says. "No overdubs, no punch-ins and no soul-sucking computers."
The group may sound modest, but they already have a famous fan. Tom Morello considers the Last Internationale a "raw and real" combination of "East Village rock sensibilities with Battleship Potemkin firepower," he tells Rolling Stone.
"Workers of the World Unite!" marks International Workers' Day today. The band's latest release, the Life, Liberty and the Pursuit of Indian Blood + Crawlin' Queen Snake and Bourgeois Blues seven-inch, is out now. They also released their new EP, New York, I Do Mind Dying, in January.
Stop the War on Workers
Studs Terkel does the introduction to the beloved Woody Guthrie song, sung by Judy, Pete, Fred and Arlo in this 1976 broadcast from PBS studio in Chicago.
Pete Seeger singing the socialist anthem, in both French and English
In 1944, to honor the Allied victory in Italy, the great Arturo Toscanini--a refugee from Fascisim in his home country--decided to conduct a performance of Verdi's "Hymn of the Nations". "Hymn" is a composition that Verdi originally built around the national anthems of Britain, France, and Italy. In order to honor all four of the major Allies, Toscanini decided to add "The Star Spangled Banner" for the U.S. and "The Internationale" for the Soviet Union. The music was performed by the NBC Symphony Orchestra, with the Westminister Choir and the great tenor Jan Peerce as soloist; conducted by Toscanini. It was filmed as a featurette to be shown in movie theaters, and was narrated by Burgess Meredith.
In the early 50's, at the height of the Red Scare,U.S. censors excised the portion of this performance that featured the "Internationale".
For years the sequence in the original featurette was considered forever lost. But recently a copy of this missing piece of film was rediscovered, and now this rousing rendition of the Internationale--together with chorale and orchestra under the direction of a legendary conductor--can now be enjoyed again.
By Chris May
Re-released following the passing of drummer Max Roach in August 2007, We Insist! Freedom Now Suite (Candid, 1960) remains a work of enduring musical and social importance. Notwithstanding Roach's central role in the creation of bop, or his later hard bop explorations with trumpeter Clifford Brown, it is, by some margin, the most perfectly realised album he recorded.
1960 was the year in which black Americans' struggle for civil rights reached critical mass. In February, anti-segregationist lunch-counter sit-ins began in Greensboro, North Carolina. Rallies, marches and sit-ins spread out across the country like a bushfire, with black, and white, musicians, dramatists and visual artists adding their voices to the movement. The question was no longer perceived as whether a change was going to come, but when it would come.
We Insist!, recorded in August and September 1960, was the first of several jazz albums explicitly to voice the growing demand for equal rights. In November, it was followed by the recording of bassist Charles Mingus' Charles Mingus Presents Charles Mingus (Candid, 1960), whose "Original Faubus Fables," a ferocious attack on Arkansas governor Orval E. Faubus (of Little Rock High School infamy), possessed an intensity which set the tone for most jazz-as-protest albums to follow.
Some of those albums sound like period pieces today, but not We Insist!, which is sufficiently nuanced and free of agit-prop literalism to transcend its era. Conceived as a suite by Roach, its composer and arranger, the album features a shifting cast of players, with only Roach and singer Abbey Lincoln heard throughout. Three of the five tracks - "Driva' Man," "Freedom Day" and "All Africa" - feature lyrics by Oscar Brown Jr., sung by Lincoln, who is joined on "All Africa" by Nigerian conga player Michael Olatunji. Brown's words, pitched as poetry rather than polemic, are deep and eloquent, and Lincoln's assertive, uncompromising delivery of them is widely considered to be her finest recorded performance.
The album is ablaze with instrumental spirit too. Tenor saxophonist Coleman Hawkins, in an inspired piece of guest casting, solos at length on the opening "Driva' Man," his sturdy, heavyweight testifying suggesting dignity and determination in the face of whip-wielding oppression - he sounds like the civil rights marchers looked. "All Africa" closes with four minutes of collective improvisation between Roach, Olatunji and Afro-Cuban percussionists Ray Mantilla and Tomas DuVall, as thrilling an African/Afro-American drum summit as could be wished for. There are stirring solos from trumpeter Booker Little, trombonist Julian Priester and tenor saxophonist Walter Benton, and the ensemble's focus is razor sharp throughout, honed by Roach's virtuosic drumming.
Awesome is an over-used word, but it's the right one for We Insist!. 
Track Listing: Driva' Man; Freedom Day; Triptych (Prayer, Protest, Peace); All Africa; Tears For Johannesburg.
Personnel: Max Roach: drums; Booker Little: trumpet; Julian Priester: trombone; Coleman Hawkins: tenor saxophone (1); Walter Benton: tenor saxophone; James Schenck: bass; Michael Olatunji: congas; Ray Mantilla: percussion; Tomas DuVall: percussion; Abbey Lincoln: vocals.
We Insist! : Max Roach's Freedom Now Suite (complete)