Media Bits & Bytes – On the Move Edition – May 7, 2013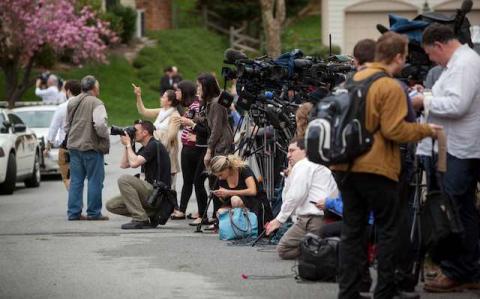 Reporters congregate at the Montgomery Village, Md., home of Ruslan Tsarni, uncle of the suspected Boston Marathon bombing suspects, on April 19, 2013, Photo: ColorLines / Allison Shelley/Getty Images
Decoding the Invisible Whiteness In Boston Bombing Coverage
By Akiba Solomon
April 25, 2013
ColorLines
Many Americans talk about the dynamics of American white supremacist mob rule as a series of isolated "tragedies." But American white supremacist behavior and the media that fuel it aren't some cosmic accident.
Efforts to try to fit [the Boston Marathon bombing] into the standard racialized narrative didn't work once the names and photos of the Chechen brothers were released and the speculation about whether they were Muslims or terrorists and Caucasian started.  To capture the label of 'terrorism' it has to be whiteness threatened by 'The Other'."
Los Angeles Times Drops 'Illegal Immigrant'
By Jamilah King
May 2, 2013
ColorLines
 
Immigration reform supporters march in front of the Los Angeles Times building on May 1, 2006.
Credit – Color Lines / (Photo: Joe Decruyenaere/CC)
Great news from the Los Angeles Times. One month after the Associated Press and USA Today announced that they will no longer describe undocumented immigrants as "illegal", the fourth most widely distributed paper in the country says that it will do the same.
The paper stated that "After consulting with reporters and editors from across the newsroom and meeting with advocates seeking an end to the media's use of "illegal immigrant," we concluded that it was time for a new approach."
The announcement is another major victory for the Drop the I-Word campaign, which Colorlines.com launched in 2010. The campaign is now calling on the New York Times to stop referring to undocumented immigrants as "illegal", and recently delivered a petition to the New York Times' doorstep with 70,000 signatures.  
The Times Shifts on 'Illegal Immigrant,' but Doesn't Ban the Use
By Christine Haughney
April 23, 2013
New York Times
On Tuesday, The New York Times updated its policies on how it uses the phrase "illegal immigrant" in its coverage. The newspaper did not go as far as The Associated Press, and it will continue to allow the phrase to be used for "someone who enters, lives in or works in the United States without proper legal authorization." But it encourages reporters and editors to "consider alternatives when appropriate to explain the specific circumstances of the person in question, or to focus on actions."
Winning over President Obama with ESPN
By Anna Palmer
May 1, 2013
Politico.com
President Barack Obama loves to watch sports — and the people who want to catch his eye know it. So companies and trade associations are doing something a little strange: They're buying up airtime on ESPN.  Media strategists tell POLITICO they offer up the all-sports network to clients who want to get their issues in front of Obama and top White House officials, known as big sports fans and rabid ESPN watchers.
The strategist said the ads can't be so obvious that Obama knows he's the intended audience, but there are plenty of examples of ads airing on ESPN in Washington that carry a political message. Case in point: Microsoft. The behemoth tech company took to Monday Night Football to bash Google as part of its Scroogled campaign. While companies like T-Mobile, AT&T and Progressive Insurance among others regularly advertise on ESPN to promote the company's products, the Microsoft ad raised questions about Google's business practices just as federal regulators were considering bringing actions against Google over competition issues.
Those Immobile Newspaper Companies
By Dean Starkman
May 2, 2013
Columbia Journalism Review
One of the truisms of digital journalism, and one that happens to be true, is that mobile is a big part of the future of news, if it isn't the future. The latest Pew "State of the Media" report goes on at length about the migration of news to mobile in a section titled, aptly, "Digital: As Mobile Grows Rapidly, the Pressures on News Intensify."
That growth appears to be a boon for news since accessing news is one of the most popular uses for mobile devices, enabling Americans to get news whenever they want and wherever they might be. So readers are ready for mobile news. Fine. But are newspaper companies ready to deliver it? For the large majority of them, the answer is no.
Online Ads Can Now Follow You Home
By Spencer E. Ante
April 29, 2013
Wall Street Journal
Advertisers already know what people are up to on their personal computers. But understanding their online whereabouts on smartphones or tablets has remained elusive.  A number of companies are trying to better pinpoint mobile users' online activity with new software and techniques they say could help advertisers track users across devices.
By harvesting cross-screen identities, the ad industry could serve ads to mobile phones based on the interests people express when surfing the Web on their PCs.  The emergence of cross-screen marketing is one of several new forms of technology aimed at solving a fundamental problem with mobile ads: It is harder to target people on smartphones than on PCs.
Internet Lobby Vows 'Wiretap Mandate' will be 'Dead on Arrival' in Congress
By Brendan Sasso
April 29, 2013
The Hill
A lobbying group representing Internet companies including Google, Facebook and Yahoo is fighting back against a draft federal proposal that would make it easier for police to intercept online communications as they occur.
The Washington Post reported on Monday that a draft proposal from an interagency task force would empower courts to levy hefty fines on Internet companies that fail to comply with wiretap orders. The fines would start at tens of thousands of dollars and would start doubling every day after a 90-day period, anonymous sources told the newspaper.
Do You Want the Government Buying Your Data From Corporations?
By Bruce Schneier
April 30, 2013
The Atlantic
It's no secret that we're monitored continuously on the Internet. One Atlantic editor found 105 companies tracking him during one 36-hour period. Add data from your cell phone (who you talk to, your location), your credit cards (what you buy, from whom you buy it), and the dozens of other times you interact with a computer daily, we live in a surveillance state beyond the dreams of Orwell.
It's all corporate data, compiled and correlated, bought and sold. And increasingly, the government is doing the buying. Soon, governments won't have to bother collecting personal data. We're willingly giving it to a vast network of for-profit data collectors, and they're more than happy to pass it on to the government without our knowledge or consent.
A Decade of iTunes Singles Killed the Music Industry
By Adrian Covert
April 25, 2013
CNNMoneyTech
Believe it or not, Apple's iTunes Music Store turns 10 this weekend. Although iTunes has in many ways been a godsend to fans of digital music, it has been a source of endless frustration for the music industry.  Since the introduction the iTunes Music Store on April 28, 2003, music sales have plummeted in the United States -- from $11.8 billion in 2003 to $7.1 billion last year, according to the Recording Industry Association of America.
Interestingly, during that same time, people have been buying more music than ever. How is that possible? It's because the iTunes Music Store popularized the cheap digital single. More than three-quarters of all music-related transactions were digital singles last year, and the popularity and ease of downloading cheap digital singles has transformed the industry.
Can music sales ever come back? Likely not, musicians will have to increasingly rely on touring, merchandise sales and endorsement deals to make up for lost album sales.
Churnalism: Discover When News Copies from Other Sources
By Nicko Margolies
April 23, 2013
Sunlight Foundation
Churnalism US is a new web tool and browser extension that allows anyone to compare the news you read against existing content to uncover possible instances of plagiarism. It is a joint project with the Media Standards Trust.  
Simply feed in a link or block of text to  the Churnalism site or let the browser extension run in the background to notify you of any matches of text from Churnalism's cache of documents. They include most articles in Wikipedia, press releases from PR Newswire, PR News Web, EurekaAlert!, congressional leadership offices, the White House, a sampling of Fortune 500 companies, prominent philanthropic foundations and much more.
Redressing Wikipedia's Historical Gender Gap
By Fatima Ahmed-Farouta
May 2, 2013
History News Network
Wikipedia has a problem with women.
Statistics released by the Wikimedia Foundation point to a huge gender disparity in the ranks of contributors. Women only constitute approximately 15 percent of Wiki editors. This isn't a new problem -- a 2011 University of Minnesota study of gender ratios on Wikipedia came to the same conclusions.
This has real consequences in content -- if you're a historic female figure, good luck with a detailed Wiki bio, if you get one at all. Some women do have extensive biographies on Wikipedia -- Margaret Thatcher, Queen Victoria, and Marie Curie, for example -- but they all have something else in common, besides their gender: They're all white Europeans.
Roopika Risam and Adeline Koh, both postcolonial humanities scholars, created Postcolonial Digital Humanities, a website dedicated to creating dialogue on the ways postcolonial discourse has changed in Internet culture, and part of that project is working to close the gender gap on Wikipedia through the "Rewriting Wikipedia Project."  As Risam said in an interview, "the goal is not only to improve the representation of minorities and the marginalized on Wikipedia, but to also develop pedagogical materials for the integration of [the rewriting project] into the classroom."
By Andrew Leonard
April 29, 2013
Salon.com
Last Wednesday, novelist Amanda Filipacchi published an Op-Ed in the New York Times recounting her discovery that Wikipedia editors were culling women authors from Wikipedia's list of "American Novelists" and relegating them into their own subcategory: "American Women Novelists."  In the furor that erupted on Wikipedia in response to Filipacchi's article, it was quickly determined that the bad behavior she noticed appeared to be the work of a single misguided Wikipedia editor.
But then things got a lot worse. In a follow-up Op-Ed published on Sunday, Filipacchi recounted that as soon as the Op-Ed article appeared, unhappy Wikipedia editors pounced on her Wikipedia page and started making alterations to it, erasing as much as they possibly could and removing the links to outside sources. At the same time, they put up a banner at the top of the page saying the page needed "additional citations for verifications."