labor
University of California Hospital Workers Strike Today, Demand Safer Staffing, Pensions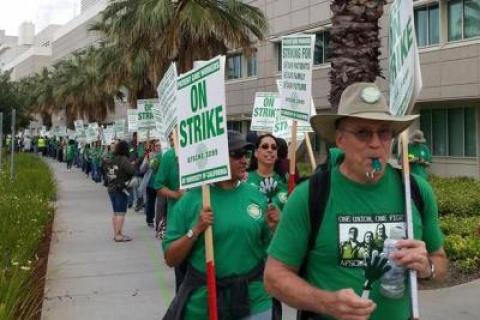 Striking workers protest at the University of California's San Franciso Medical Center.,AFSCME 3299
At 6 a.m. today 13,000 workers at seven campuses of University of California hospitals began a two-day strike to protect their pensions and enhance patient care.
Tim Thrush, an ultrasound technician and bargaining team member, described a sea of green t-shirts, hundreds of members chanting and picketing outside the UC San Francisco Medical Center where he works. "The turnout is incredibly strong," Thrush said. "The membership has really had enough of how we are treated at UC."
The strikers, members of AFSCME 3299, are patient care technical workers—including respiratory therapists, surgical and lab technicians, nursing assistants, and licensed vocational nurses—in San Francisco, Davis, Los Angeles, Santa Monica, Irvine, and San Diego.

Service workers in the same local—such as housekeepers and cafeteria workers—are striking in sympathy. (Those 7,000 workers are also in negotiations, but have a separate contract.)
And the Union of Professional and Technical Employees, representing 3,400 other UC hospital employees including social workers and pharmacists, jumped into the action with a one-day sympathy strike. Their contract is expired and they are facing similar proposals from UC to cut benefits.
At Stake
The technical workers' contract expired in September. They are deadlocked with hospital management, after bargaining for nearly a year.
"It's been incredibly disappointing to bargain with UC," Thrush said. "They are complaining they had to spend $20 million to deal with the strike. Why didn't they spend $20 million on the contract?"
The union claims cost-cutting is endangering care. Management eliminated 300 jobs at UCSF, and paid $1.2 million to settle a whistleblower suit that charged patient neglect at UC Irvine.
"We don't want them to prioritize a business model that cuts corners on patient care," said Local 3299 President Kathryn Lybarger. "UC hospitals don't meet basic industry standards, especially on staffing."
The UC health care system boasts nearly $7 billion in operating revenue, but management wants to create a two-tier pension system for workers, while executives get yearly pension payouts of as much as $300,000.
Lybarger argues the system relies on temporary and per diem workers rather than full-time, benefited staff. The union is demanding stronger protection against subcontracting, and a conversion system so part-time and temporary workers working full-time hours can receive benefits.
They also want more of a voice in staffing and patient care matters at the hospital.
"Our demand is to have staffing committees with a neutral arbitrator," Lybarger said. "We have committees that meet with the university—but they get final word."
Patients Protected
Months ago, AFSCME 3299 members created a Patient Protection Task Force to outline safety precautions in case of a strike, including emergency call lists and contingency plans. UC medical center management refused to cooperate.
UC sought an injunction to stop the entire walkout, but a judge sided with the union—as long as the local follows through on its proposal to have a core group of workers remain in the hospitals during the strike. In all, 447 workers (including Local 3299 members who are respiratory therapists in intensive care and burn units) will remain in the hospitals while the two-day strike goes on.
"The UC's ego got in the way," Thrush said. "They thought for certain they would get the state to enjoin the entire strike—now they are scrambling."