Women Face Down Stun Batons at Nike Factory Protest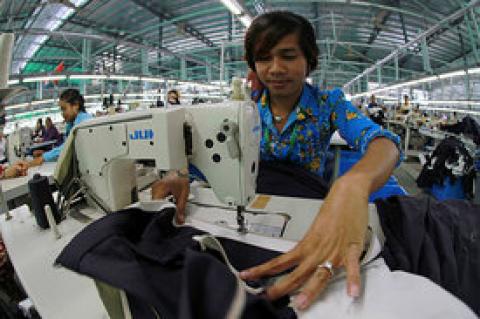 A worker in a Cambodian apparel factory. , World Bank Photo Collection/ Flickr
Garment workers in Cambodia, making apparel for the US shoe and sportswear company Nike, were attacked by police armed with electrified batons on Monday, marking a violent escalation in their battle to receive better ages at a factory on the outskirts of Phnom Penh, the nation's capital city.
Approximately 3,000 workers, almost all women, had staged a sit-in on the road leading to the factory in order to demand an increase in health and living expenses from Sabrina (Cambodia) Garment Manufacturing, the local contractor hired by Nike.
Reuters reports that 23 of the women were injured as police moved in, dressed in riot gear and armed with "stun batons," which are similar to cattle prods.

Along with Bangladesh - which recently experienced the most deadly sweatshop disaster in the history of the garment industry when over 1,100 workers were killed in a factory collapse near Dhaka - Cambodia is one of the Asian countries where western retail companies have established manufacturing bases, taking advantage of cheap labor and relaxed safety laws.
Reuters adds:
    Sun Vanny, president of the Free Trade Union at Sabrina, said the workers making the Nike clothing had been staging strikes and protests since 21 May. They want the US sportswear firm, which employs more than 5,000 people at the plant, to give them $14 a month to help pay for transport, rent and healthcare costs on top of their $74 minimum wage.
    Authorities declined to comment on the clash, saying they were still collecting reports. No immediate comment was available from Nike.