The End of the Solid South?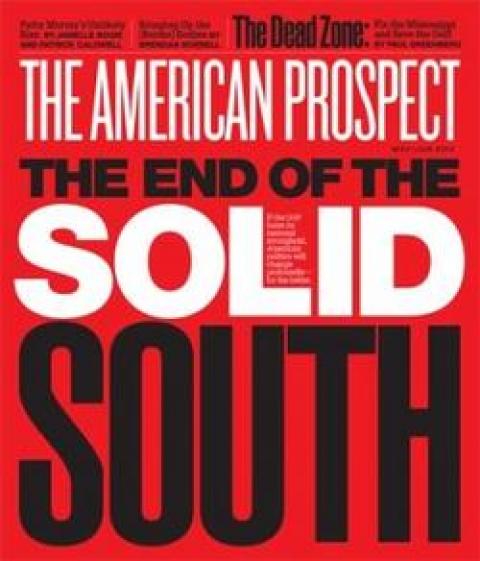 Is it possible for a state to grow both more conservative and more progressive at the same time? That, as I and my colleague Sue Sturgis at the Institute for Southern Studies argue in the latest issue of The American Prospect, is exactly what's happening in North Carolina -- and it's a creating an especially turbulent moment in the state's political history.
On one hand, Republicans have gained the upper hand in North Carolina politics, holding the state legislature and the governor's mansion for the first time in more than a century. This happened for many reasons, including the national Republican upsurge after 2008 and troubles within the state Democratic Party.
N.C. Republicans, as Facing South has extensively covered, also benefited from a surge in election spending, especially outside money flowing from groups tied to GOP donor and Koch brother ally Art Pope. In the critical year of 2010, outside groups backed by Pope accounted for 75 percent of the independent spending that flooded into state legislative races, helping fuel the GOP's historic victories.

But in the long term, the demographics of North Carolina are undeniably trending blue. We got a glimpse of the new emerging majority -- African Americans, Latinos, Asian-Americans, young and urban whites -- when Obama narrowly carried the state in 2008, and it points to larger trends that will help Democrats in the coming years:
Those new [2008 Obama] voters were part of the state's emerging majority—a more racially diverse, urban, and Democratic--leaning electorate ... In recent decades, African Americans have been moving back to the state, part of a "remigration" from North to South. Charlotte saw a 120,000-person jump among African Americans, the sixth highest of any U.S. city. While still relatively small at 8.4 percent, the state's Latino population doubled in size from 2000 to 2010, while an 85 percent rise in its Asian American population was the third highest in the country. Today, nearly half of North Carolinians 18 or younger are people of color. Voters of all races under 30 lean left on both economic and social issues, and they've voted heavily Democratic in recent elections. The path to a new progressive coalition is clear.
How has North Carolina's new conservative leadership responded to the rise of a new electorate that threatens its hold on power? First, by pushing a fast and furious agenda that has included slashing school budgets and various social programs and dramatically shifting the tax burden from the rich to working and middle-class families.
They've also moved aggressively to roll back 10 years of election reforms that have expanded the voice of ordinary voters. Leaders in the N.C. General Assembly have pushed measures to cut early voting days, eliminate same-day registration during early voting and stop Sunday voter mobilizations -- all electoral innovations that are broadly popular, but also disproportionately used by African Americans, Latinos, students, the elderly and other Democratic-leaning constituencies.
And they've taken aim at the state's innovative campaign finance laws, like judicial public financing, which has been used by 80 percent of qualifying judges and has been backed by Democratic and Republican officials as a good way to keep special interest money from interfering with the independence of the courts.
As Bob Hall of Democracy North Carolina says in the piece:
Over the last dozen years, we've gradually changed the structure of our election system to make it more accessible, to make people feel like their voices are welcome and make a difference. Now, all those structural changes, including the public-financing options for various state offices, are under attack by modern-day Red Shirts and elitists who prefer to see elections decided by the boss man and his money.
The report on North Carolina is part of a four-part package looking at "The End of the Solid South," which examines the shifts underway in other corners of the region, including Georgia and Texas. As editor Bob Moser notes in his opening piece for the series:
The South's big states could soon be undergirding a durable national Democratic majority that's capable of lasting as long as the New Deal consensus. Liberalism would have a chance to flourish anew—not just in state capitols but in Washington, D.C., as well. This would be an emphatic break from history. From Teddy Roosevelt's Square Deal to Franklin Roosevelt's New Deal to Barack Obama's stimulus and heath-care overhaul, the biggest obstacle has always been Congress's solid white wall of Southern conservatism. That wall is crumbling. In the future, if you can be progressive and win Texas or Georgia, the American political order will transform in ways we can barely comprehend.