After Two Months, 'Moral Monday' Protests Swell to Largest Yet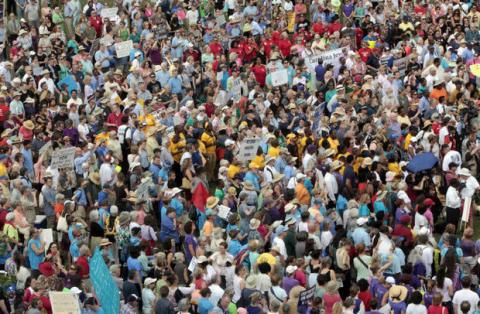 Thousands of people rally outside the North Carolina State Legislative Building on Halifax Mall Monday, June 24, 2013, prior to an act of civil disobedience opposing the Republican legislature's agenda. About 120 activists were arrested., Raleigh News & Observer / Travis Long
Thousands of people rally outside the North Carolina State Legislative Building on Halifax Mall Monday, June 24, 2013, prior to an act of civil disobedience opposing the Republican legislature's agenda. About 120 activists were arrested by General Assembly and Raleigh police. About 600 have been arrested over the course of 8 "Moral Monday" demonstrations. The popular movement in North Carolina led by the state's NAACP chapter and marked each week with civil disobedience actions known as 'Moral Monday' protests swelled to their largest number yesterday, with organizers saying that as many as five thousand people marched outside the North Carolina State Legislative Building in Raleigh. Later, nearly 120 were arrested after refusing orders to disperse by police.
The latest arrests bring the total number to over 600 in the eight weeks since the protest movement began and occurred as those arrested in the first wave of protests faced trial at a nearby county courthouse.A woman is arrested outside the House and Senate chambers during "Moral Monday" protests at the General Assembly in Raleigh, N.C., Monday, June 24, 2013. Protesters are angry over the rightward direction of the state on economic, social, education and voting policy. They focused much of their demonstration on looming unemployment benefits cuts that will end extended benefits for about 70,000 people at the end of June.
As the local Charlotte Observer describes, the latest 'Moral Monday' protest took "labor issues, women's rights and economic justice as their themes for the week" and "demonstrators hoped to halt what many described as 'arrogant' and 'vindictive' policies that favored the very wealthy and caused great harm to the state's poorest and weakest."
The protest came just one week before a painful cut to the state's unemployment benefit system kicks in, which will cut jobless aid to recipients by a third in some cases.
"Seven days from now, that's when the pain starts," said the NAACP's Rev. William Barber, who has emerged as the movement's spiritual voice and organizing leader.
Several media outlets also featured local resident Lee Creighton, who spoke powerfully at Monday's rally.
"The unemployed people are not deadbeats," Creighton said with a cracked voice as he referred to those in the state who will be so negatively impacted by the upcoming cuts. "We're not losing our jobs because we don't want to work. …If this is such a vacation, why is it that I cry to sleep every night."
"We're not losing our jobs because we don't want to work. …If this is such a vacation, why is it that I cry to sleep every night." -Lee Creighton, unemployed NC resident
As the protest movement grows in the state, Barber has seen his national profile rise and many on the left are looking to see if this brand of state-level organizing and activism can show the way to a new era of progressive vitality. Even as the basic tactics of the 'Moral Monday' movement is rooted in history, a profile of the movement's leader in the Washington Post this week explores the force leading the charge against the regressive rightwing leadership in North Carolina:
With Barber steering the opposition to cuts in unemployment benefits, health care funding, voting rights and environment regulations, the movement has taken on the feel of a church revival. Each demonstration begins with a call to join hands and pray. Barber's speech is inflected with biblical references to Pharaoh, Goliath, good and evil. Then there are the folksy civil rights refrains: "Woke up this morning with my mind set on justice," and "Ain't gonna let nobody turn me around."
[...]
To outsiders, North Carolina is often indistinguishable from a host of Southern states with equally conservative social and fiscal agendas. But in fact, it has long been a moderate state in which Democrats controlled the governor's office for 20 years, and until last year, controlled at least one body of the legislature since the 1800s.
No one knows this better than Barber, an avid student of the state's history. Barber talks incessantly of his vision for "fusion politics" modeled after a period in the late 19th century when the state's Populist and Republican parties, blacks and whites, joined forces to govern the state.
He points out he's not wedded to the Democratic Party but rather to coalitions that are willing to fight for just causes.
"Narrow-minded, isolated agendas aren't going to hold themselves up as meaningful in the changing demographics of our country," he said. "A regressive agenda doesn't fit."
Earlier arrestees face trial
As thousands marched on the Assembly, seventeen of those arrested at the earlier demonstrations faced trial at the Wake County District Court nearby.
As the Raleigh News & Observer reports:
Irving Joyner, the N.C. Central University law professor representing the protesters, said he entered not guilty pleas on behalf of the 17 arrested on April 29. He also asked that their cases be dismissed, challenging the arrests as unconstitutional.
"The North Carolina Constitution says that every citizen has the right to go to the General Assembly and address their legislators and to issue any complaints that they have about the work that they're doing," Joyner told District Court Judge Dan Nagle, who was presiding over the hearing. The protesters, Joyner added, "were protesting against actions that we deem to be improper, untimely, spiteful and mean-spirited toward the poor."
Nagle scheduled the trials for late September.
_______________________________________
This work is licensed under a Creative Commons Attribution-Share Alike 3.0 License