Why We Are Marching - 50th Anniversary March on Washington Talking Points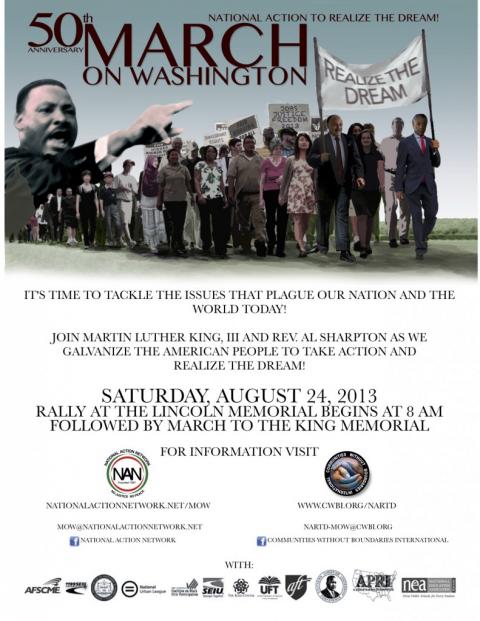 50th Anniversary March on Washington poster,http://nationalactionnetwork.net/wp-content/uploads/2013/05/MOW-FLYER-0710-791x1024.jpg
The March on Washington for Jobs and Freedom took place 50 years ago on August 28th at the Lincoln Memorial in Washington, DC.  It was during this march that Dr. King gave his iconic "I Have a Dream" speech that has reverberated for decades.  While we celebrate all that was achieved in the 50 years since that march, we recognize that the "Dream" has not been fulfilled and the battle for justice is ongoing.
The name of the march on August 24th is the //"National Action to Realize the Dream March".//  It is important that you use the name when speaking about the march so that people understand that this march is not just a commemoration, but a continuation of the efforts 50 years ago.
The talking points for the march are below:
Jobs & the Economy - Jobs are still a major focus of the march 50 years later. Unemployment is still plaguing many communities.  The black community still sees double the unemployment rates of the rest of the country. Youth unemployment is nearly six times higher.
Voting Rights - Voting Rights have been thrust to the forefront of the agenda after the Supreme Court dismantled a crucial section of the Voting Rights Act.    Now, without protections to keep states with a history of disenfranchising voters, those states are left susceptible to new laws that threaten to keep them from the polls.  This after winning crucial battles in 2012 against misleading claims of voter fraud.
Workers' Rights - Workers' Rights have been under attack in states across this country.  Low wage earners in certain industries have been banned the right to unionize and collectively bargain for fair pay, benefits and other protections.  Others who have been protected have had their rights attacked or taken away through the introduction and passage of bills that threaten workers' protections.
Stand Your Ground Laws & Gun Violence - The Trayvon Martin and Marissa Alexander cases put Stand Your Ground laws under the microscope.  The cases brought to light the inequalities that lie within its interpretation and the fact that it is in place in a majority of states underscores that we must fight to repeal the laws.  Gun violence has been an issue in low income communities for years, but the Sandy Hook tragedy created an urgency to address gun laws.  While Congress failed to act on sensible gun legislation, we must continue to demand action.
Women's Rights - Women continue to have to fight laws that limit their ability to make decisions about their own health.  Many states have legislation that has either recently passed or that has been introduced that eliminates a woman's right to choose even in instances of incest, rape or health.  Women are also still making less than male counterparts but living longer.  The implications of this are numerous but keep women in vulnerable positions.
Immigration - Immigration reform has been discussed for many years, but gained traction in the recent months with the introduction and passage of a bill in Senate.  While it has stalled in the House, this legislation will have a huge, positive impact on the economy and create civil rights for the millions of immigrants living in this country.  Despite the fact that many immigrants are Latino, this is not just a Latino issue - it is an American issue.  We need to grant amnesty to the many illegal immigrants who are here and allow them to achieve the American Dream.
LGBT Equality - This year the LGBT community made progress in their work to achieve equality.  With 13 states now allowing gays to marry and the Supreme Court overturning DOMA and Prop 8, the crucial victories set up a forward march.  However, the gay community still faces employment discrimination and other challenges that block their ability to achieve full rights.
Environmental Justice - Many low income people and minorities face environmental challenges that threaten their health and their lifestyle.  In Los Angeles, African Americans are twice as likely to die in a heat wave.  68% of African Americans live within 30 miles of a coal plant and this creates more incidences of asthma. Latino children are twice as likely to die from an asthma attack as non-Latino children.  There are many more issues related to the environment that impact outcomes for these communities.
Youth - Many of the aforementioned issues affect youth, but in addition to those challenges, youth often deal with college loans.  In recent years the college loan interest rate has been at risk for doubling multiple times.
Frequently Asked Questions
When and why will there be a March on Washington?
The 50th Anniversary March on Washington will take place on //Saturday, August 24, 2013 at 8:00 a.m. at the Lincoln Memorial on the National Mall.//  Fifty years after Dr. Martin Luther King, Jr., delivered his historic "I Have a Dream" speech, leaders from civil rights, organized labor, housing, media, education and politics will once again convene in the nation's capital to urge Congress to create more jobs, protect voting rights, and to address the litany of recent attacks on immigration and workers' rights, and equality for the LGBT community.
Who is organizing the March?
The march has been convened by the Reverend Al Sharpton, President and Founder of National Action Network (NAN), and Martin Luther King, III, the eldest son of Coretta and Dr. Martin Luther King, Jr. and President of Realizing the Dream. Participating groups include but are not limited to: The King Center, A. Philip Randolph Institute (APRI), NAACP, Southern Christian Leadership Conference (SCLC), NAACP LDF, National Urban League (NUL), National Council of Negro Women,  National Coalition on Black Civic Participation (NCBCP), Tom Joyner, American Federation of State, County and Municipal Employees (AFSCME), American Federation of Teachers (AFT), Service Employees International Union (SEIU), 1199 SEIU, United Federation of Teachers (UFT), United Here, International Brotherhood of Teamsters, American Federation of Government Employees, AFGE, Leadership Conference on Civil and Human Rights, Communities Without Boundaries International, Inc. (CWBI),  Military Families Speak Out, Fair Vote, United for Peace & Justice, Veterans for Peace, Planned Parenthood Federation of America, National Congress of Black Women (NCBW), , National Coalition of 100 Black Women, Inc. (NCBW), Black Women's Health Imperative, Human Rights Campaign (HRC), National Black Justice Coalition, Family Equality Council, National Gay and Lesbian Task Force, Old Lesbians Organizing for Change, League of United Latin American Citizens (LULAC), Mexican American Legal Defense and Educational Fund (MALDEF), The Hip Hop Caucus, Operation Hope, Impact Black Youth Vote,  OurTime.org, Skinner Leadership Institute and many others.
How many people will attend?
We are expecting at least one hundred thousand people will rally with us in DC and hundreds of thousands more will rally through social media to take a stand against the many issues that are plaguing our broad community.  Issues such as racial profiling, Stand Your Ground laws, unemployment, poverty attacks on women's rights, workers' rights, gun violence equality for gays and concerns over healthcare, housing and the environment will be the focus of the march. Like the 250,000 people who converged on Washington, D.C fifty years ago, this gathering will be multi-racial and intergenerational.
Who is scheduled to speak at the event?
In addition to
Rev. Al Sharpton
,
Martin Luther King, III
, the current list of speakers includes the
families of Trayvon Martin and Emmett Till
, along with
Congressman John Lewis
, the only one of the six leaders of the March on Washington of 1963 that is still alive; House Democratic Leader
Nancy Pelosi
; Democratic Whip
Steny Hoyer
;
Randi Weingarten
, President of American Federation of Teachers (AFT);
Lee Saunders
, President of AFSCME;
Janet Murguia
, President of The National Council of LaRAZA;
Mary Kay Henry
, International President of Service Employers International Union (SEIU);
Dennis Van Roekel
, President of National Education Association (NEA),
Terri O'Neill
, President of the National Organization for Women (NOW) and many others. Speakers will be listed on the National Action Network
website
in the near future.
I'm interested in attending or organizing a bus to attend the March. How do I register myself and find out information about buying a bus ticket to attend?  How do I register the bus I'm organizing and get a parking pass?
To register yourself for the march, go to
www.nationalactionnetwork.net/mow/register/
or call 877-626-4651. The contact information for
bus coordinators
from across the country can be accessed at or by calling the NAN hotline at 877-626-4651.  To register a bus that you are sponsoring or selling seats on, please
visit
.
I am interested in financially supporting the March. How do I go about doing so?
Your financial support will help us to cover increased costs to make August 24th a huge success. Support the March by making a donation to the National Action Network. Your support will ensure that our voices are heard as we work to realize the dream of Dr. Martin L. King, Jr.
Your donation can be made by
visiting
or by mailing a check or money order to:
National Action Network
106 West 145th Street
New York, NY 10039
I saw a website that said the March on Washington will be on the 28th.  Is that correct?
No.  The National Action to Realize the Dream March is taking place on Saturday, August 24th and is part of the official schedule of events being hosted by the King Family, four of the remaining organizations who executed the 1963 March - A. Philip Randolph Institute, NAACP, National Urban League, and SCLC in conjunction with NAN, National Coalition on Black Civic Participation (NCBCP), National Council of Negro Women (NCNW), National Park Service, The Children's Defense Fund and The Skinner Leadership Institute.  The full schedule of events can be found by visiting
mlkdream50.com
. The march on August 28th is being led by a private citizen and is not part of the official events.
What if I have more questions?
You can call our House of Justice at 1-877-626-4651.  We will continue to update our FAQs online, so please check back for more information.  Please also look for updates and trend with us on our social media sites:
In preparation for attending the March, I am interested in learning more about the 1963 March and Dr. Martin Luther King, Jr. Are there books that you would suggest that I read to gain a better understanding of this historic event?
Although this is by no means a comprehensive list, the following books are recommended:
The March on Washington, by William P. Jones (W.W. Norton, 2013)
The King Years: Historic Moments in the Civil Rights Movement, by Taylor Branch (Simon & Schuster, 2013)
My Daddy, Dr. Martin Luther King, Jr., by Martin Luther King, III (Harpers & Collins, 2013)
Bearing the Cross: Martin Luther King, Jr., and the Southern Christian Leadership Conference, by David Garrow (William Morrow Paperbacks, 2004).
Let Freedom Ring: Stanley Tretick's Iconic Images of the March on Washington, by Kitty Kelley (Thomas Dunne Books, 2013)
SIGN UP NOW for New York Left Labor Project bus
Ride with
LEFT LABOR PROJECT
to Washington DC on August 24, 2013 for the 50th Anniversary March on Washington for Jobs and Freedom.
We will have at least one bus with 40 seats. We can not guarantee seats beyond these 40, which will be allocated on a first-come, first-served basis.
Our ride will be off to an early start, since the rally is scheduled to begin at 8 am.
The bus (or buses) will leave at 4:30 am (that's right, 4:30 am) from the office of District Council 1707, 420 West 45th St, between 9th and 10th Avenues in Hell's Kitchen.
The round trip will cost $10 each. You may reserve your seat ONLY by clicking
here
. 
You may make your reservation any time between now and August 23rd. But we urge you to reserve as quickly as possible before we sell out these 40 seats.