Food Workers Strike 60 Cities, Largest Food Strike in History Links Civil and Economic Rights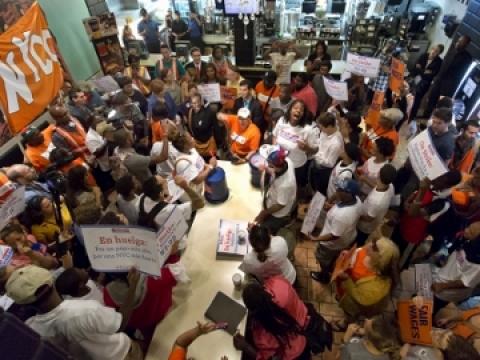 Protesting fast food workers fill a McDonald's restaurant on New York's Fifth Avenue, Thursday, Aug. 29, 2013. ,MSNBC.com / Richard Drew/AP

Fast Food Workers Strike in 60 Cities
By Laura Clawson
August 29, 2013
Daily Kos Labor
The biggest fast food strike yet - a title that's been set and eclipsed repeatedly in the past year - is happening across the country today, with workers in 60 cities reported by organizers to have walked out of their fast food (and, in some cases, retail) jobs. The workers are calling for a living wage of $15 an hour and for the right to form a union without intimidation or retaliation, to counter the disrespect they meet daily.
In every strike, workers cite a simple fact: They cannot live on the $7.25 or $8 they are paid, especially with unpredictable part-time schedules that make their paychecks vary wildly from week to week, especially when they have children to care for or tuition to pay. But they also have stories of gratuitous mistreatment, from being forced to work off the clock to insults to injuries on the job without proper care. It's things as simple as the tip you think you're giving Dunkin Donuts workers in Madison, Wisconsin:
Equally frustrating, [worker Meghan Ford] says, is that employees are not able to keep the money that customers put in what looks very much like a tip jar on the counter. Instead, management collects the money and buys small prizes, such as gift cards, to distribute to well-performing employees.
Workers are striking in Indianapolis, Los Angeles, Denver, Peoria, St. Louis, and dozens of other cities. In Chicago, Trish Kahle writes:
I'm striking as a step forward. I'm striking because power concedes nothing without a demand. I'm striking because I have a dream. I'm striking because another world is not only possible, but worth fighting for. I'm striking because the only way to see a different future is to stand up, and gaze over the walls of what people say can't be done. I believe we can win, and that as we stand here, on the shoulders of giants and masses, we can see a better world in embryo, nestled among a hundred workers wearing red shirts and singing, "Power to the union, power to the workers!"
Speaking of dreams, and to those who say that $15 an hour is too much to ask for: One of the demands of the 1963 March on Washington was a $2 minimum wage. In today's dollars, that's as much as $15.27 (or as "little" as $13.39). These workers are paying rent, supporting families, trying to get by and make lives for themselves, and in this system now and on the wages it allows hugely profitable corporations to pay, it is simply impossible.
Send striking fast food workers your message of solidarity.
[Laura Clawson is Labor Editor of Daily Kos. She graduated from Wesleyan University, has a PhD in sociology from Princeton, and has taught at Dartmouth College and the Princeton Theological Seminary. She participated in the first AFL-CIO Union Summer and other political activities during college, In 2003, she discovered Daily Kos, which ultimately propelled her back into real-world political action. From 2008 to 2011 she was senior writer at Working America, community affiliate of the AFL-CIO.]
Largest Fast Food Strike Ever Today: 58 Cities Will Be Affected
Work stoppage will hit about a thousand shops and several cities in the south today, as workers seek fair wages
By Josh Eidelson
August 29, 2013
Salon
Fast Food workers strike Wendy's in Kansas City
credit - Cuentame / LowPayIsNotOK
Fast food workers today plan to mount one-day walkouts against nearly a thousand stores in over fifty cities - the largest-ever mobilization against their growing, low-wage, non-union industry, which until last fall had never faced a substantial U.S. strike. The work stoppage comes four weeks after a four-day, seven-city strike wave in which organizers say thousands walked off the job.
Today, the strikes - which started with a single-city November work stoppage in New York - are expected to hit several cities. In each city - from Los Angeles to Peoria - workers are demanding a raise to $15 an hour, and the chance to form a union without intimidation by their boss.
"I'm not a kid," Raleigh, North Carolina, Little Caesar's worker Julio Wilson told Salon. Rather, he said, "I am a single father, I have a daughter with special needs that needs attending to on a daily basis." He said many of his co-workers and their families "need to be compensated to be able to live."
Wilson, 34, first learned about the campaign when he saw a striking New York workers on TV. "They kind of sparked my interest," he said, and led him to search online for a local organization tied to the cause. Over the past eight years, he's worked at Burger King, Subway, Arby's and McDonald's. "I've made my way through the fast food circuit," said Wilson, "and they're all the same."
Asked about the coming strike, McDonald's e-mailed, "The story promoted by the individuals organizing these events does not provide an accurate picture of what it means to work at McDonald's." The company said it "aims to offer competitive pay and benefits to our employees" and that "Our history is full of examples of individuals who worked their first job with McDonald's and went on to successful careers both within and outside of McDonald's." A recent study by the pro-labor National Employment Law Project found that "only 2.2 percent of jobs in the fast food industry are managerial, professional, or technical occupations," and that the average pay for a front-line fast food worker is $8.94 per hour.
As Salon has reported, the key player behind the campaign is the Service Employees International Union, which has partnered with local faith, labor and community groups in an effort to transform an industry whose conditions increasingly characterize U.S. work. Like a growing number of U.S. workers, fast food employees make poverty wages, face erratic schedules and unstable employment and are paid to perform a friendly personality ("emotional labor") while working at a pace some blame for on-the-job burns.
Like their counterparts cleaning corporate offices or hauling goods in Walmart warehouses, they face a "Who's the Boss" problem that renders New Deal labor law less and less relevant: The companies that legally employ them (individual fast food restaurant franchisees, who may own a handful of stores) aren't the ones with the greatest sway over their working conditions. That would be giant corporations like McDonald's, which brought in $5.5 billion in profit in 2011, and takes about a seventh of franchised stores' revenue in rent and fees.
Big Macs are big business, and an ever-bigger part of our economy. "This is where people go when [manufacturing] plants go, when we have layoffs in the public sectors - these are where adults go to work," said Kate Bronfenbrenner, who directs labor education and research at Cornell. Indeed, the top three occupations measured by the Bureau of Labor Statistics are all jobs found in fast food or retail (in some cities, retail workers will join today's strikes as well).
But these strikes' significance extends beyond fast food. A white paper released last week by the Economic Policy Institute found that "the vast majority of U.S. workers - including white-collar and blue-collar workers and those with and without a college degree - have endured more than a decade of wage stagnation." In other words, despite increased productivity and profits, so-called "unskilled" workers aren't the only ones treading water.
"If you go back to the nineteenth century, manufacturing jobs sucked," said John Schmitt, a senior economist at the progressive Center for Economic and Policy Research. Contrary to the myth that lower wages for service work were simply "preordained," argued Schmitt, "the problem over the last thirty or forty years in terms of the economy is the declining bargaining power for workers. And the question is, how do we reconstruct bargaining power for workers?"
That's what the organizers of today's strike are out to do. While workers say they've already achieved some incremental store-specific victories - from scheduling changes, to raises, to the restoration of a tip jar - it's too soon to say if they'll succeed. But they're already drawing near-unparalleled attention from local and national media - and within organized labor. Though identified primarily with SEIU, which isn't in the AFL-CIO, the fast food campaign gets frequent mention in a July report to the AFL-CIO executive council summarizing the pre-convention conversations that federation has been holding across the country.
Among the aspects of the strikers' strategy: an attack on all the companies in the industry, executed in collaboration among a range of progressive groups, including political, media, consumer, and legal angles, all anchored by one-day strikes designed to maximize impact and minimize risk - most of them carried out by a minority of a store's workforce, with less focus on shutting down business than on embarrassing corporations and engaging co-workers and the larger public.
"At first, I was nervous," said Chicago Subway employee Felix Mendez, who'll be striking for the third time today. Still, he told Salon he took the lead in getting all of his three co-workers to participate in the prior strikes, shutting down their store. "If we just sit back and do nothing about it," he recalled telling them, "we're never going to get what we want." Mendez said he makes $8.25 an hour after working at Subway for three years. "Before, I wasn't really too serious about anything..." said Mendez. "I have changed a whole lot since I've been part of this union."
"Workers have really taken charge," said Rev. Martin Rafanan, the community director for STL can't Survive on $7.35, the St. Louis fast food effort. "they've called for this strike because it's an opportunity to continue to expand their numbers and expand their geography." He expressed hope that today's strike would "make a big splash in terms of folks beginning to see this as a national movement." Rafanan, who co-chairs the workers rights board of the Missouri chapter of the labor-community group Jobs with Justice, said last week that about 200 St. Louis fast food workers were involved in organizing towards the strike. He told Salon that, beyond the sites where workers and others have been furiously organizing in recent weeks, "there's a good chance" of workers in other stores or cities walking off the job today without any prior contact with the campaign.
Where will it all lead? A source present at a meeting SEIU held earlier this month with allies told Salon that potential strategies under discussion included a campaign for state referenda to allow cities to raise fast food wages, and a push for top burger corporations to jointly agree to eat the cost of increased labor costs. Asked whether the efforts could end in a deal in which corporations accept union negotiations and the union agrees before formal bargaining to cap new labor costs or carve out certain regions, SEIU strategist Scott Courtney answered, "It could be something like that." SEIU President Mary Kay Henry said, "I think anything you know about traditional collective bargaining is possible, and then things we haven't imagined."
Asked about such a scenario, Rafanan said, "I'm for any tactic or strategy at this point which can move us forward, all right? And there are a lot of us, people have been discussing these things, a variety of these things. But where I'm standing, I'm a community ally, so my goal is to stand with workers. I believe that workers should make decisions about how they're going to organize their industry."
As an example of effective collective action, Rafanan related how the campaign had beaten back alleged retaliation against a St. Louis striker earlier this month. According to Rafanan, when workers returned from the work stoppage, a Popeyes manager fired one of them and "was very adamant that the person would not get their job back." In response, activists "blocked the drive-through and had taken over the counter," drawing several police cars. Before the situation escalated to arrests, said Rafanan, the franchisee owner arrived and, after a conversation with a local councilmember on the scene to support the workers, agreed to reinstate the employee. "This is the kind of thing we feel we can do when we don't get a response," said Rafanan.
Cornell's Bronfenbrenner argued that having community allies escort workers back to work to ward off post-strike retaliation was the campaign's most important innovation, and a testament to the deep community ties the campaign had built. "As long as they can keep the bosses from beating them down by having the eyes of the world always on them, keep the campaign in the sunshine," she said, "they have a chance." Because a national fast food corporation could simply cut off the franchise contract of any local store owner who started bargaining collectively with workers, noted Bronfenbrenner, winning unionization would require compelling corporations to forswear union-busting. "So it's either going to be big," she said, "or it's not going to happen."
Sociologist Stanley Aronowitz, who directs the Center for the Study of Culture, Technology and Work at the City University of New York, credited the campaign with "putting tremendous pressure, good pressure, on the fast food chains to raise their wages." But he expressed concern that SEIU would be too quick to make a deal with corporations restricting future strikes. "They have gotten this far because they have taken direct action, and they have expanded their direct action efforts," Aronowitz told Salon. "If they decide to settle down prematurely, I think they will duplicate what happened to the United Auto Workers, and what's happened to the public employees unions, which is basically that they're put permanently on the defensive."
Today's strike comes one day after the fiftieth anniversary of the 1963 March on Washington for Jobs and Freedom. According to Rev. Rafanan, St. Louis strikers will honor the march, and a subsequent local protest in which civil rights activists chained themselves to the Jefferson Bank, by participating in a civil disobedience training this afternoon. Asked if that means we'll see more fast food workers mounting civil disobedience, Rafanan said, "Certainly that's where we're ramping up to."
Julio Wilson said the march's anniversary "ties in perfectly" with the strikes' spread south. Wilson told Salon the example of Martin Luther King "has inspired me personally to stand up for what I believe in, and that's exactly what I'm going to do." Asked how many of his Raleigh store's twenty employees would join the first-of-its-kind strike, he answered, "Hopefully all of them."
[Josh Eidelson covers labor as a blogger for The Nation and a contributing writer for Salon. His work has appeared at outlets including Reuters, Slate, The American Prospect, Washington Monthly, In These Times, Alternet, Dissent, Dollars and Sense, Jacobin, and Working USA: The Journal of Labor and Society. His reporting on the Walmart strike wave received a Sidney award from the Sidney Hillman Foundation. He is co-host, with Sarah Jaffe, of Dissent`s weekly podcast Belabored.]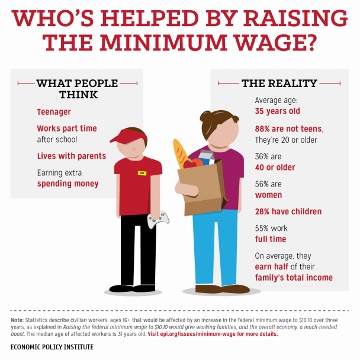 88 Percent of Workers Who Would Benefit From a Higher Minimum Wage Are Older Than 20, One Third Are Over 40
credit - Economic Policy Institute
The Link Between Civil and Economic Rights
By Harold Meyerson
August 27, 2013
Washington Post
Of all the /commemorations of the March on Washington, the one that will best capture its spirit isn't really a commemoration at all. Thursday, one day after the 50th anniversary of the great march, fast-food and retail workers in as many as 35 cities will stage a /one-day strike demanding higher wages.
Sadly, the connection between the epochal demonstration of 1963 and a fast-food strike in 2013 couldn't be more direct.
The march 50 years ago was, after all, a march "For Jobs and Freedom," and its focus was every bit as economic as it was juridical and social. Even more directly, one of the demands highlighted by the march's leaders and organizers was to raise the federal minimum wage - then $1.15 an hour - to $2. According to Sylvia Allegretto and Steven Pitts of the Economic Policy Institute, that comes out to $13.39 today. (This week, fast-food workers will march seeking an hourly wage of $15.)
Those who seek to conservatize the march in modern memory either gloss over or neglect altogether its consistent emphasis on economic as well as social egalitarianism. A. Philip Randolph, the union leader and lifelong democratic socialist who conceived of and chaired the march, made this clear in the speech with which he began the rally. "Yes, we want all public accommodations open to all citizens," he said, "but those accommodations will mean little to those who cannot afford to use them. Yes, we want a Fair Employment Practice Act [banning racial discrimination in hiring], but what good will it do if profit-geared automation destroys the jobs of millions of workers, black and white?" (Randolph's fears about the economic implications of mechanizing manufacturing, which today sound grimly prophetic, were shared by many in his circle, including such social democratic activists and economists as Michael Harrington and Leon Keyserling.)
As two excellent new books about the march and the men and women who made it happen - "The March on Washington" by William P. Jones and "A Freedom Budget for All Americans" by Paul Le Blanc and Michael D. Yates - make clear, the march was initially conceived in late 1962 primarily to spotlight the growing unemployment, underemployment and job discrimination plaguing African Americans in northern cities. Only when all hell broke loose in Birmingham, Ala., in the spring of 1963 - with Bull Connor loosing attack dogs on black schoolchildren demonstrating for equal access to public accommodations - did the focus of the march expand to the civil rights demands with which it is linked in popular memory today.
Of the more than 200,000 Americans who came to the Mall 50 years ago, tens of thousands were active in organizations that espoused and embodied an indissoluble link between civil and economic rights. That link was embraced by more than black churches and the NAACP. The United Auto Workers, garment and textile workers, the Packinghouse Workers and the still-fledgling teacher and public worker unions brought their members to Washington on hundreds of chartered buses and trains. They heard speeches not only declaring that Southern blacks should have the right to vote and to sit at the front of the bus but also calling for public employment programs to shrink unemployment and a hike in the minimum wage to reduce the incidence of poverty-level work.
Commemorating the march is altogether fitting and proper, but the activists who planned, organized and spoke at the rally would surely think that the most faithful way to honor their work would be to continue it. That's what Rep. John Lewis, the last surviving speaker from that rally, is doing when he fights to resecure the voting rights of minorities and the young, which the five Republican-appointed Supreme Court justices have imperiled in weakening the Voting Rights Act. That's what President Obama is doing in championing a raise in the minimum wage - indeed, it's what /more than 100 municipalities have done in enacting local living-wage ordinances. It's what the D.C. Council did when it recently passed l an ordinance setting a minimum wage of $12.50 for employees of big-box stores. (If Mayor Vincent C. Gray (D) vetoes that ordinance, he should at least explain why a wage level that, adjusted for inflation, is beneath that demanded at the march is somehow too high today.) And it's what retail and fast-food workers across America will do Thursday, when they demonstrate for the kind of economic justice to which march leaders and participants were showing their commitment when they came to the Mall 50 years ago.
[Harold Meyerson writes a weekly political column that appears on Wednesdays and contributes to the PostPartisan blog. Meyerson is also executive editor of The American Prospect, a liberal magazine based in Washington. A Los Angeles native, Meyerson was the executive editor of the L.A. Weekly from 1989 to 2001and hosted the weekly show "Real Politics" on radio station KCRW, the L.A. area's leading NPR affiliate, from 1991 to 1995. He is the author of " Who Put the Rainbow in the Wizard of Oz?" (1995), a biography of Broadway lyricist Yip Harburg.]