USDA Plans to Expand Pilot Program that Leaves Meat Contaminated with Fecal Matter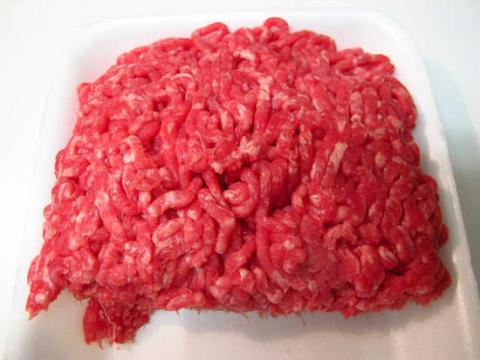 Raw ground beef,attribution: I Believe I Can Fry
Put down your ham sandwich before you read this one, folks. The US Department of Agriculture is hoping to expand a pilot program replacing half the USDA inspectors in meat plants with inspectors employed by the companies themselves, while speeding up production lines. The pilot program has been in place in five hog plants since the late 1990s and the results aren't comforting:
... three of these plants were among the 10 worst offenders in the country for health and safety violations, with serious lapses that included failing to remove fecal matter from meat, according to a report this spring by the USDA inspector general. The plant with the worst record by far was one of the five in the pilot program.
In these cases, the contaminated meat did not leave the plants because it was caught by government inspectors once it reached the end of the processing line. But federal officials consider this too late in the process and repeatedly cited the plants for serious safety failures.
There are 608 such plants in the country, so for three out of five members of the pilot program to rank in the 10 worst facilities is really saying something. And that something is "this pilot program should be abandoned, not expanded, USDA dumbasses."
The USDA has allowed other countries to use similar inspection procedures on meat being sent to America, with multiple Australian shipments being stopped at the border "because of contamination, which included fecal matter and partly digested food, records show." Yum! A Canadian company using this type of inspection, meanwhile, had to recall millions of pounds of beef contaminated with E. coli, 2.5 million pounds of which had gone to the United States.
Some of the few government inspectors working in the pilot program plants:

... said company and government workers are yelled at, threatened and shunned if they try to slow down or stop the accelerated processing lines or complain too aggressively about inadequate safety checks. They also warned that the reduction in the ranks of government inspectors in the plants has compromised the safety of the meat.
If what you want is to get the government out of your food safety (and the fecal matter into it), this program is for you! It's not just that there's less inspection, but increasing the speed of production can make it harder for workers to keep up with safety and sanitation precautions—in addition to making injuries to workers more likely as well. So it's a win-win, Republican-style. But for the rest of us, it's a lose-lose, and maybe USDA under President Obama should be putting the brakes on, not expanding the program. .