labor
Why are Nurses at Vanderbilt Medical Center Cleaning Bathrooms? Health care's Fight Between Labor and Capital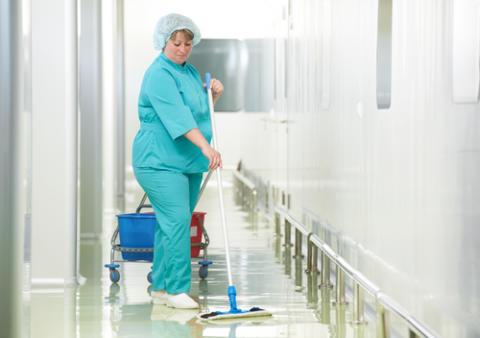 ,
Hospital budget cuts became viscerally visible earlier this month when Vanderbilt Medical Center announced that nurses must now perform housekeeping duties - cleaning patients' rooms and bathrooms.
In case you missed the video of the internal announcement secretly recorded by a nurse that aired on  Nashville's WSMV television station, here it is.
It is hard to think of a worse way to demoralize professionals who want to practice at the top of their license.  Invoking Florence Nightingale's name as a spoonful of sugar to help the budget medicine go down is no salve for deep wounds of disrespect.
For patients, they are at greater risk, an inevitable outcome as nurses spend less time at the bedside.
All of this begs the question, "Where does all the money go in hospitals, who is getting it, and what are they really doing with it?"
The direction of the budget axe is being determined by an unspoken battle between labor and capital.
Nurses, pharmacists, housekeepers and increasingly, doctors, are employed labor.
Medical equipment and supplies, medical devices, drugs, computers and information technology are the products of capital investment.  Companies that manufacture these products need constantly increasing revenue to keep stock prices and earnings per share headed north.  Stockholders and other investors - their unforgiving owners - demand bigger, better, quicker returns.
Consequently, companies are programmed to take more money for themselves, which leaves less for everyone else, especially nurses.  I wrote about the uncanny parallels between the health care industry and the banking sector in Battle Over Health Care: What Obama's Reform Means for America's Future.  Both have price bubbles, toxic assets, too-big-to-fail syndrome, and privatized gains and socialized losses.
Implicit tradeoffs between labor and capital are made every day.
Companies have to create a stream of so-called new, innovative products every year to pump up earnings per share.  As nurses know, new is not always better.  It might be worse.  A steady torrent of new stuff: equipment, technology and a bevy of consultants causes money to trickle up.
Meanwhile, hospitals are not exactly shopping at the equivalent of Costco and getting a competitive price.  And they buy too much that ends up in landfills.  A hospital supply chain executive at a large public teaching hospital estimates that at least 10 percent of hospital purchases in inventory are expired.  Good for Wall Street investors.  Bad for people taking care of patients.
To correct the misallocation of the public's money, transparency of billion-dollar hospital budgets would shed light on where all the money is really going.
In the meantime, we cannot let the material abundance of a few create a chasm of indifference to the plight of many.
Rosemary Gibson is a Senior Advisor, The Hastings Center and Author, "Battle Over Health Care: What Obama's Reform Means for America's Future."