Chile Indigenous Groups Mark Columbus Day with Protests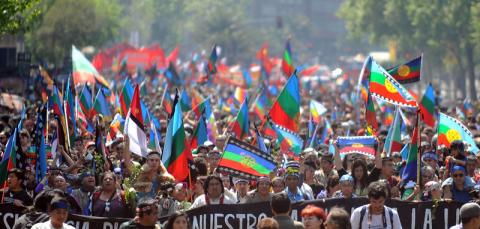 Mapuche Protest October 12, 2013. ,HECTOR RETAMAL/AFP/Getty Images
Protesters clashed with police in Chile's capital Saturday during an anti-Columbus Day march organized by Indigenous groups, with activists calling for the return of ancestral lands and the right to self-determination on the 521-year anniversary of the arrival of Christopher Columbus to the Americas.
Demonstrators in Santiago threw rocks and other objects at police who responded with water cannons. At least 10 protesters were detained by police, local media reported.
More than 15,000 people participated in the march, organized by the country's largest indigenous group, the Mapuches, who have been in a long struggle with the government over ancestral land taken from them during colonization.

While Columbus Day celebrations took place across Latin America, the Mapuche affirmed, "we have nothing to celebrate", according to the Santiago Times.
A press release by the group complained of mistreatment by the state, particularly against Mapuche political prisoners, and on-going land disputes in the south.
On Wednesday, a major police operation cleared indigenous occupants from disputed land in Ercilla, in southern Chile, and eight Mapuche activists were arrested. Witnesses said the police response was aggressive and unprovoked, the Santiago Times reported.
The Mapuche people have been fighting to accelerate the process of repatriation of traditional lands. The government has said it will return some of the land, but the process has been slow and the perceived inaction has been met with demonstrations and occasional violence.
Mapuche protesters have been treated as 'terrorists' by the Chilean government -- which uses an anti-terrorism law against them. Thousands of Mapuche and their supporters demanded an end to the application of this law on Mapuche land activists in peaceful marches Saturday.
The U.N. urged Chile to stop applying the anti-terrorism law against the Mapuche in July.
"The anti-terrorism law has been used in a manner that discriminates against the Mapuche," U.N. Special Rapporteur on human rights and counter-terrorism Ben Emmerson said in a press release. "It has been applied in a confused and arbitrary fashion that has resulted in real injustice, has undermined the right to a fair trial, and has been perceived as stigmatizing and de-legitimizing the Mapuche land claims and protests."
Though the Mapuche resisted Spanish conquest for 300 years and wish to be autonomous, in the late 19th century they were defeated militarily and forced into Araucania, south of the Bio-Bio river -- about 350 miles south of Santiago. Most live in poverty on the fringes of timber companies or ranches owned by the descendants of those who arrived to the region in the late 1800s from Europe.
Another anti-Columbus Day protest took place Saturday in Mexico City, where people from various indigenous groups marched peacefully to observe "Dia de la Raza," or Indigenous People's Day, as Columbus Day is called in Mexico.
"Indigenous people are in resistance because we are survivors after 500 years of the European invasion," Leonico Macuixle, a demonstrator, told The Associated Press. "They came to take from us our culture, our language, they built Catholic churches in our sacred places."