labor
Strikes Surge as Killings of Colombian Union Leaders Fall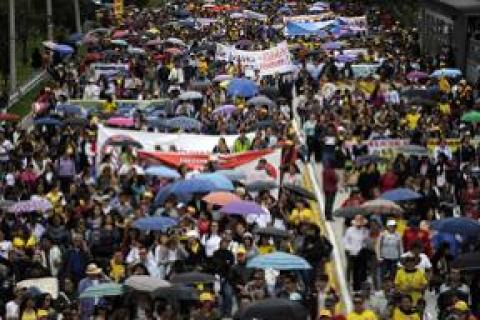 Thousands of teachers march towards the Ministry of Education in Bogota on Sept. 10, 2013., Eitan Abramovich/AFP/Getty Images
At a makeshift camp outside a Drummond Co. coal mine in northern Colombia, roughly 200 strikers played cards as fellow-worker and evangelical pastor Jehiz Castrillon urged them to stand fast in their fight for more pay.
On the same August day, 350 miles away in Bogota, teachers marched against the late payment of salaries, while in the nation's mountainous western coffee growing region, farmers blocked roads and called for a wider roll-out of government subsidies.
Strikes, demonstrations and protests are at a record pace in Colombia this year as workers seek a bigger share of wealth generated by the country's expanding economy. After 50 years of guerrilla warfare, the government's success in weakening illegal armed groups has drawn investment and rewarded businessmen, while the gap between rich and poor remains considerable, according to the World Bank's Gini index of income distribution.
"The economy has improved but the quality of jobs has gone down," Castrillon said in a Sept. 19 telephone interview, five days after employees of Drummond returned to work following the government's announcement that an arbitration panel would settle the dispute. "We want a basic monthly salary, health and work security so we can buy a house and send our kids to college."
That sentiment echoes across the nation as workers take to the streets in unprecedented numbers this year. There were 283 work protests in various forms through August, the latest numbers available, on track to surpass the record of 290 set last year, according to Medellin-based research institute Escuela Nacional Sindical, which has been collecting the data since 1991.
'A Storm'
Colombia is passing through a "storm," President Juan Manuel Santos said in an Aug. 29 speech on state television, adding that the government will control prices of fertilizers and pesticides to help farmers.
In parallel to the growing resentment, the lessening in the cycle of violence by Marxist rebels and their paramilitary opponents has made it less dangerous for workers to demand higher salaries and improved working conditions.
"Physical intimidation has declined," said Moises Baron, head of organizational affairs with the Union Sindical Obrera, which represents oil sector workers. "Today, thanks to international criticism and political change there is a greater respect for life in this country."
Violent Assaults
The number of union members killed in 2012 was 22, down from 186 in 2002, according to the Escuela Nacional Sindical. In the past, the number of assassinations, abductions, death threats and other violent assaults on trade union leaders and unionized workers in Colombia was considered "without historical precedent," according to the International Labor Organization.
Free-trade agreements with the European Union and U.S. that include clauses aimed at ensuring worker rights have contributed to the increased security, although implementation is far from perfect, said Daniel Hawkins, director of research at the Escuela Nacional Sindical.
"It's a bit better than before but still not a bed of roses," he said, pointing to the formation of new criminal groups in Colombia, known collectively as 'bacrim'. "Many former paramilitaries have changed names but remain active. And the government has been ambiguous in implementing the FTA clauses."
Safety Concerns
A free-trade agreement between the U.S. and Colombia was signed in 2006 and subsequently held up by the U.S Congress, backed by non-government organizations and labor groups, over concerns for the safety of Colombian union leaders. The deal eventually came into effect in 2012 after the South American country met U.S.-agreed targets to protect union members.
Foreign direct investment rose 824 percent over 10 years ending December 2012, while annual growth has averaged 4.8 percent over the same period, aided by surging exports of oil, coal and gold. The Colombian peso has rallied 52 percent over the past decade, the best performing major emerging market currency tracked by Bloomberg.
The mining industry has witnessed some of the most prolonged strikes this year, including a one-month stoppage at biggest coal mine Cerrejon in February, another 53 days at second-largest producer Drummond starting July 23 and protests by small-scale miners in August. "The mining sector has been growing in importance in Colombia," Sofia Leon, a researcher with the Bogota-based research institute Arco Iris, said. "Workers now feel it's the right moment to demand their rights."
Appealing Decision
Castrillon says he earns 3.7 million pesos ($1,960) a month as a truck driver, 23 percent more than he earned a decade ago with the same U.S. company. The Sintramienergetica union to which he belongs is appealing the government's decision to end the strike before workers secured their principal demands.
In contrast, truck drivers at BHP Billiton Ltd. (BHP)'s Escondida mine in Chile get paid the equivalent of $80,000 a year, excluding bonuses, according to the Melbourne-based company.
In a statement to workers on Aug. 9, Drummond said its offer including a 5 percent pay rise was "the best offer that a coal company has made in the country." Officials at Drummond's head office in Birmingham, Alabama didn't reply to three voicemails and one e-mail requesting further comment on salaries and the labor dispute. Mediatica Comunicaciones, a company that handles public relations for Drummond in Colombia, didn't respond to two e-mails and one voicemail seeking similar comment.
Labor Flash-Points
Besides mining, agriculture is another major labor flash-point. After weeks of protests in February and March over falling coffee prices, the government was forced to step in with a system of subsidies. Contraband produce from Venezuela, rising fertilizer costs and the failure of successive Colombian governments to implement adequate policies for the farming sector reached a boiling point this year, Leon said.
In August, farmers in Boyaca, a major agricultural province, blocked roads to Bogota, resulting in a restricted supply of fresh vegetables to the capital and a series of violent clashes with police.
"Colombia hasn't witnessed this level of protests for 20 years," says Leon. "What happened in Boyaca is incredible."
During his time in office from 2002 to 2010, former president Alvaro Uribe fought a successful war against the country's main rebel group, the Revolutionary Armed Forces of Colombia, or FARC. With the help of U.S. financing via Plan Colombia, Uribe strengthened his armed forces and reclaimed territory from the guerrillas, opening up new areas to oil and mining exploration.
Paramilitary Groups
Uribe also disbanded Colombia's illegal paramilitary groups, including the United Self-Defense Forces of Colombia, which fought the FARC and, according to human rights group Washington Office on Latin America, were among those responsible for labor leader killings.
Since Santos was elected in 2010, the government has tracked down and killed the FARC's top two leaders, and dozens of its mid-level commanders. FARC numbers have dwindled to roughly 8,000 from a peak of about 17,000 in 2002, according to the government.
An opinion poll taken during the strikes showed a decline in Santos's popularity. The number of Colombians with a favorable image of the president dropped to 21 percent at the end of August from 48 percent in June, according to a Gallup poll published by Caracol Radio and El Tiempo newspaper. It has since partially rebounded.
Investors Wary
The disputes are also making some potential investors wary about Colombia says Raphael Biderman, owner of the mid-sized iron ore miner CMC Metal, based in Mexico. "It would definitely make me cautious about investing in the country," he says. "It doesn't matter how rich a country is in resources, if you don't have a good business environment you can forget it."
Despite Colombia's advances, inequality remains a problem, especially in rural areas, Santos said in an Oct. 17 speech. Colombia's Gini index, where 0 represents perfect equality and 100 total inequality, is 55.9, among the worst in South America. Colombia's minimum wage has grown 83 percent over 10 years ending Dec. 2012, with Brazil's growing 211 percent over the same period.
While investment in oil and mining has spurred Colombian growth and job creation, it has also resulted in internal displacement, environmental destruction and poorly paid jobs, union official Baron says.
"The open economic model based on natural resource extraction has attracted a maximum number of projects to Colombia," he says. "But the government's capabilities are very feeble regarding worker, environmental and social rights. These weaknesses have transformed almost the whole country into an area of disputes."
To contact the reporter on this story: Andrew Willis in Bogota at awillis21@bloomberg.net
To contact the editor responsible for this story: James Attwood at jattwood3@bloomberg.net