Union Members Provoke Arrests - This Time Inside the Cosmopolitan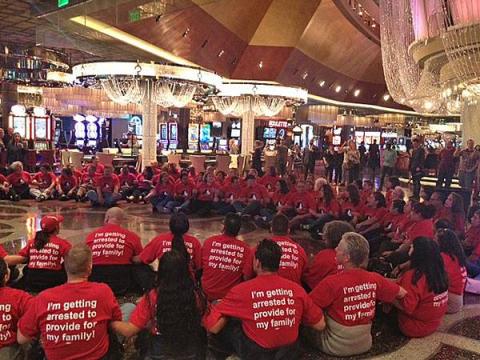 Dozens of Culinary Union members sit beneath the chandeliers just inside the Cosmopolitan as part of a protest, Friday, Nov. 1, 2013., VegasInc / Ed Komenda
Their voices echoed through the Cosmopolitan casino.
No, they didn't carry the exclamations of some lucky pack of gamblers. They carried the chants of an angry Culinary Union.
About 120 of its members on Friday night sat in the middle of the casino floor and let Metro Police escort them off the property in zip ties. Billed as an act of civil disobedience - the union's second this year - the demonstration inside the Cosmopolitan came in support of the some 2,000 workers who have been clocking into the $4 billion Strip resort for two years without contracts.
"One union, one fight," said Laura Javier, a 22-year-old chocolate fountain attendant from the Bellagio and one of those who got arrested Friday.
Javier comes from a long line of Culinary workers. Both her parents have logged 25 years apiece with union contracts. Her grandfather worked at Treasure Island until he was 70.
"No one had to convince me to do this," Javier said before her arrest. "I'm excited."
Before demonstrators took their seats inside the Cosmopolitan, more than 3,000 Culinary Union picketers blocked three lanes of Las Vegas Boulevard, waving their signs and chanting, "We don't get no contracts, we don't get no peace."
Inside the Cosmopolitan, union members wore sweatshirts and hoodies to hide their bright red shirts. As the clock ticked closer to their plan to get arrested, they whispered to each other in passing.
"Nine minutes," one woman said. "Nine minutes."
When those nine minutes passed, it was about 5:40: time to go. That's when more than 100 union members flooded the floor space near the casino entrance and sat beneath the resort's famed chandelier.
Minutes later, a couple dozen cops rolled into the casino. One officer offered fair warning to protesters via megaphone: They were breaking Nevada law by trespassing.
"I am now commanding you to disperse immediately," the officer said, reading from a script and giving the Culinary 10 minutes to leave the premises. But the Culinary members didn't budge.
Instead they chanted, "Cosmopolitan, look around, Vegas is a union town!"
The demonstration marked the second such arrest campaign since March 20, when 98 Culinary protesters sat in the middle of Las Vegas Boulevard, blocked traffic and let Metro officers wrap their wrists in zip ties before loading them onto a police bus.
The Culinary, which represents about 60,000 bartenders, maids and food servers, has been hard-nosed in its pursuit of contracts.
Union members want contracts with 40-hour workweeks, more job security and higher health care contributions. They also want contracts with a "successorship clause" that would guarantee the labor agreement would carry over in the event that the resort is sold. Owned by Deutsche Bank, the multibillion-dollar Strip resort has struggled since opening in 2010.
Officers began their arrests just before 6 p.m., wrapping the demonstrators' wrists in zip ties and marching them out of the casino one by one.
Among the demonstrators waiting to get arrested was D. Taylor, president of UNITE HERE, the Culinary's parent organization, and the Culinary's secretary-treasurer, Geoconda Arguello-Kline.
The demonstration served as quite the spectacle to Strip-walking visitors, who whipped out their cellphones to snap photos and record videos.
"I think it's nuts," said Zack Castaneda, a consulting professional from Houston, who stood with his two buddies watching the Culinary members walk by in zip ties.
Castaneda said he thinks people should leave their job "if they don't like it."
But he found the demonstration entertaining. "It's pretty impressive," he said.
Metro arrested the last Culinary protester just after 6:15 p.m. Metro Police spokesman Bill Cassell said officers were prepared long before the protest and that the demonstrators would be bussed to a drop-off area and cited.
When the last demonstrator got on the bus, picketers on Las Vegas Boulevard began chanting, "We'll be back! We'll be back!"
They then dropped their signs and walked off the boulevard.