Disaster in the Philippines - How You Can Help (three items)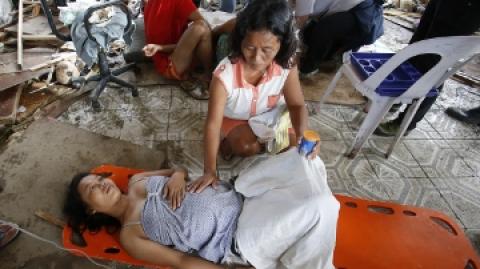 A woman comforts a pregnant relative suffering labor pains at a makeshift birthing clinic in the typhoon-battered city of Tacloban, Philippines, on Monday.,NPR / Erik de Castro/Reuters/Landov
WHO Calls Typhoon's Medical Challenges 'Monumental'
by Richard Knox
November 12, 2013
National Public Radio (NPR)
Images of the swath of devastation wrought by Typhoon Haiyan in the central Philippines are reminiscent of the tsunami's aftermath a decade ago in Banda Aceh, Indonesia.
And indeed, the World Health Organization grades the great typhoon of 2013 as a category 3 disaster - its most severe category.
"The scale [of the typhoon's damage] is huge," Dr. Richard Brennan of the World Health Organization tells Shots. "It's monumental. This is one of the biggest emergencies we've dealt with for some time."
Brennan, the WHO's director of emergency risk management and humanitarian response, ticks off the grim metrics:
About 9.8 million people affected, according to Philippine estimates.
10,000 or more people killed, based on reports from Philippine government officials in the affected areas.
An estimated five major injuries for every death, according to Brennan.
Infrastructure for clean water, electricity and medical care destroyed or crippled.
2.5 million people needing emergency food aid.
Blocked roads and darkened airports preventing delivery of urgently needed food, water and medical supplies.
There's little doubt that Typhoon Haiyan (known in the Philippines as Typhoon Yolanda) will go down as one of the deadliest and most destructive weather events ever recorded - a triple whammy of surge, very high winds and torrential rains.
Haiyan's sustained winds reached an estimated 190 to 195 mph - than Hurricane Katrina.
Read more here. 

Typhoon Haiyan: "Unprecedented" Disaster
 
By Dr. Natasha Reyes
November 11, 2013
Doctors Without Borders/Médecins Sans Frontières (MSF)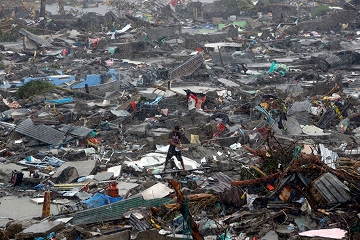 Cebu, where MSF is strengthening its team in response to Typhoon Haiyan
MSF / Erik de Castro/Reuters, Courtesy Trust.org
[Doctors Without Borders/Médecins Sans Frontières (MSF) emergency coordinator in the Philippines Dr. Natasha Reyes describes the devastation brought by Typhoon Haiyan and what the medical needs are now.]
"Right now we're operating in a relative black hole of information. We know from the very little we can see that the situation is terrible. But it's what we don't see that's the most worrying. The reports we're receiving from Tacloban are that the entire city of 400,000 people has been devastated.
But there are hundreds of other towns and villages stretched over thousands of kilometers that were in the path of the typhoon and with which all communication has been cut. To be honest, no one knows what the situation is like in these more rural and remote places, and it's going to be some time before we have a full picture.
Unprecedented Disaster
This sort of disaster is unprecedented in the Philippines. The effect is something like a massive earthquake followed by huge floods.
Our initial focus will be on the province of Leyte, which was hit first as the typhoon came ashore. We know that many medical facilities have been destroyed or damaged, with medical equipment simply washed away. On top of this, a lot of health staff are unaccounted for, meaning the resources are severely depleted.
Injured people have converged on the airport, where the Philippines military is providing medical care. But they're under intense pressure, particularly for drugs and supplies, so we will set up a medical team there to support them. People are bringing the injured to the airport from the town by motorbike or on foot; it's a six-hour walk.
Medical Facilities Destroyed
The regional hospital in Tacloban was hit by a storm surge and much of its medical equipment was washed away. It's unclear yet what was left. We have identified one still functional hospital in Tacloban, which we are planning to start supporting with staff, supplies, and equipment in the next couple of days.
For sure, there are wounded people who have not yet received medical attention. Usually, in these types of disasters, the main needs are related to people being displaced from their homes, and the injuries are relatively minor, cuts, broken bones, head wounds. But with so many houses and buildings having collapsed because of the strong winds, we're expecting to see some significant injuries.
Tetanus infection is also a major hazard. From our experience with the Aceh tsunami and other disasters, people are driven to search in the wreckage of their homes, and they get cuts which rapidly become infected. So vaccination against tetanus is vital.
Immediate Medical Needs the Priority
Our priority is to address the urgent and immediate medical needs, of which we are sure there are many. After that, really it's everything - shelter, water, food. they've lost everything.
We've heard reports that people are walking around aimlessly, completely desperate. The mental health needs are going to be huge; our team will be joined by a psychologist in the next few days.
At this early stage, the big issue for us is moving people and aid supplies to the affected area. Tacloban itself has limited capacity for flights, but we are doing our best to get our teams up and running.
Moving Outwards from Tacloban
As we are able to get more staff into the disaster areas, our strategy will be to move outwards from Tacloban town to the surrounding region and islands. We think that Eastern Samar is probably the next priority for us to tackle. That will mean using a helicopter to assess the more rural areas and then speed boats and barges to visit, treat and potentially supply the coastline populations through mobile teams.
As a Filipino, I know that we're a resilient people. we've been battered over and over again by natural disasters. So when I hear about people being so desperate, so stunned, so hopeless, it really tells me just how bad this is."
Latest Updates:
MSF emergency teams have been in Cebu (the Philippines' second largest city, with the nearest fully operational airport to the disaster area), since Saturday November 9.
MSF is strengthening its team with an additional 50 people including medical personnel, logisticians, and psychologists arriving in the next few days. Operations are currently based in Cebu, but teams will be going to Tacloban and to islands west of Cebu.
We expect to see fractures and lacerations/cuts. It is important that people receive treatment as soon as possible to avoid complications and infections.
Many medical structures have been damaged or destroyed, with medical supplies washed away.
There is a massive lack of information on the situation in rural and remote areas.
We expect to have a medical team on the ground tomorrow, 11/12/13, in Tacloban, a town devastated when the typhoon first struck the coast. That team will include two doctors and an orthopedic specialist.
Transport links to the Tacloban area have been seriously disrupted, which has made access particularly difficult. Tacloban airport is badly damaged and roads are blocked.
Information on the situation west of Cebu is still very limited, but with the extent of the damage in this area it is believed that the main needs will be shelter, water, and food. MSF teams are currently organizing supplies of drugs, medical equipment, and materials to purify water, as well as essential items such as plastic sheeting, cooking supplies, and hygiene kits. Teams will also monitor possible outbreaks of infectious diseases.
MSF is also sending 329 tonnes of medical and relief items which will arrive in Cebu within the next few days in three cargo planes. The planes are leaving today and tomorrow (11/11/13 and 11/12/13), two from Dubai, UAE, and one from Ostende, Belgium. The humanitarian cargo includes medical kits for treating the wounded, material for medical consultations, tetanus vaccines, and relief items such as tents and hygiene kits. A further shipment of water and sanitation equipment will follow. Additional cargo is being prepared to leave later this week from Bordeaux, France, with an inflatable hospital and medical material.

National Nurses Relief Group Mobilizes RNs for Philippines Relief Mission
November 11, 2013
National Nurses United / Registered Nurse Response Network
Public Can Help Support Nurses' Relief Effort
In the aftermath of the devastation from Super Typhoon Haiyan/Yolanda, one of the worst storms on record, the Registered Nurse Response Network (RNRN), a project of National Nurses United, has put out a call for volunteers and donations through its vast network of direct-care nurses both nationally and internationally.
Following a request sent out this weekend from RNRN, within five hours, 370 RNs had already signed up to help.
RNRN has been gathering information and assessments from multiple sources, including the Philippines Alliance of Health Workers, a member of NNU's international affiliate Global Nurses United, to determine the need for nurses, medical supplies and financial support on the ground.
Through the disaster relief effort, RNRN have mobilized hundreds of direct care RN volunteers to help provide care to people affected by other disasters in the U.S. and internationally, including Hurricanes Katrina and Sandy, the Haiti earthquake, and South Asia tsunami on the ground and on U.S. naval ships.
For this effort, RNRN is placing a special effort on recruiting volunteers who speak Tagalog, many of whom are directly connected to NNU and RNRN. RNs have been asked to provide their availability over the next month.
The nurses are also seeking public support with financial donations to help their relief effort.

Secure donations may be made here.
Contributions are tax deductible, and 100 percent of all donations go directly to the relief effort.
In the Philippines, communication channels are not yet re-established to many areas, but current reports indicate as many as 10,000 deaths, with fears of many more casualties yet to be assessed.
Several hospitals, along with thousands of homes and schools have been damaged or destroyed, and hundreds of thousands left homeless - many with long term shelter needs.
"As U.S. nurses we have seen the effects of deadly storms and disasters and the pain it causes for our families and communities, said Zenei Cortez, RN, vice president of National Nurses United. "We know the difference it makes to provide support and assistance in a hour of need. We will do whatever we can to aid our sisters and brothers in the Philippines."
RNs can volunteer for the relief effort on the NNU website here.
RNRN, a project of National Nurses United, the nation's largest organization of RNs, was formed in 2004 in the aftermath of the South Asia tsunami in 2004, when the need for nurses was not being met by traditional disaster relief organizations. Since that time RNRN has send hundreds of direct-care nurse volunteers to assist following Hurricane Katrina, the massive earthquake in Haiti, and Hurricane Sandy.