Dispatches from the Culture Wars - Close Out the Year Edition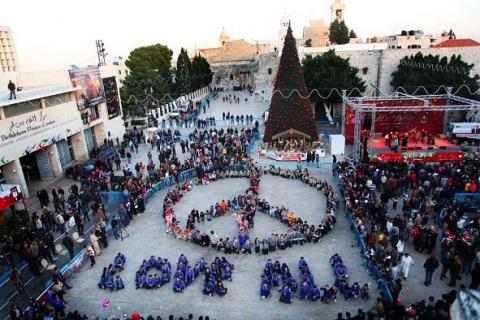 Holiday message from Bethlehem, (Stephen Zunes post on Facebook)
Al Goldstein, Provocative Porn Publisher, Dies at 77
By Hillel Italie
December 20, 2013
Washington Post
Al Goldstein, the bearded, bird-flipping publisher of Screw magazine who smashed legal barriers against pornography and raged against politicians, organized religion and anything that even suggested good taste, died Dec. 19 at a Brooklyn, N.Y., hospice. He was 77.
Of all the would-be successors to Hugh Hefner's sexual throne, no one was as out there as Mr. Goldstein. Whether publishing nude photographs of Jacqueline Kennedy or placing an 11-foot-tall sculpture of an extended middle finger outside his Florida home, Mr. Goldstein was a one-man, uncensored army of boiling humor, manic attire, numerous divorces, and X-rated visions of peace and love.  "To be angry is to be alive. I'm an angry Jew. I love it. Anger is better than love. I think it is more pure," he said in an interview in 2001.
Mr. Goldstein backed up his attitude where it counted, with his wallet, but after a lavish life of mind and body, Mr. Goldstein was often broke and, he feared, harmless.
World of Spycraft: NSA and CIA Spied in Online Games
By Justin Elliott, ProPublica, and Mark Mazzetti, The New York Times,
December 9, 2013,
ProPublica
This story has been reported in partnership between The New York Times, the Guardian and ProPublica based on documents obtained by The Guardian.
Not limiting their activities to the earthly realm, American and British spies have infiltrated the fantasy worlds of World of Warcraft and Second Life, conducting surveillance and scooping up data in the online games played by millions of people across the globe, according to newly disclosed classified documents.
Fearing that terrorist or criminal networks could use the games to communicate secretly, move money or plot attacks, intelligence operatives have entered terrain populated by digital avatars that include elves, gnomes and supermodels.  The spies have created make-believe characters to snoop and to try to recruit informers, while also collecting data and contents of communications between players.
But for all their enthusiasm - so many CIA, FBI and Pentagon spies were hunting around in Second Life, the document noted, that a "deconfliction" group was needed to avoid collisions -there was little evidence that terrorist groups viewed the games as havens to communicate and plot operations.
[Note: This story is not subject to our Creative Commons license.]
By Charles M. Blow
December 20, 2013
New York Times
I must admit that I'm not a watcher of "Duck Dynasty," but I'm very much aware of it. I, too, am from Louisiana, and the family on the show lives outside the town of Monroe, which is a little over 50 miles from my hometown. We're all from the sticks.
So, when I became aware of the homophobic and racially insensitive comments that the patriarch on the show, Phil Robertson, made this week in an interview in GQ magazine, I thought: I know that mind-set.  Robertson's interview reads as a commentary almost without malice, imbued with a matter-of-fact, this-is-just-the-way-I-see-it kind of Southern folksiness. To me, that is part of the problem.
Robertson is 67 years old, born into the Jim Crow South. Louisiana helped to establish the architecture for Jim Crow, and Robertson's comments conjure the insidious mythology of historical Southern fiction, that of contented slave and benevolent master, of the oppressed and the oppressors gleefully abiding the oppression, happily accepting their wildly variant social stations.
This mythology posits that there were two waves of ruination for Southern culture, the Civil War and the civil rights movement, that made blacks get upset and things go downhill. It's impossible to know if Robertson recognizes the historical resonance and logical improbability of his comments. But that's not an excuse.
Is Pope Francis a Marxist -- or just a Good Catholic?
By Frank Cocozzelli
December 1, 2013
Talk to Action
Rush Limbaugh and Stuart Varney seem to be confused and perplexed by Pope Francis's recently encyclical, Evangelii Gadium (Joy of the Gospel). They have accused the pope of advocating Marxism in place of capitalism.  
But what Limbaugh and Varney probably have no idea that His Holiness is advocating nothing more than "Good Catholic doctrine."
Pope Francis was not calling for the abolition of capitalism, he was criticizing a particular style of capitalism:  laissez-faire.  Instead, he supports Distributive Justice. Its roots are found in the works of Aristotle, Cicero, Maimonides and adopted into Catholicism by Thomas Aquinas, who named a duty to distribute with provision to the poorest of society.
Distributive Justice was adopted as the heart and soul of Catholic Economics. Modern distributive justice was first enunciated by Catholic progressives during the early 1890s and more clearly articulated in The Bishops' Program of 1919.  It is a battle that was being fought a hundred years ago often in the form of providing workers with safe working conditions.
This Isn't 'Feminism'. It's Islamophobia
By Laurie Penny
December 22, 2013
The Guardian (UK)
As a person who writes about women's issues, I am constantly being told that Islam is the greatest threat to gender equality in this or any other country - mostly by white men, who always know best. This has been an extraordinary year for feminism, but the rhetoric and language of feminism has been co-opted by Islamophobes, who could not care less about women of any creed or colour.
Horror stories about Muslim misogyny have long been used by western patriarchs to justify imperialism abroad and sexism at home.   I am a white feminist infuriated by white men using dog-whistle Islamophobia to derail any discussion of structural sexism; as someone who has heard too many reactionaries tell me to shut up about rape culture and the pay gap and just be grateful I'm not in Saudi Arabia.  For decades, western men have hijacked the language of women's liberation to justify their Islamophobia. If we care about the future of feminism, we cannot let them set the agenda.